By Anna Italia
Follow me on Twitter @ItalianSerieA,
Facebook: Anna Italia Page
Instagram: annaitalia2
Italian Soccer Serie A
Italy Head Coach Roberto Mancini called up 29 players for the final matches in the UEFA Nations League 2022.   Italy will face England at the Giuseppe Meazza Stadium in Milan on 23 September at 20.45 CEST and Hungary at the Puskas Arena in Budapest on 26 September at 20.45 CEST.   Italy's objective is to end in first place in Group 3 of the A League, allowing access to the Final Four, which was achieved in the last edition of the tournament.  Italy up to Matchday 5 are in the 3rd position with 5 points while Hungary are in the 1st position with 7 points and Germany in the 2nd with 6 points while England are in the last position with just 2 points.
🇮🇹 👉 UEFA Nations League Standings / League A – Group 3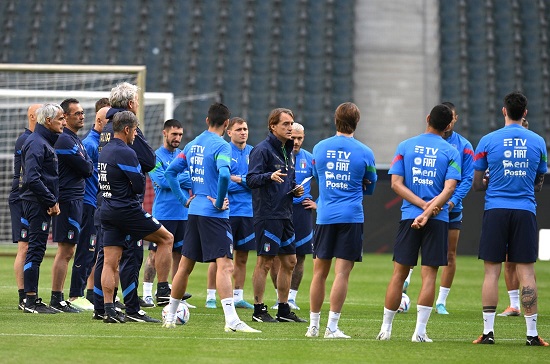 As reported by the Italian Football Federation (FIGC), Coach Roberto Mancini – who against England will join Valcareggi and Vicini in terms of number of games managed for the Azzurri (54, Lippi and Prandelli are at 56) – has called up 29 players, who will meet on Sunday 18 September at the Coverciano Federal Technical Centre. There are first call-ups to the national team for Lazio and Empoli goalkeepers Ivan Provedel and Guglielmo Vicario, the latter already called up last May, reserved to national interest players, and for Salernitana defender Pasquale Mazzocchi. Vincenzo Grifo, who was last called up for the friendly against San Marino in May 2021, will also be back in the Azzurri shirt.
The group will leave on Thursday 22 September for Milan, where they will stay the day after the match against England, before moving to Budapest on Sunday 25 and finally returning to Italy in the night after the match against Hungary.
Regarding the collision of the National Team with the 2022 Political Elections, scheduled for Sunday 25 September, the logistics will be evaluated in the coming days to allow the staff to vote, while guaranteeing their attendance at the match on 26 September against Hungary.
In fact, the current regulations do not allow those who are temporarily in another location to vote outside their place of residence, with the exception of cases that are strictly provided for limited categories of personnel. The team programme, therefore, may be subject to change between Saturday 24 and Sunday 25, which will be clarified shortly.
==============================
Ticket option for Italy National team games

==============================
🇮🇹 👉 Italian Squad List
Goalkeepers: Gianluigi Donnarumma (Paris Saint Germain), Alex Meret (Napoli), Ivan Provedel (Lazio), Guglielmo Vicario (Empoli);
Defenders: Francesco Acerbi (Inter), Alessandro Bastoni (Inter), Leonardo Bonucci (Juventus), Giovanni Di Lorenzo (Napoli), Federico Dimarco (Inter), Emerson Palmieri (West Ham), Federico Gatti (Juventus), Luiz Felipe (Betis Siviglia), Pasquale Mazzocchi (Salernitana), Rafael Toloi (Atalanta);
Midfielders: Nicolò Barella (Inter), Bryan Cristante (Roma), Jorginho (Chelsea), Lorenzo Pellegrini (Roma), Tommaso Pobega (Milan), Sandro Tonali (Milan), Marco Verratti (Paris Saint Germain);
Attackers: Matteo Cancellieri (Lazio), Wilfried Gnonto (Leeds), Vincenzo Grifo (Friburgo), Ciro Immobile (Lazio), Matteo Politano (Napoli), Giacomo Raspadori (Napoli), Gianluca Scamacca (West Ham), Alessio Zerbin (Napoli).
✅  ITALY vs. ENGLAND. There are 29 previous matches between Italy and England, with the balance tipped in favour of the Azzurri: 10 Italian wins, 8 English wins and 11 draws, the last of which was the 0-0 in the first Nations League match. The national team will play for the 60th time in Milan (only Rome has hosted more matches for the Azzurri, 62), where they have collected 37 wins, 19 draws and 3 defeats. The last one was against Spain in October 2021, the first defeat for the national team in San Siro, which ended an incredible unbeaten run in the city of 93 years (the other two defeats in Milan date back to 1911 and 1925 in matches played at the Arena Civica and Velodromo Sempione). Only once has Italy vs. England been played in Milan, 83 years ago: it was on 13 May 1939, ending 2-2. For Italy, the victory drought at the Meazza has lasted 10 years: the last one on October 16, 2012, 3-1 against Denmark, with five draws (with Germany twice, Croatia, Sweden and Portugal) and one defeat since.
✅  HUNGARY vs. ITALY. It will be the 16th away match in Hungary for Italy and the 36th confrontation with the Magyars: the head-to-head sees 17 Italian victories (the last one in Cesena in the first match), 9 draws and 9 Hungarian wins. Taking only the matches in Budapest, there is perfect parity: 5 wins for each side and 5 draws. In 1924, in the Hungarian capital, Italy suffered the worst defeat in its history: 7-1. With Marco Rossi on the Hungarian bench, this will be the 17th game with a national team led by an Italian coach after Varrella and Leoni (San Marino), De Biasi (2) and Panucci (Albania), Zaccheroni (Japan), Ghedin (Malta, 4 times), Foni (Switzerland), and Trapattoni (Ireland, 4 times).