A second-half Cutrone brace adds to Sottile's first-half opener. Nicolato: "Compliments to the lads, they never gave up." Armenia coming up on Tuesday in Catania
Source:  figc.it   Saturday, November 16, 2019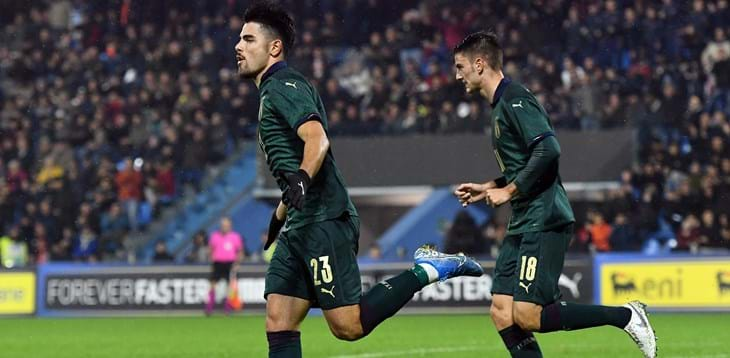 Neither the pouring rain nor Iceland were able to stop the Under-21 National Team. The stakes are high and the Azzurrini don't want the prize to escape them. It was an excellent performance from Nicolato's side, who ran out 3-0 winners following Riccardo Sottil's goal and Patrick Cutrone's brace. Most importantly, the team picked up three points, meaning they have now moved ahead of Iceland in the group and currently sit on ten points, three behind Ireland but having played three games less. After beating Iceland, the Azzurrini will now have their sights on first place: "I need to compliment the lads," said Head Coach Nicolato after the game. "They wanted this win and deserved to get it. Many of them have only just started out with us, while others aren't playing a lot for their clubs. The boys never gave up, we took some risks but were also excellent in the second half. With this game, we've taken another step forward. We need to continue on this path, but on Tuesday a tough game awaits because it's a quick turnover following 90 minutes where we've used up a lot of energy. We have to try to recover quickly."
Following injuries to a number of players and call-ups to the senior side, Nicolato was forced to make changes. However, the formation he selected remained the same, something which has become a trademark of this side. Lining up in a 4-3-3, Italy had Carnesecchi in goal and a defence made up of Del Prato and Sala on the wings and Gabbia and Ranieri in the centre. A midfield trio of Maggiore, Carraro and captain Locatelli took to the pitch behind attackers Sottil, Pinamonti and Cutrone.
The objective was to pick up three points and the early signs were promising. After twelve minutes, Cutrone had a go with his right foot but was denied by an alert Gunnarsson. Iceland are a very physical and well-organised side and are particularly dangerous on the counter. And this is how they looked to cause Nicolato's men problems. In the 16th minute, Finnsson hit the post and, after a stunning stop from Gunnarsson to keep out Sala's strike, Carnesecchi was on hand to expertly save Gudjohnsen's shot with his feet. With the danger over, Italy started to play with more courage and went on to take the lead in the 32nd minute: Cutrone whipped the ball in, Pinamonti flicked it on and Sottil finished the move off at the back post.
After the restart, Italy, clearly boosted by their first-half goal, almost doubled their advantage after just 20 seconds, but Cutrone was unable to hit the target from an excellent position. In the 52nd minute, Carnesecchi once again earned applause at the Stadio Paolo Mazza as he put Porsteinsson's dangerous strike behind for a corner. Nevertheless, the Azzurrini went back on the attack, with Pinamonti almost scoring with 64 minutes on the clock. Four minutes later, Nicolato shuffled his pack, bringing on Adjapong for Sottil. Ten minutes from time, the Head Coach did the same again as he sent Zanellato and Scamacca. The latter was involved in Italy's second goal, one which was eventually scored by Cutrone on the half-volley after the ball had fallen to him in the box following Scamacca's header from Sala's left-wing cross. Cutrone wasn't finished there: his calm and assured finish after 90 minutes well and truly put the game to bed.