By Anna Italia
Follow me in Twitter @ItalianSerieA,
Facebook: Anna Italia Page
Instagram: annaitalia2
Italian Soccer Serie A
Cagliari Calcio making the official presentation of winger Riccardo Sottil and right-back Gabriele Zappa  to the media on Monday 14 September 2020. The Sports Director, Pierluigi Carta, making the presentation: "They are two boys born in 1999, we have chosen them because we consider them functional to our project and our playing philosophy. They strongly wanted Cagliari, another aspect that has shifted the balance in the negotiation. We are convinced that they can have an excellent season ".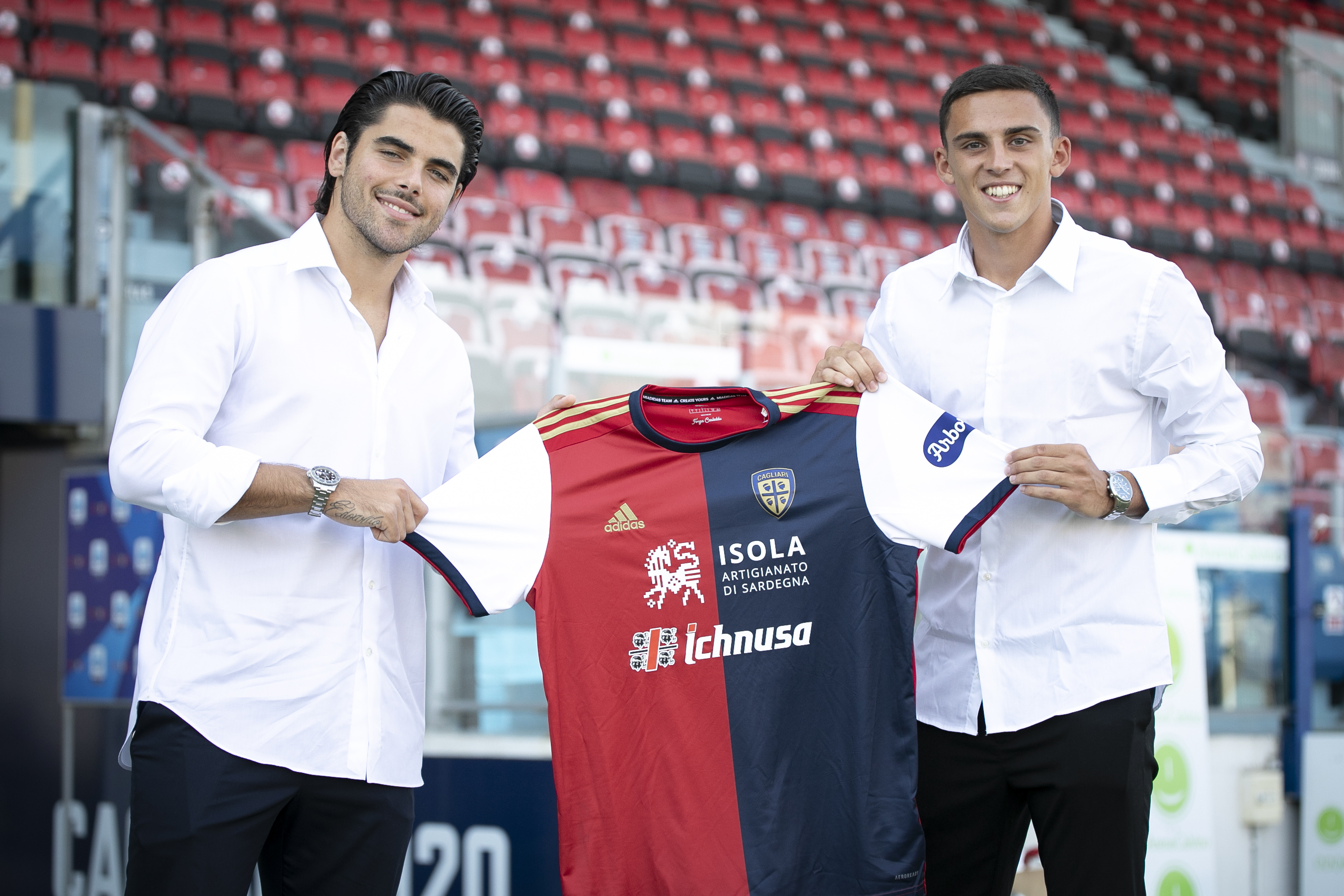 Photo: twitter.com/CagliariCalcio
Riccardo Sottil has joined Cagliari on September 10, 2020 on a loan deal from Fiorentina until the end of the 2020/21 season. The agreement includes an option for Cagliari to make the loan permanent.
Gabriele Zappa has joined Cagliari on September 8, 2020 from Pescara.  Zappa joined on a loan with obligation to buy, signing a five-year contract.  Last season, Zappa played 26 games for Pescara scoring five goals with one assist.
Watch Serie A games online and other Live Sports
TV WITHOUT CABLE
Live and on demand. Cloud DVR included
👉 Gabriele Zappa
Gabriele Zappa said: "I'm making my childhood dream come true. Going up the category, the degree of difficulty also increases. I'm not afraid, but I want to  improve myself in many aspects, such as the speed of thought of the game. I arrive in an important club: for me it is an honor, I want to try to play as much as possible, to give my contribution to the team. Physically I'm ready, last season ended late, there was no need to recharge the batteries ".
"I'm making my childhood dream come true."
Zappa reinforcing that he is happy to be playing for Cagliari, "When I was asked to come to Cagliari, I was very happy, I immediately said yes. I talked about it with Balzano, who assured me that I would have a great time in Sardinia, both for the club and for the city .  In Pescara, I scored 5 goals, but going on the net is not my main task. I'm a full-back, I also have to think about defending.  At the limit, I can think of signing some assists. The coach wants the ball to be played, his is an offensive football but at the same time attentive to the balance ".
  👉 Riccardo Sottil
Sottil said, "We need to improve the ranking from last season. The group is of great quality, Luca Pellegrini in the Under 21 also told me about it. His career speaks to the coach: I can grow, from all points of view. President Giulini, the Charter Director and the coach wanted me strongly: I thank them, knowing that I was so desired was an extra boost to get me to come to Cagliari. It's great for a footballer to feel part of a project. When I learned of the Club's interest, I didn't think twice about it; Cagliari is a historic team, it has won a championship, it lives football with great passion; not to mention the many champions who wore the rossoblù jersey, starting with Gigi Riva. My first impact with the city and the environment was excellent, as I expected. I'm very excited, I'm looking forward to Sunday to start the championship. I have no preferences, playing left or right is the same for me. It will be up to the coach to choose, I'm available. My strengths? Acceleration and dribbling ".
🤝 | PRESENTAZIONE

"Una scelta fortemente voluta" 🔴🔵#Sottil e #Zappa in conferenza 🎙

➡️ https://t.co/iKEBka6KTt#forzaCasteddu pic.twitter.com/ChQ5TIJBay

— Cagliari Calcio (@CagliariCalcio) September 14, 2020
🎙 | INTERVISTA

Alla scoperta di Riccardo #Sottil 😎
Il nuovo attaccante rossoblù 👊🏼#benvenutoSottil #forzaCasteddu pic.twitter.com/Jb334xY4qB

— Cagliari Calcio (@CagliariCalcio) September 12, 2020