Italy have arrived in Dublin, where they'll face the Irish on Thursday
Monday, October 7, 2019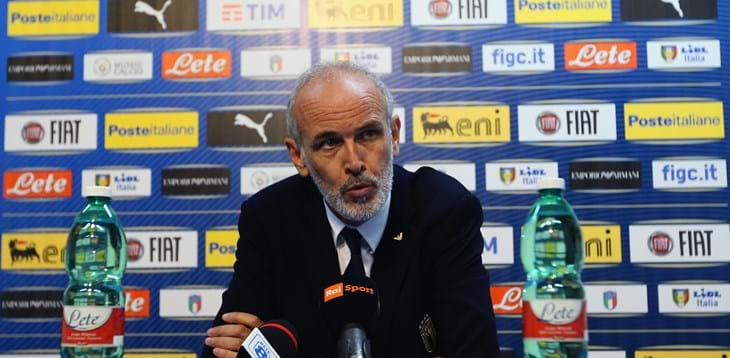 The Under-21 National Team have arrived in Dublin, where on Thursday at 21:05 CEST they'll face hosts Ireland in their second European Championship qualifying match. It's the Azzurrini's first away match in their group and they'll be coming up against the current Group 1 leaders: the Irish sit on full points thanks to wins against Luxembourg, Armenia and Sweden.
For the matches against Ireland and Armenia, there's a new face in the squad – that of Salernitana midfielder Fabio Maistro. Meanwhile, Cagliari defender Luca Pellegrini and Brescia midfielder Sandro Tonali are back in the squad after being called up to the senior squad for the games played in September. However, Roberto Mancini announced that Tonali will 'return' to the senior side after the Under-21s' trip to Dublin with Stefano Sensi out injured.
"I expect it to be a complicated match against a side doing very well," warned Head Coach Paolo Nicolato. They have high-quality players who are making a good impression in the Premier League too. It's a great test to see where we're at after just starting out. Meanwhile, they've been working together for six months. Ireland's Under-19 side did well at the last European Championship (reaching the semi-finals), while this year their senior side and Under-21s are also performing excellently. They play a modern style of football, football which is played on the ground and involves interplay between high-quality players."
Irrespective of the opposition, Italy will try to impose their own game on the match ("this needs to be an obligation for us") with the aim of providing service to Cutrone and Kean or other promising talents like Pinamonti, Sottil and Scamacca. "If there's one thing I'm not worried about it's our attacking options," said Nicolato. "This team have many quality players. Of course, not everyone can play at the same time and someone will have to be sacrificed, but I know whoever I send out onto the pitch will make a contribution to the team."
The primary objective however, remains to develop players for the National Team. "I hope that many will make the step up because that would mean that we have done a good job. We are one big family and our name is Italy." The important thing is that the youngsters get opportunities in the league. "It's clear that it's more tiring for those who have fewer minutes under their belt. The fact that our boys have had a good amount of minutes so far gives us a bigger chance of winning something."
Squad list
Goalkeepers: Marco Carnesecchi (Trapani), Mattia Del Favero (Piacenza), Alessandro Plizzari (Livorno);
Defenders: Claud Adjapong (Verona), Alessandro Bastoni (Inter), Enrico Delprato (Livorno), Matteo Gabbia (Milan), Riccardo Marchizza (Spezia), Luca Pellegrini (Cagliari), Luca Ranieri (Fiorentina), Marco Sala (Virtus Entella);
Midfielders: Marco Carraro (Perugia), Davide Frattesi (Empoli), Manuel Locatelli (Sassuolo), Giulio Maggiore (Spezia), Fabio Maistro (Salernitana), Sandro Tonali (Brescia), Niccolò Zanellato (Crotone);
Forwards: Patrick Cutrone (Wolverhampton Wanderers), Moise Kean (Everton), Andrea Pinamonti (Genoa), Gianluca Scamacca (Ascoli), Riccardo Sottil (Fiorentina).
Staff – Head Coach: Paolo Nicolato; Delegation Head: Massimo Paganin; Accompanying Director: Vincenzo Marinelli; Youth Co-ordinator: Maurizio Viscidi; Assistant Coach: Mirco Gasparetto; Secretary: Manfredi Martino; Fitness Coach: Vincenzo Pincolini; Goalkeeping Coach: Gian Matteo Mareggini; Match analyst: Francesco Bordin; Doctors: Angelo De Carli and Vincenzo Santoriello; Physiologist: Cristian Osgnach; Physiotherapists: Emiliano Bozzetti and Nicola Sanna; Osteopath: Cristiano Pompili.
Schedule
Sunday 6 October 2019
By 23:00 – Meeting at the Grand Hotel in Milan Malpensa
Monday 7 October 2019
11:00 – Flight EI 435 Milan Malpensa – Dublin
all time zones below: -1h compared to CEST
13:00 – Arrival in Dublin and transfer to KINSWOOD HOTEL CITY WEST 4* – Dublin
16:00 – Head Coach Nicolato's press conference at KINSWOOD HOTEL CITY WEST 4*
18:00 training
Tuesday 8 October 2019
13:15 – Press conference with one player at the KINSWOOD HOTEL CITY WEST 4*
18:00 – Training (open to the press for the first 15 minutes)
Wednesday 9 October 2019
13:30 – Head Coach Nicolato's press conference at KINSWOOD HOTEL CITY WEST 4*
20:00 – Official training at the Tallaght Stadium (open to the press for the first 15 minutes)
Thursday 10 October 2019
09:30 –Exclusive RAI TV interview with Head Coach Nicolato
11:00 – Training (closed)
20:05 – Tallaght Stadium in Dublin: REPUBLIC OF IRELAND VS. ITALY
followed by a post-match press conference
Friday 11 October 2019
10:00 – Chartered flight Dublin – Yerevan
time zone: +2 h. compared to CEST
18:25 – Arrival in Yerevan and transfer to RADISSON BLUE YEREVAN – Yerevan
Saturday 12 October 2019
13:15 – Press conference with one player at the RADISSON BLUE YEREVAN
18:00 – Training (open to the press for the first 15 minutes)
Sunday 13 October 2019
13:30 – Press conference with Head Coach Nicolato at the RADISSON BLUE YEREVAN
20:30 – Official training at FFA Academy Stadium (open to the press for the first 15 minutes)
Monday 14 October 2019
09:00 – Exclusive RAI TV interview with Head Coach Nicolato
11:00 – Training (closed)
20:30 – FFA Academy Stadium in Yerevan: ARMENIA VS. ITALY
followed by a post-match press conference, dinner and return to Italy on a chartered flight and end of the national meet
Source: figc.it