By Anna Italia
Follow me in Twitter @ItalianSerieA,
Facebook: Anna Italia Page
Instagram: annaitalia2
Italian Soccer Serie A
Lazio and Roma defense will be united to welcome the Italian National team on Saturday 12th October at the Stadio Olimpico in Rome for the UEFA EURO Qualifiers game against Greece.   Italy will play their 59th game in Rome hosting the Italian National Team the most times, previously, it was the City of Milan. 
There are 2 players from the "Capitale" among the defenders called up players by Italy Head Coach Roberto Mancini:  Lazio defender Francesco Acerbi and AS Roma defender Leonardo Spinazzola.    It will be a special game for Lazio and Roma fans because if Italy defeat Greece, the qualification will be a reality!!!!
Italy lead Group J after Matchday 6 with 18 points.  Mathematically speaking, the victory  will seal the qualification.
European Qualifiers Group J Standing after Matchday 6

Photo: uefa.com
Francesco Acerbi and Leonardo Spinazzola showing a strong front during the press conference on Wednesday 9 October press conference at Coverciano.
Lazio defender Francesco Acerbi has four Azzurri caps.
AS Roma defender Leonardo Spinazzola has seven caps.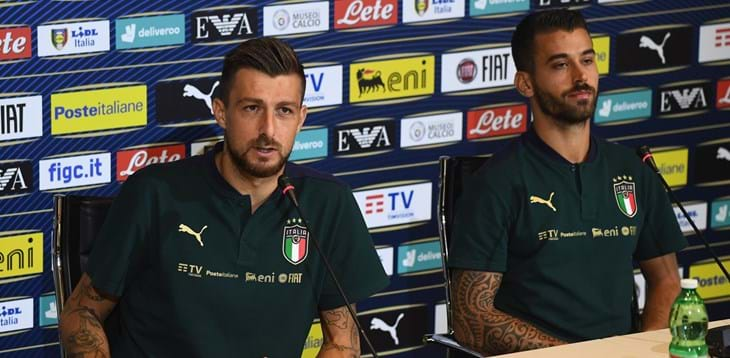 Photo:  figc.it
==============================
Ticket option for Italy National team games

==============================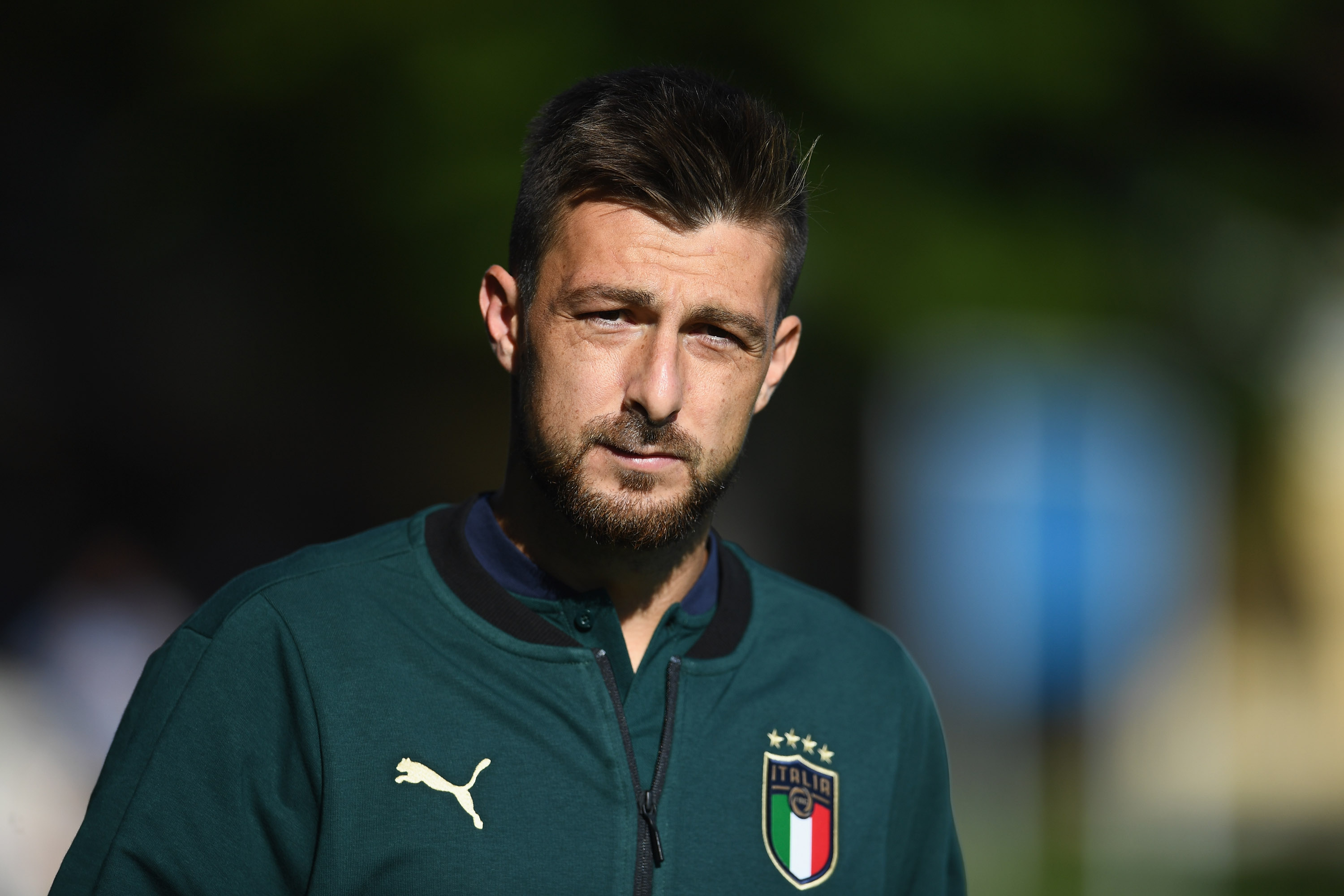 Acerbi saying that "It's a big occasion, the National Team's return to Rome (their last game at the Olimpico came against Norway in October 2015, ed.).   We're expecting a lot of fans, we're excited to play in Rome and we're hoping to entertain the people by securing qualification. It will be a beautiful setting, putting on the Azzurri shirt in the stadium of the city in which I play for my club is just an extra source of emotion."
Spinazzola declaring,  "Playing at the Olimpico is always amazing, Saturday will be a great celebration. The stadium will be full of people and everyone from Rome always gives us such a warm welcome."
Three years ago Acerbi hoped to receive a call-up to the final squad list for EURO 2016: "I almost made it all the way in Conte's squad, but then he chose to take other players to France. Now my goal is to get to the Euros, but not just on the fringes. I'm always looking to prove my worth, both with Lazio and with Italy." His ratings are always high, indicating his consistency which he will hope can carry him to a starting spot: "I always prepare to play, then the Coach makes the decision. Since my illness I've had some really good seasons, I'm going through a great point in my career and I always look to improve and stay humble." To those who said that Italy's group was easy, Acerbi responded: "Winning is never easy. We may be better than other teams on paper, but you always have to prove it on the pitch. If you get results like these it doesn't mean that there's a lack of quality in the group."
As reported by the Italian Football Federation (FIGC), the Lazio defender is a real fighter, having returned to football after fighting a grave illness; a tumour which looked like it might put an end to his career six years ago. Tomorrow, the National Team will visit the children at the Bambino Gesù paediatric hospital, which will be a special day for him: "When I enter these wards which I came through personally, I'm so happy to be able to put a smile on someone's face or give a few words of comfort. Children have a strength that us adults don't, they always give off a great energy. We hope that we can bring them a bit of joy."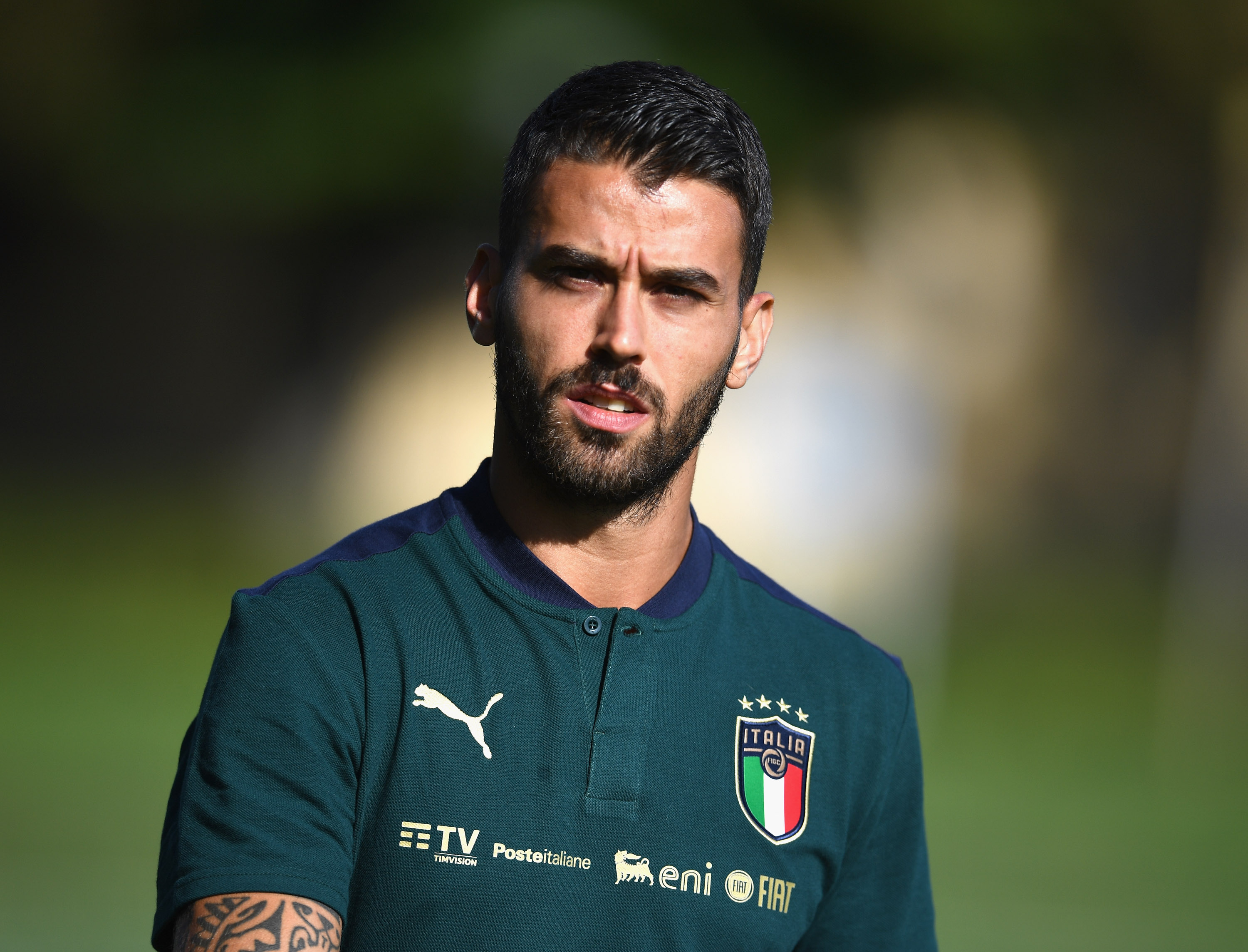 Leonardo Spinazzola arrived at Roma last summer, hoping to put all of those injuries that plagued his time at Juventus behind him and prove that he's one of the best wide players in the Italian league. He made his first appearance at Coverciano in March 2017, called up by former Coach Ventura thanks to his excellent performances for Atalanta, and now he'll certainly hope to hold onto his place with the Azzurri."
"We've got a very strong side, a strong National Team with some of the best defenders from the best teams in Italy and Europe. All of the positions are covered by two or more players and where I'll slot in I don't know yet, we'll have to wait and see what the Coach decides." Kolarov's presence at Roma has sometimes meant that he's deployed on the right, but Spinazzola prefers playing down the other side: "I've always played on the left and that's where I'm most comfortable. I'm right-footed and if the Coach wants me to play on the right then that's what I'll do, but I'm not used to covering that area. However, even if I play more games on the right I'll never forget how to play on the left." His adaptability and desire to run have always allowed him to play further forward too: "I played further up the pitch six years ago, but I prefer to be further back because then I have more of the pitch in front of me. But I'll play where the Coach wants me, it's both a blessing and a curse being able to play in multiple positions."
Finally a word on the green shirt which the Azzurri will wear on Saturday: "It's new," said Acerbi, "it's a thing of beauty." Spinazzola added: "We'll think and play with the knowledge that we're representing Italy, the colour of the shirt is irrelevant."
👉    

Italy Squad – Called Up Players

 
Goalkeepers: Gianluigi Donnarumma (Milan), Pierluigi Gollini (Atalanta), Alex Meret (Napoli), Salvatore Sirigu (Torino);
Defenders: Francesco Acerbi (Lazio), Cristiano Biraghi (Inter), Leonardo Bonucci (Juventus), Danilo D'Ambrosio (Inter), Giovanni Di Lorenzo (Napoli),  Armando Izzo (Torino), Gianluca Mancini (Roma), Alessio Romagnoli (Milan), Leonardo Spinazzola (Roma);
Midfielders: Nicolò Barella (Inter), Federico Bernardeschi (Juventus), Bryan Cristante (Roma), Frello Filho Jorge Luiz Jorginho (Chelsea), Stefano Sensi (Inter), Marco Verratti (Paris Saint Germain). Nicolò Zaniolo (Roma);
Forwards: Andrea Belotti (Torino), Federico Chiesa (Fiorentina), Stephan El Shaarawy (Shangai Shenhua), Vincenzo Grifo (Friburgo), Ciro Immobile (Lazio), Lorenzo Insigne (Napoli).
Staff – Head Coach: Roberto Mancini; Team Manager: Gabriele Oriali; Assistant Coach: Alberico Evani, Attilio Lombardo, Giulio Nuciari, Fausto Salsano; Fitness Coach: Claudio Donatelli and Andrea Scanavino; Goalkeeping Coach: Massimo Battara; Match Analyst: Antonio Gagliardi and Simone Contran; Doctors: Andrea Ferretti  and Carmine Costabile; Physiotherapists: Maurizio Fagorzi, Emanuele Randelli, Fabrizio Scalzi, Luca Lascialfari, Fabio Sannino; Osteopata: Walter Martinelli; Nutritionist: Matteo Pincella; Secretary: Emiliano Cozzi; Press office director: Paolo Corbi.
👉  

Italy National Team schedule (all times CEST)
Wednesday 9 October
13:45 – Press Conference FIGC Partner
14:00 – Meeting with the press (player)
17:00 – Training (first 15 minutes open to press)
Thursday 10 October
11:00 – Training (behind closed doors)
15:50 – Departure of chartered train from Campo di Marte to Rome
17:20 – Arrival in Rome and subsequent journey to the Bambino Gesu Paediatric hospital
18:00 – Visit to Bambino Gesu Paediatric hospital
Friday 11 October
17:00 – Press conference
17:30 – Training at the Stadio Olimpico
Saturday 12 October
20:45 – Italia vs. Grecia at the Stadio Olimpico. Following the match, a meeting with the press and subsequent journey back to the hotel
Sunday 13 October
11:30 – Training (behind closed doors)
Monday 14 October
10:30 – Chartered flight from Rome to St. Gallen (Switzerland)
18:00 – Press conference
18:30 – Training at the Rheinpark Stadion – Vaduz
Tuesday 15 October
20:45 – Liechtenstein vs. Italy at the Rheinpark Stadion – Vaduz. Following the match, a meeting with the press and subsequent journey back to the hotel
Wednesday 16 October
10:00 – Chartered flight from St.Gallen to Milan Malpensa (11:10) and then journey to Rome (13:00)