The Wolverhampton striker: "The match against the Republic of Ireland will be a big test for us." The team's final training session tomorrow at the "Tallaght Stadium"
Tuesday, October 8, 2019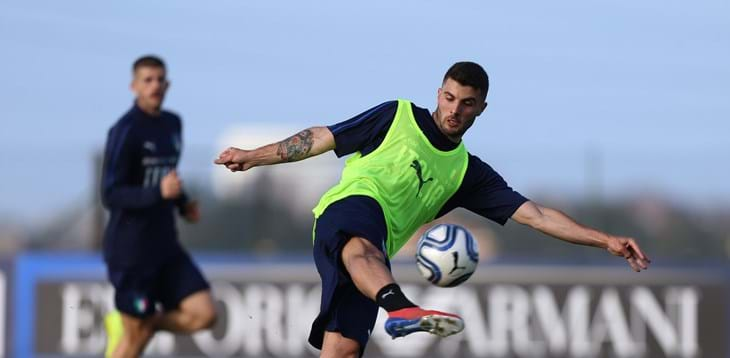 "Putting on this shirt always fills me with pride. We're a great team, everyone has something to learn and this helps bring us together as a group." These were the words of Wolverhampton striker Patrick Cutrone on his return to the Under-21s after their European Championship disappointment. A chapter of the past, but the bitterness lives on. The player said: "We had a great squad for the tournament in Italy, but the Euros didn't go to plan. We knew that if we slipped up, even in just one game, we risked being eliminated."
Today Cutrone, one of the group's veterans, returns to a new coach and a different squad. After the great victory against Luxembourg (5-0), the Azzurrini are getting ready to play their first away game, which Nicolato is calling "a complicated match". In fact, the Under-21s will go into the game on Thursday (Tallaght Stadium in Dublin, kick-off 20:05 local time, 21:05 CEST) against the Republic of Ireland, who are currently top of Group 1 thanks to victories over Luxembourg, Armenia and Sweden. "We are facing a team which until today has had a good run of games, a team which has some high-quality players and it will be an important test for us at this point in the season. Personally, I'm enjoying life in England, playing in the Premier League and being accepted with such enthusiasm by the fans, it's amazing. I get on well with the whole team and all the new staff. But of course, Italy will always be Italy."
The Azzurrini trained with a full squad for the first time in Dublin this afternoon. Tomorrow will see their final session before the match takes place at the Tallaght Stadium (open to the press for the first 15 minutes).
Squad list
Goalkeepers: Marco Carnesecchi (Trapani), Mattia Del Favero (Piacenza), Alessandro Plizzari (Livorno);
Defenders: Claud Adjapong (Verona), Alessandro Bastoni (Inter), Enrico Delprato (Livorno), Matteo Gabbia (Milan), Riccardo Marchizza (Spezia), Luca Pellegrini (Cagliari), Luca Ranieri (Fiorentina), Marco Sala (Virtus Entella);
Midfielders: Marco Carraro (Perugia), Davide Frattesi (Empoli), Manuel Locatelli (Sassuolo), Giulio Maggiore (Spezia), Fabio Maistro (Salernitana), Sandro Tonali (Brescia), Niccolò Zanellato (Crotone);
Forwards: Patrick Cutrone (Wolverhampton Wanderers), Moise Kean (Everton), Andrea Pinamonti (Genoa), Gianluca Scamacca (Ascoli), Riccardo Sottil (Fiorentina).
Staff – Head Coach: Paolo Nicolato; Delegation Head: Massimo Paganin; Accompanying Director: Vincenzo Marinelli; Youth Co-ordinator: Maurizio Viscidi; Assistant Coach: Mirco Gasparetto; Secretary: Manfredi Martino; Fitness Coach: Vincenzo Pincolini; Goalkeeping Coach: Gian Matteo Mareggini; Match analyst: Francesco Bordin; Doctors: Angelo De Carli and Vincenzo Santoriello; Physiologist: Cristian Osgnach; Physiotherapists: Emiliano Bozzetti and Nicola Sanna; Osteopath: Cristiano Pompili.
Schedule
Tuesday 8 October 2019
13:15 – Press conference with one player at the KINSWOOD HOTEL CITY WEST 4*
18:00 – Training (open to the press for the first 15 minutes)
Wednesday 9 October 2019
13:30 – Head Coach Nicolato's press conference at KINSWOOD HOTEL CITY WEST 4*
20:00 – Official training at the Tallaght Stadium (open to the press for the first 15 minutes)
Thursday 10 October 2019
09:30 –Exclusive RAI TV interview with Head Coach Nicolato
11:00 – Training (closed)
20:05 – Tallaght Stadium in Dublin: REPUBLIC OF IRELAND VS. ITALY
followed by a post-match press conference
Friday 11 October 2019
10:00 – Chartered flight Dublin – Yerevan
time zone: +2 h. compared to CEST
18:25 – Arrival in Yerevan and transfer to RADISSON BLUE YEREVAN – Yerevan
Saturday 12 October 2019
13:15 – Press conference with one player at the RADISSON BLUE YEREVAN
18:00 – Training (open to the press for the first 15 minutes)
Sunday 13 October 2019
13:30 – Press conference with Head Coach Nicolato at the RADISSON BLUE YEREVAN
20:30 – Official training at FFA Academy Stadium (open to the press for the first 15 minutes)
Monday 14 October 2019
09:00 – Exclusive RAI TV interview with Head Coach Nicolato
11:00 – Training (closed)
20:30 – FFA Academy Stadium in Yerevan: ARMENIA VS. ITALY
followed by a post-match press conference, dinner and return to Italy on a chartered flight and end of the national meet
Source:  figc.it