By Anna Italia
Follow me in Twitter @ItalianSerieA,
Facebook: Anna Italia Page
Instagram: annaitalia2
Italian Soccer Serie A supports the Italian National Team
Lazio forward Ciro Immobile, up to the Serie A Week 7, is the Serie A top scorer with 7 goals.  Immobile is experiencing a great season not only with Lazio, but also with the Italian National Team.
Immobile is among the 27 called up players by Italy Head Coach Roberto Mancini for the 2 UEFA EURO Qualifiers games against Greece on Saturday 12th October at the Stadio Olimpico in Rome.  The eighth fixture will be against Liechtenstein in Vaduz on Tuesday 15th October 2019.
Immobile has declared that he is "indebted to the National Team, I'd like to thank Mancini for being so patient with me"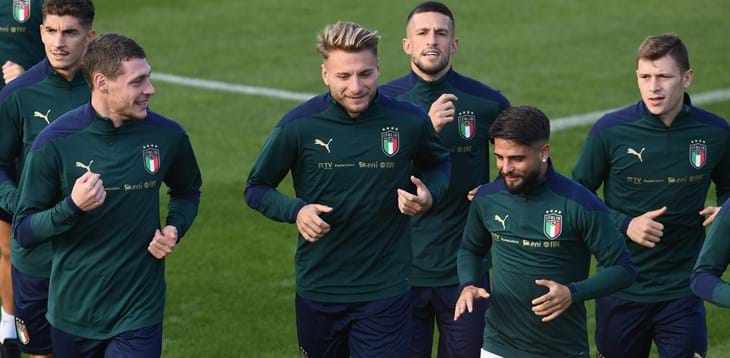 Photo source: figc.it
The Italian Football Federation (FIGC) informed that The National Team  train this afternoon Tuesday 8 October at Coverciano, where they're continuing their preparations for their upcoming matches against Greece and Liechtenstein in European Qualifying.
On Saturday in Rome, Italy will have the opportunity to secure their place at EURO 2020. One player who will be at the Stadio Olimpico and in familiar surroundings is Circo Immobile, who is dreaming of repeating what he did against Finland in September: a month ago, he finally scored for his country again after going two years without finding the net in the Azzurri shirt.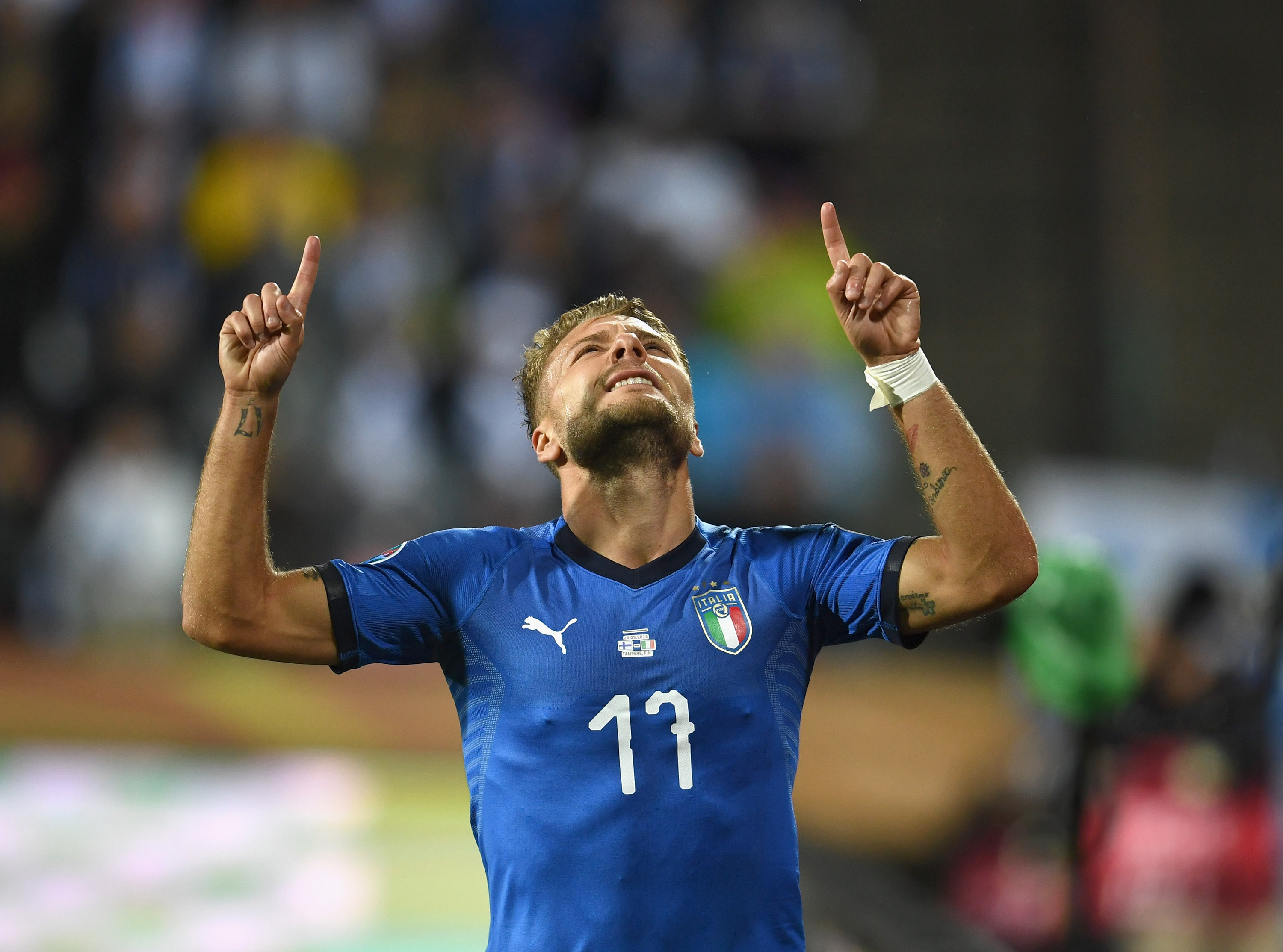 Photo source: figc.it
Immobile saying:  "The Olimpico is my stadium.  Obviously, I would like to play. I will work hard to give the Head Coach a selection headache.  We'll be facing a tough side and will need to put everything into it. The crowd's contribution will also be vital to secure the win, qualify for the European Championship and consign the horrible memory of not making the World Cup to history."
The play-off defeat to Sweden remains an open wound: "I scored a lot that year but was unable to feel satisfied. Then, all of us players in the National Tean said that it was time to overcome that disappointment and go again. From this point of view, Mancini has been important: he's created a great group and, after the match against Ukraine, implemented an attacking game with high pressing – one which has made Italians fall in love with the National Team again. I need to thank him because he remained patient even when I wasn't playing my best football."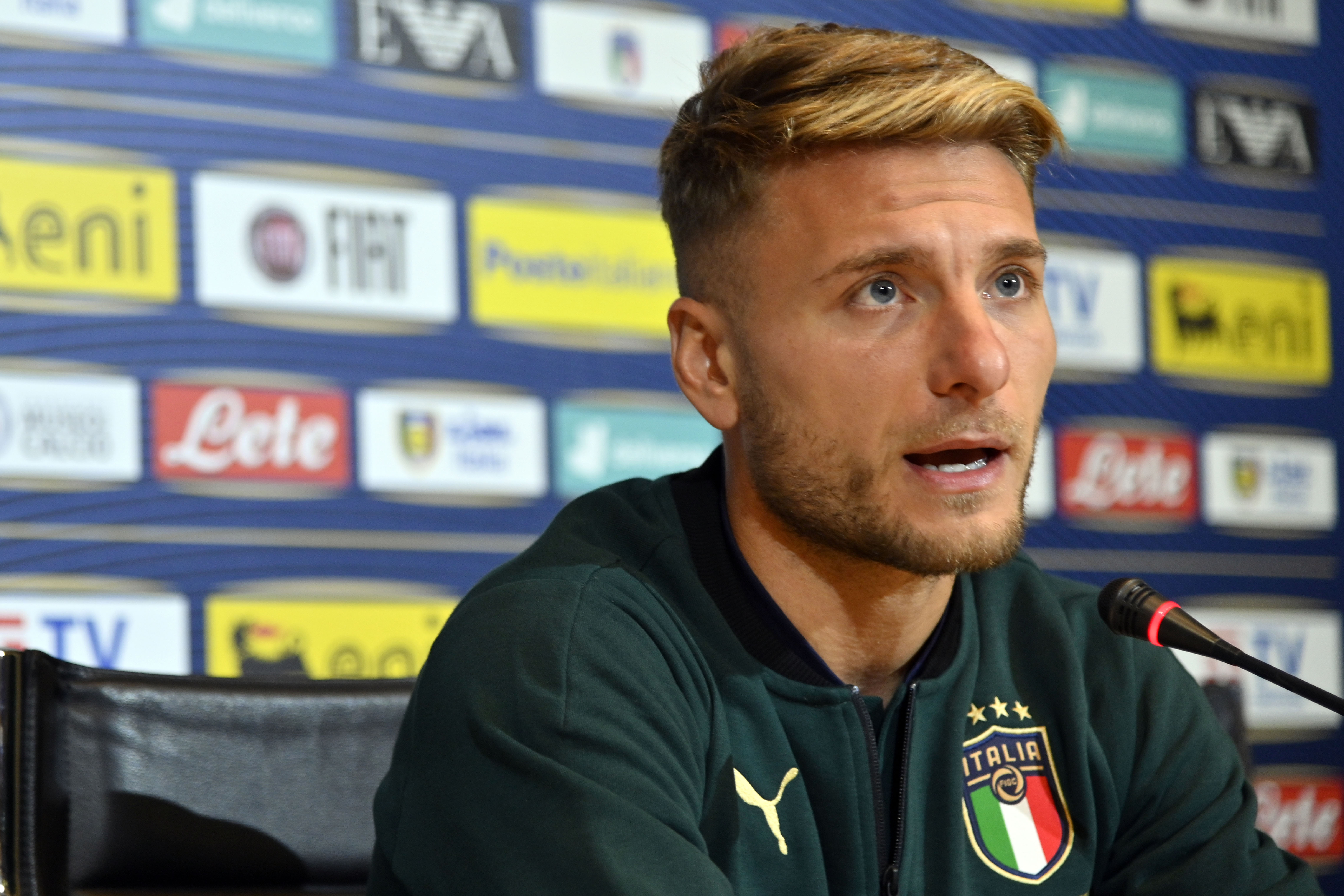 Photo source: figc.it
Immobile adding,  "I feel indebted to the Italy shirt and hope to repay everyone next summer at the European Championship. It'll be important for us to continue to win all our matches so we go into the tournament with maximum confidence."
Immobile has a healthy rivalry with forward Andrea Belotti: "We have different characteristics. He prefers to remain inside the area, although we both like to attack the space. The competition between us could come in handy, it's also good for the team because you always need to prove something to yourself and others. Luckily, Belotti and I are scoring goals. There's this rivalry going on, but not just in our position. We're focused on the team, the important thing is for Italy to win and not who plays the most."
On Saturday, Italy will take to the pitch wearing their brand-new green kit, one which is inspired by the Renaissance period and designed to celebrate the numerous young talents who are taking increasingly important roles in the Azzurri's successes: "It's different," said Immboile. "Our colour is blue, but that doesn't mean that there can't be a bit of change. It's a third shirt, like what clubs have. We'll be proud to wear it and hope to achieve the same result as the Italy side in 1954, when they beat Argentina 2-0."
👉    

Italy Squad – Called Up Players 
Goalkeepers: Gianluigi Donnarumma (Milan), Pierluigi Gollini (Atalanta), Alex Meret (Napoli), Salvatore Sirigu (Torino);
Defenders: Francesco Acerbi (Lazio), Cristiano Biraghi (Inter), Leonardo Bonucci (Juventus), Danilo D'Ambrosio (Inter), Giovanni Di Lorenzo (Napoli), Armando Izzo (Torino), Gianluca Mancini (Roma), Alessio Romagnoli (Milan), Leonardo Spinazzola (Roma);
Midfielders: Nicolò Barella (Inter), Federico Bernardeschi (Juventus), Bryan Cristante (Roma), Frello Filho Jorge Luiz Jorginho (Chelsea), Marco Verratti (Paris Saint Germain). Nicolò Zaniolo (Roma);
Forwards: Andrea Belotti (Torino), Federico Chiesa (Fiorentina), Stephan El Shaarawy (Shangai Shenhua), Vincenzo Grifo (Friburgo), Ciro Immobile (Lazio), Lorenzo Insigne (Napoli).
👉  

Italy National Team schedule (all times CEST)
Tuesday 8 October
Sponsor day
13:45 – Press conference, Museo del Calcio
14:00 – Meeting with the press (player)
17:00 – Training (open to press)
Wednesday 9 October
13:45 – Press Conference FIGC Partner
14:00 – Meeting with the press (player)
17:00 – Training (first 15 minutes open to press)
Thursday 10 October
11:00 – Training (behind closed doors)
15:50 – Departure of chartered train from Campo di Marte to Rome
17:20 – Arrival in Rome and subsequent journey to the Bambino Gesu Paediatric hospital
18:00 – Visit to Bambino Gesu Paediatric hospital
Friday 11 October
17:00 – Press conference
17:30 – Training at the Stadio Olimpico
Saturday 12 October
20:45 – Italia vs. Grecia at the Stadio Olimpico. Following the match, a meeting with the press and subsequent journey back to the hotel
Sunday 13 October
11:30 – Training (behind closed doors)
Monday 13 October
10:30 – Chartered flight from Rome to St. Gallen (Switzerland)
18:00 – Press conference
18:30 – Training at the Rheinpark Stadion – Vaduz
Tuesday 15 October
20:45 – Liechtenstein vs. Italy at the Rheinpark Stadion – Vaduz. Following the match, a meeting with the press and subsequent journey back to the hotel
Wednesday 16 October
10:00 – Chartered flight from St.Gallen to Milan Malpensa (11:10) and then journey to Rome (13:00)