By Anna Italia
Follow me on Twitter @ItalianSerieA,
Facebook: Anna Italia Page
Instagram: annaitalia2
Italian Soccer Serie A
✅ Here are the match officials and fixtures for the Serie A Week 1 / First Round on Saturday 21, Sunday 22, and Monday 23 August 2021 as designated by the Italian Referee Association (AIA).
👉  The Italian Referee Association (AIA) has designated Referee Michael Fabbri from the section of Ravenna to direct the Serie A Week 1 Sampdoria vs AC Milan on Monday 23 August 2021 at the Luigi Ferraris Stadium in Genoa, Italy at 20:45.
Referee Fabbri will be assisted by Sergio Ranghetti from the section of Chiari and Giovanni Baccini from the section of Conegliano.   The fourth official will be Matteo Gariglio from the section of Pinerolo. The VAR will be Aleandro Di Paolo from the section of Avezzano.  The AVAR will be Filippo Meli from Parma.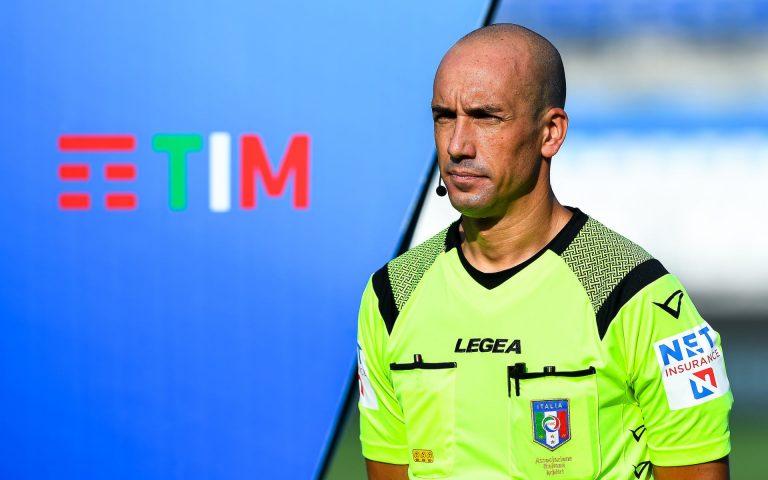 Photo via sampdoria.it
===============
Italian Serie A Tickets for next 10 games

Saturday 21 August 2021
INTER – GENOA
Giuseppe Meazza Stadium
Referee: MARINI
Assistants: LIBERTI – VECCHI
Fourth Official: MARCHETTI
VAR: VALERI
AVAR: CARBONE
18:30
HELLAS VERONA – SASSUOLO
Marc'Antonio Bentegodi Stadium
Referee: VOLPI
Assistants: SCARPA – PERROTTI
Fourth Official: ZUFFERLI
VAR: MAZZOLENI
AVAR: MERAVIGLIA
18:30
EMPOLI – LAZIO
Carlo Castellani Stadium
Referee: SOZZA
Assistants: TOLFO – DI IORIO
Fourth Official: SANTORO
VAR: NASCA
AVAR: VALERIANI
20:45
TORINO – ATALANTA
Olimpico di Torino Stadium
Referee: CHIFFI
Assistants: GALETTO – VONO
Fourth Official: MINELLI
VAR: ABISSO
AVAR: GIALLATINI
20:45
Sunday 22 August 2021
UDINESE – JUVENTUS
Dacia Arena
Referee: PEZZUTO
Assistants: PAGANESSI – LONGO
Fourth Official: PRONTERA
VAR: MARIANI
AVAR: CARBONE
18:30
BOLOGNA – SALERNITANA
Renato Dall'Ara Stadium
Referee: RAPUANO
Assistants: COLAROSSI – PALERMO
Fourth Official: PATERNA
VAR: VALERI
AVAR: PRETI
18:30
NAPOLI – VENEZIA
Diego Armando Maradona Stadium
Referee: AURELIANO
Assistants: IMPERIALE – BERCIGLI
Fourth Official: COSSO
VAR: DI PAOLO
AVAR: PERETTI
20:45
AS ROMA –FIORENTINA
Olimpico di Roma Stadium
Referee: PAIRETTO
Assistants: TEGONI – ROSSI L.
Fourth Official: DI MARTINO
VAR: MAZZOLENI
AVAR: VIVENZI
20:45
Monday 23 August 2021
CAGLIARI – SPEZIA
Sardegna Arena
Referee: FOURNEAU
Assistants: FIORE – MOKHTAR
Fourth Official: COLOMBO
VAR: PICCININI
AVAR: DI VUOLO
18:30
SAMPDORIA – AC MILAN
Luigi Ferraris Stadium
Referee: FABBRI
Assistants: RANGHETTI – BACCINI
Fourth Official: GARIGLIO
VAR: DI PAOLO
AVAR: MELI
20:45