By Anna Italia
Follow me on Twitter @ItalianSerieA,
Facebook: Anna Italia Page
Instagram: annaitalia2
Italian Soccer Serie A
The nomination of the Ballor d'Or 2021 are in after a one-year parenthesis due to the Covid-19 Pandemia. The Ballon d'Or is back with a brand new list of thirty.  In comparison with the 2019 edition, twenty-one have gone overboard.   The list of thirty nominated for the Ballon d'Or France Football 2021 is two-thirds renewed compared to the previous edition, in 2019.  Good news is that five Serie A players and five Italians are among the nomination for the Ballon d'Or 2021.
🇮🇹

👉

  Ballon d'Or 2021 – Five Serie A players and five Italians nominated

⚽ Nicolò Barella
⚽ Leonardo Bonucci
⚽ Giorgio Chiellini
⚽ Gianluigi Donnarumma
⚽ Jorginho


Photo via twitter.com/francefootball
Juventus have two players nominated including Italy Captain Giorgio Chiellini and Leonardo Bonucci.   AC Milan player Simon Kjaer nominated.
Chelsea star Jorginho,  with double wins including the Champions League and the European Championship in 2021 is among the favorite to win.   Inter midfielder Nicolò Barella and former AC Milan goalkeeper Gianluigi Donnarumma are on the list.
🇮🇹

👉

Here is the complete list of the 30 players nominated for the Ballon d'Or 2021.
Riyad Mahrez (Algeria, Manchester City)
N'Golo Kanté (France, Chelsea)
Erling Haaland (Norway, Borussia Dortmund)
👉 Leonardo Bonucci (Italy, Juventus)
Mason Mount (England, Chelsea)
Cesar Azpilicueta (Spain, Chelsea)
👉 Nicolò Barella (Italy, Inter)
Karim Benzema (France, Real Madrid)
Kevin de Bruyne (Belgium, Manchester City)
👉 Giorgio Chiellini (Italy, Juventus)
Cristiano Ronaldo (Portugal, Manchester United)
Ruben Dias (Portugal, Manchester City)
👉 Gianluigi Donnarumma (Italy, Paris Saint-Germain)
Bruno Fernandes (Portugal, Manchester United)
Phil Foden (England, Manchester City)
👉 Jorginho (Italy, Chelsea)
Harry Kane (England, Tottenham Hotspur)
N'Golo Kanté (France, Chelsea)
👉Simon Kjaer (Denmark, Milan)
Robert Lewandowski (Poland, Bayern Munich)
Romelu Lukaku (Belgium, Chelsea)
👉Lautaro Martinez (Argentina, Inter)
Kylian Mbappé (France, Paris Saint-Germain)
Lionel Messi (Argentina, Paris Saint-Germain)
Luka Modric (Croatia, Real Madrid)
Gerard Moreno (Spain, Villarreal)
Neymar (France, Paris Saint-Germain)
Pedri (Spain, Barcelona)
Mohamed Salah (Egypt, Liverpool)
Raheem Sterling (England, Manchester City)
Luis Suarez (Uruguay, Atletico Madrid)
5⃣ #Azzurri 🇮🇹 are among the 30 candidates for the #BallonDor 🏆

⚽ #Barella
⚽ #Bonucci
⚽ #Chiellini
⚽ #Donnarumma
⚽ #Jorginho

Donnarumma is also a nominee for the #YachineTrophy, awarded to the best goalkeeper of the year 🧤#VivoAzzurro pic.twitter.com/CFVaN4H4E7

— Italy ⭐️⭐️⭐️⭐️ (@Azzurri_En) October 8, 2021
#BallonDor 2021 nominee: 👏 @simonkjaer1989
Per noi hai già vinto tu! ❤️🖤#SempreMilan https://t.co/aOdmVDWIXn

— AC Milan (@acmilan) October 8, 2021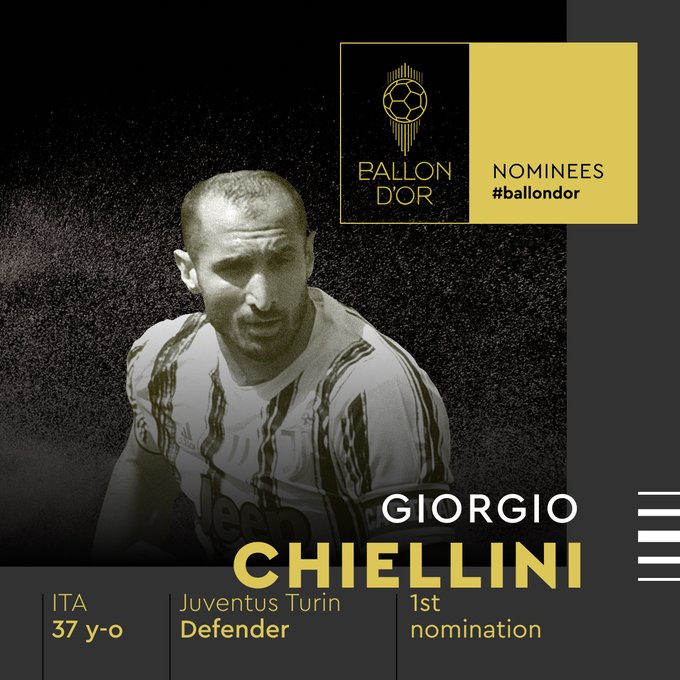 Photo via twitter.com/francefootball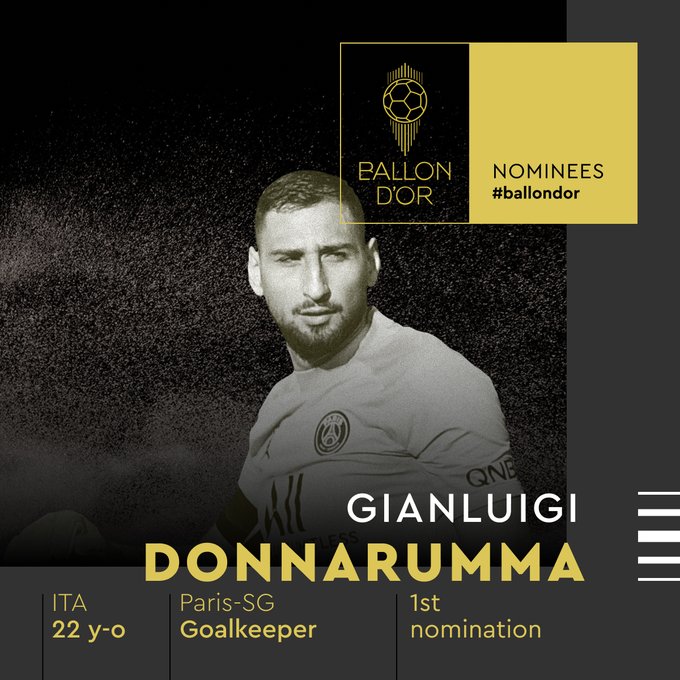 Photo via twitter.com/francefootball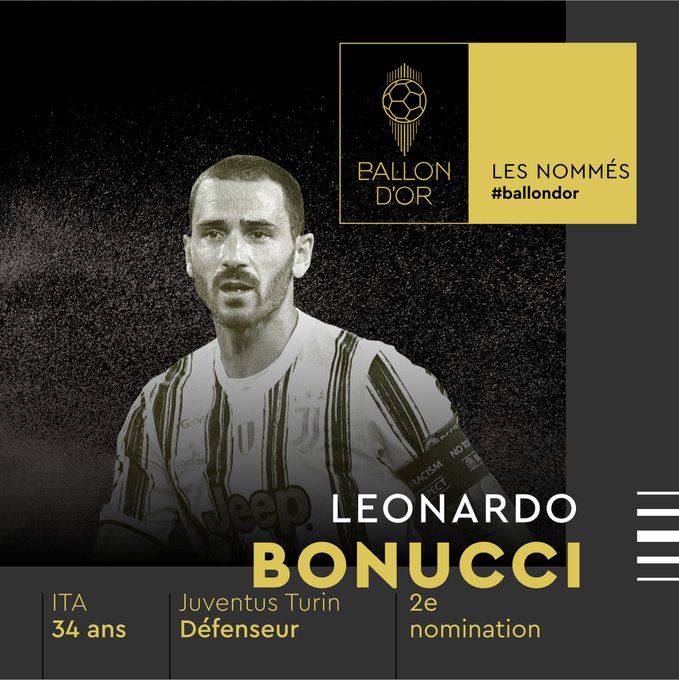 Photo via twitter.com/francefootball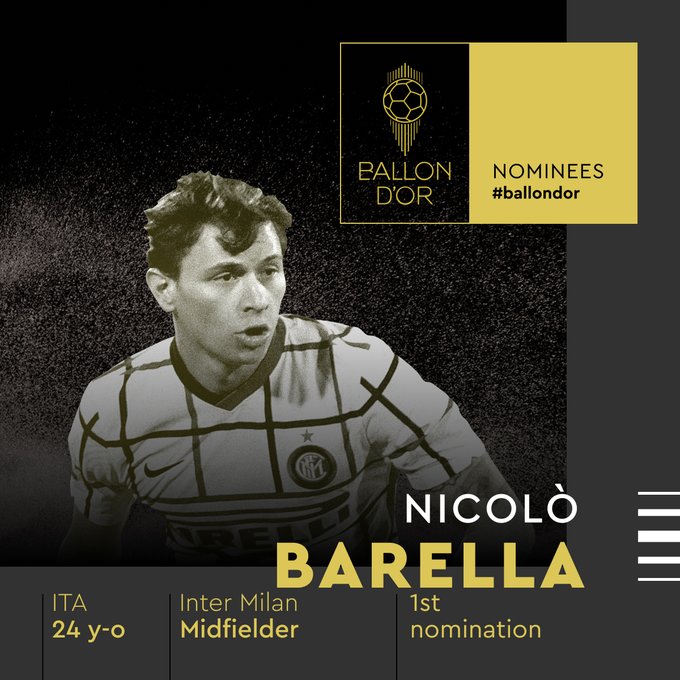 Photo via twitter.com/francefootball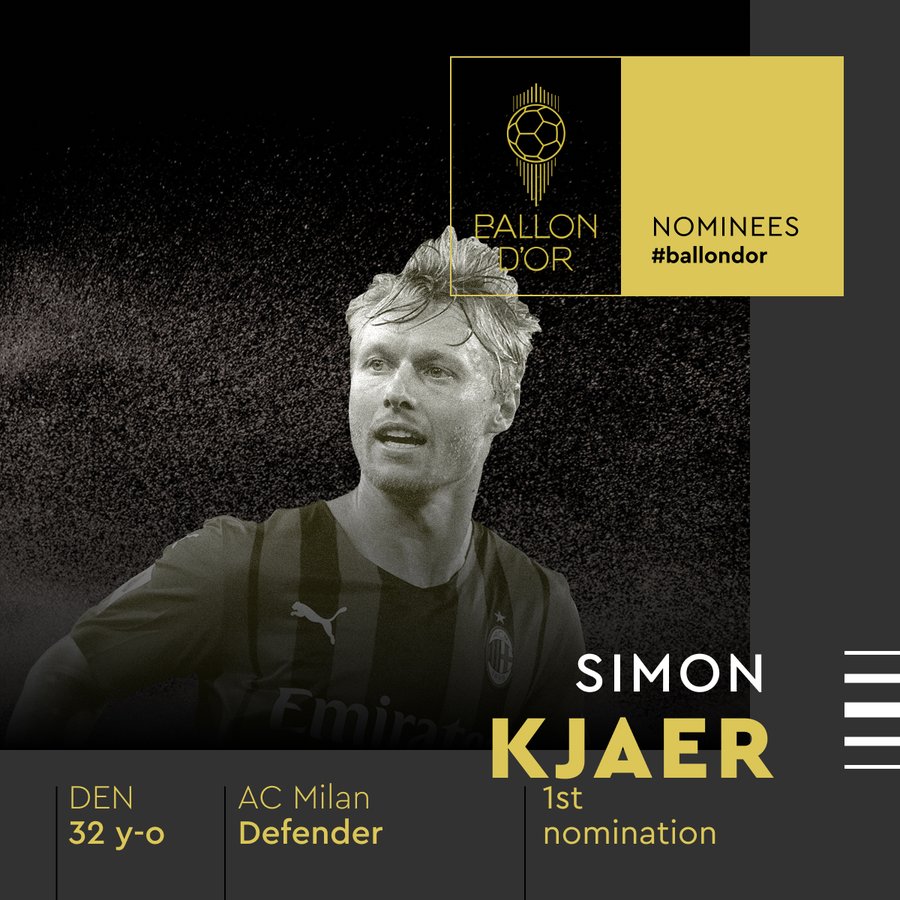 Photo via twitter.com/francefootball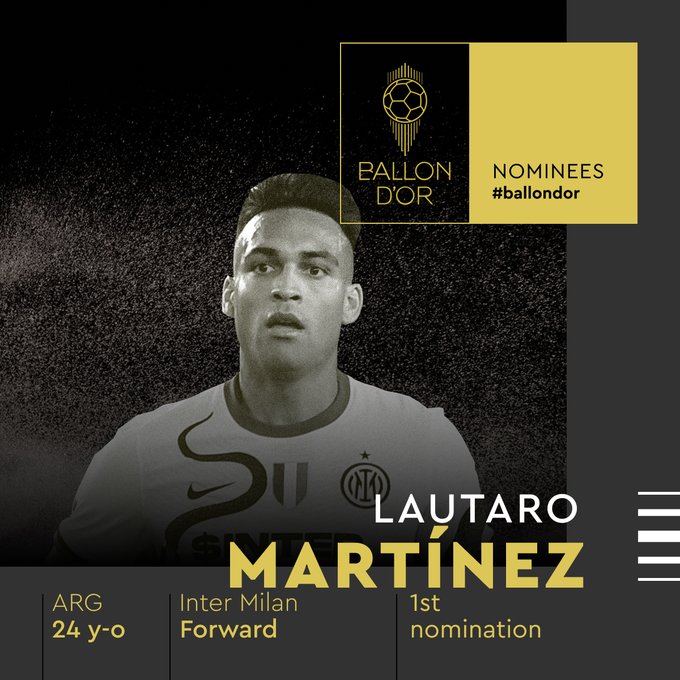 Photo via twitter.com/francefootball
📣 | BALLON D'OR#Lautaro and #Barella named on 30-man shortlist for #BallonDor by @francefootball 👏

👉 https://t.co/0UXgsEe21b pic.twitter.com/vP6lRqlKUP

— Inter 🏆🇮🇹 (@Inter_en) October 8, 2021