By Anna Italia
Follow me on Twitter @ItalianSerieA,
Facebook: Anna Italia Page
Instagram: annaitalia2
Italian Soccer Serie A
55% Ball Possession FIORENTINA and 45% Ball Possession JUVENTUS

Fiorentina 0 – 1 Juventus

.                                                                   91′ Lorenzo Venuti (own goal)
Buy Serie A tickets for every Italian League football match

Fiorentina lost the Coppa Italia Frecciarossa Semifinal game defeated by Juventus with an own goal by Lorenzo Venuti on Wednesday 2 March 2022 at the Artemio Franchi Stadium in Florence, Italy.  Previoulsy,  Juventus have won 11 of their last 15 matches against Fiorentina in all competitions (2D, 2L), however only finding success twice in the five most recent matches against the Viola (2D, 1L).  The Second Leg will be played on Wednesday 20 April at the Allianz Stadium.
Juventus opened the score in the agonizing 91st minute, sadly, with the own goal by Lorenzo Venuti. The immediate reaction by Venuti was crying out of frustration while his teammates console him.
🏆🇮🇹👉Fiorentina 0 – 1 Juventus, 91st minute, own goal by ⚽️ Lorenzo Venuti. https://t.co/IEV6aCOmnA

— Anna Italia (@ItalianSerieA) March 2, 2022
Fiorentina fans booing ex-player Dušan Vlahović. Yet, his ex-teammates show mutual support.
Dusan Vlahovic consoles his former teammate Lorenzo Venuti at full-time.💜 pic.twitter.com/gGVrKYs1fR

— CBS Sports Golazo ⚽️ (@CBSSportsGolazo) March 2, 2022
"It was like a balloon getting popped and deflating from these Fiorentina fans."@IFTVMarco on Fiorentina's last minute own goal. 🗣️ pic.twitter.com/fNbH0XBGvj

— CBS Sports Golazo ⚽️ (@CBSSportsGolazo) March 2, 2022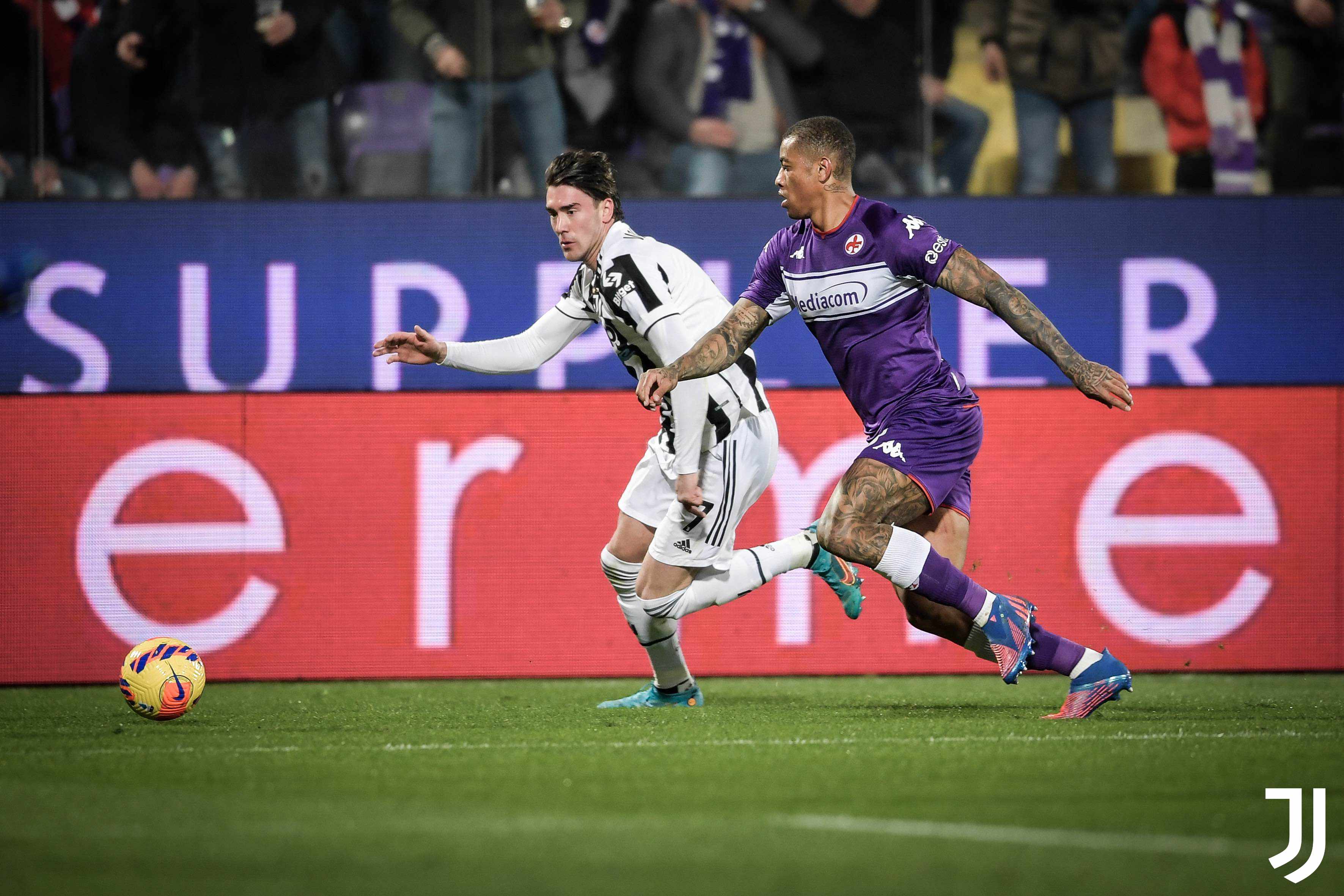 ✅ Among the opponents who have faced Juventus more than twice in the Italian Cup, Fiorentina is the one that has obtained the most successes against the Bianconeri in percentage terms (43% – six in the previous 14); however the Viola have only won one of their last six matches in the competition against this opponent (3D, 2L), a 2-1 on 5 March 2015 thanks to a brace from Mohamed Salah (Fernando Llorente scored for the Piedmontese).   Juventus is the team that has participated several times in the semi-finals of the Italian Cup (33); moreover, the Juventus team is already the team that has reached the Final in the competition several times (20), followed in second place by Roma (16).  Fiorentina have not passed the round in three of the four semi-finals played in the Italian Cup since the beginning of the last decade (with the exception of the double match against Udinese in 2013/2014), after having managed to reach the final in all the previous ones. three occasions in which he had participated in this phase of the competition.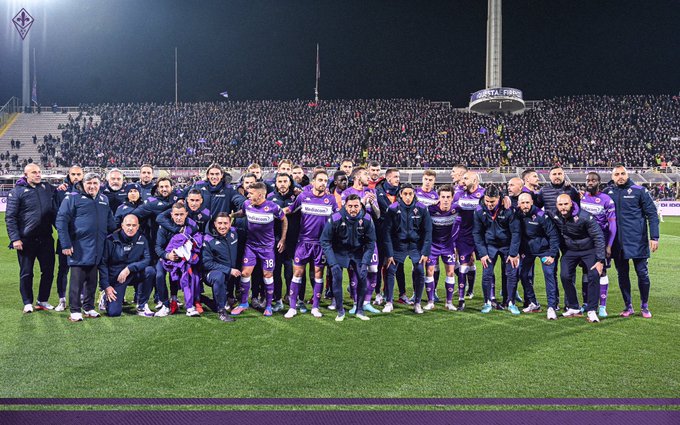 🏆🇮🇹👉 Lineup FIORENTINA (4-3-3): Terracciano; Odriozola, Milenkovic, Igor, Biraghi; Bonaventura, Torreira, Castrovilli; Ikone, Piatek, Saponara
🏆🇮🇹👉 Lineup JUVENTUS (3-5-2): Perin; Danilo, De Ligt, De Sciglio; Aké, Locatelli, Arthur, Rabiot, Pellegrini; Vlahovic, Kean
🏆🇮🇹👉Coppa Italia Semifinal Wednesday 2 March@ACFFiorentinaEN Coach Vincenzo Italiano and @juventusfcen Coach Massimiliano Allegri https://t.co/oFEm4EKuDr

— Anna Italia (@ItalianSerieA) March 2, 2022
Fiorentina anthem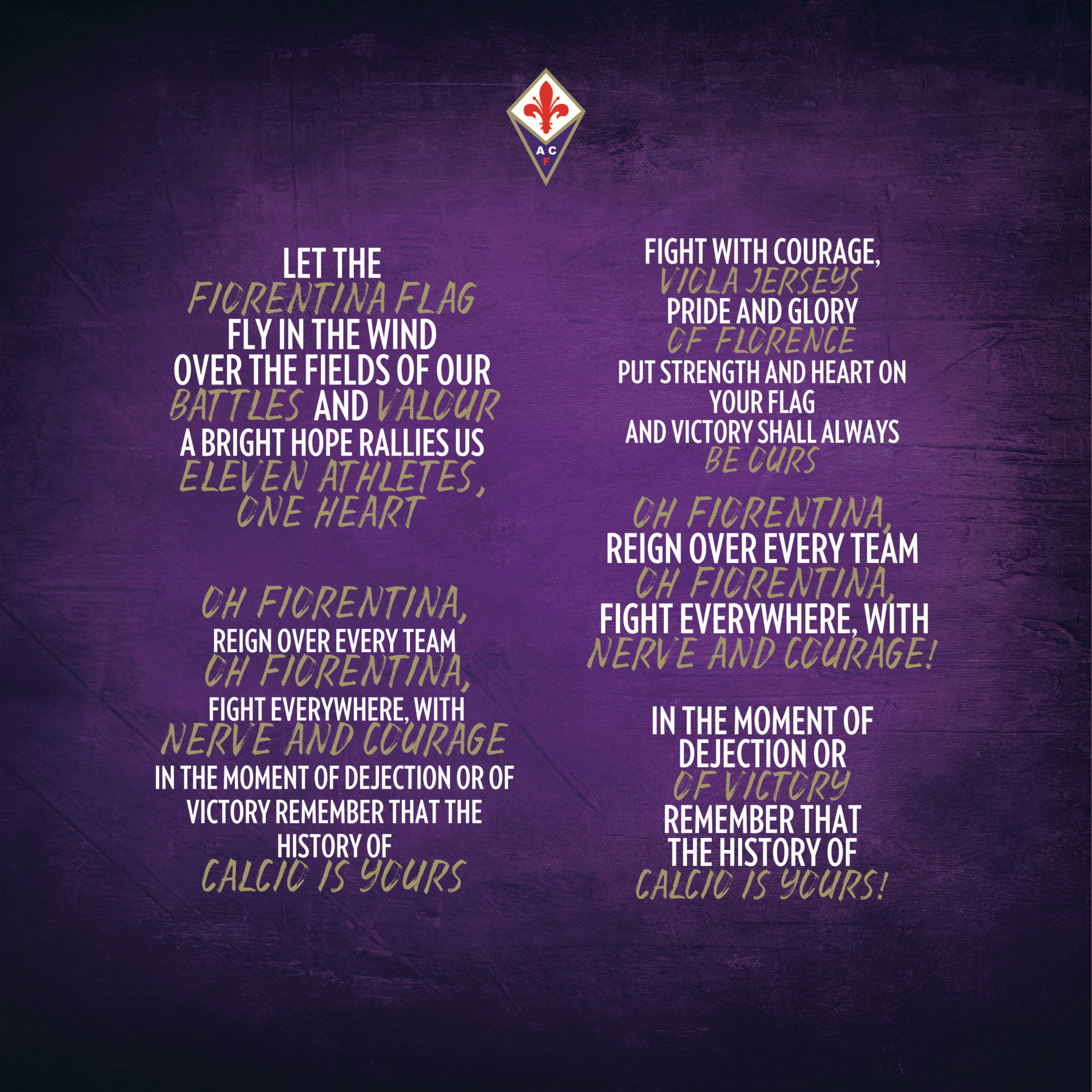 ==========================

Buy Fiorentina Tickets


Buy Juventus FC Tickets
==========================
📺 Click the video to watch Fiorentina 0 – 1 Juventus highlights on Wednesday 2 March 2022
Fiorentina choreography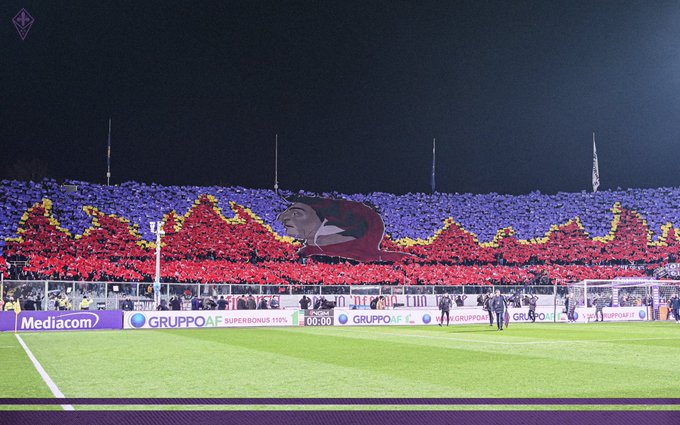 The Artemio Franchi Stadium is ready for the Coppa Italia Semifinal Fiorentina vs Juventus on Wednesday 2 March 2022. https://t.co/UAg4fokENF

— Anna Italia (@ItalianSerieA) March 2, 2022
Fiorentina team arriving at the Artemio Franchi Stadium for the Coppa Italia Semifinal against Juventus https://t.co/SRVBYXY2pl

— Anna Italia (@ItalianSerieA) March 2, 2022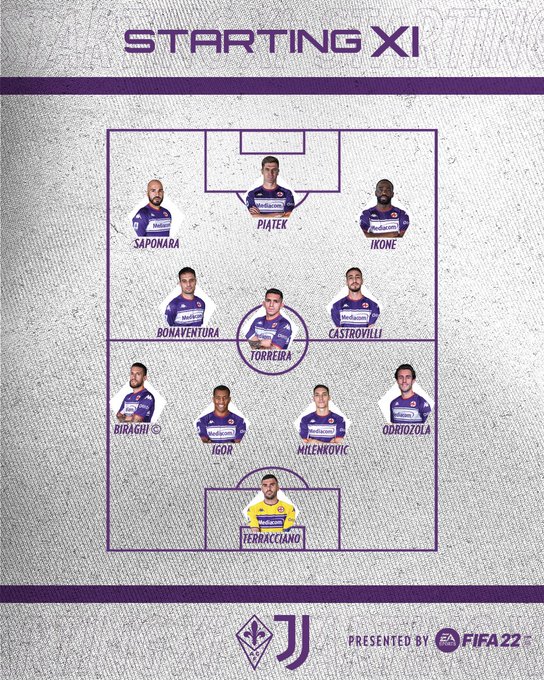 Photo via twitter.com/ACFFiorentinaEN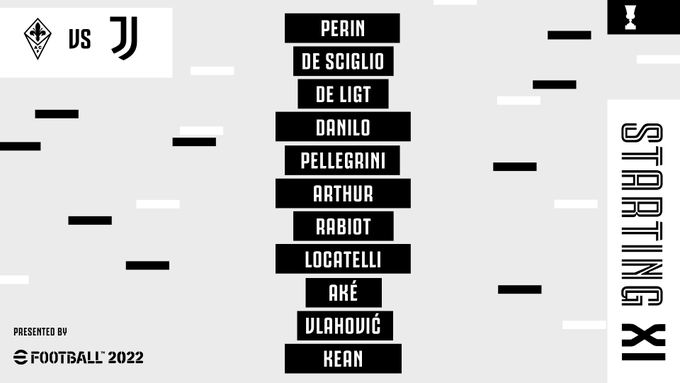 Photo: twitter.com/juventusfcen
Juventus team arriving at the Artemio Franchi Stadium for the Coppa Italia Semifinal against Fiorentina. https://t.co/AODV5dmZii

— Anna Italia (@ItalianSerieA) March 2, 2022
🏆🇮🇹👉First half is over. Fiorentina 0 – 0 Juventus

Italy Coach Roberto Mancini and Gabriel Batistuta are at the Stadio Artemio Franchi

⚽️No Goals

🟨No Yellow

✍️Ball Possession: 58% @ACFFiorentinaEN and 42% @juventusfcen

✅https://t.co/Trm7JmtFrW@violanews @Viola_Nation https://t.co/V1CgF4NBQ2

— Anna Italia (@ItalianSerieA) March 2, 2022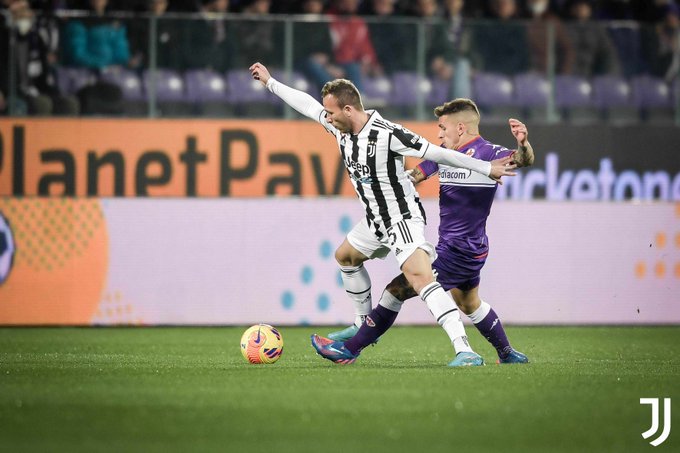 🏆🇮🇹👉 Result Fiorentina 0 – 1 Juventus

⚽️ Goal: 91′ Lorenzo Venuti (og)

🟨 Yellow: 3 (F), 2 (J)

✍️Ball Possession: 55% @ACFFiorentinaEN and 45% @juventusfcen

✅https://t.co/Trm7JmtFrW@violanews @Viola_Nation @violaclubisrael @violafansusa @Fiorentinanews @PassioneFiorent https://t.co/ueJtSsI6uI

— Anna Italia (@ItalianSerieA) March 2, 2022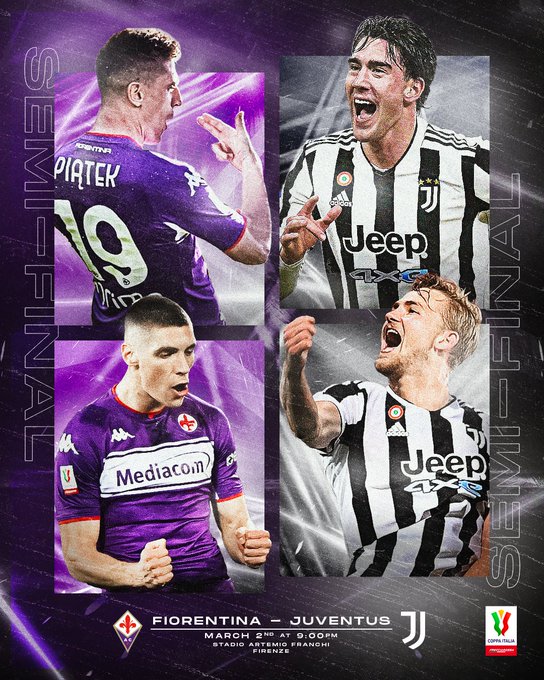 Photo via twitter.com/SerieA_EN/
2021 – 2022 Coppa Italia Frecciarossa Semifinal First Leg
Fiorentina 0 – 1 Juventus
Wednesday 2 March 2022
Artemio Franchi Stadium
Florence, Italy
21:00
Referee: GUIDA
Assistants: CARBONE – LO CICERO
Fourth Official: MARINELLI
VAR: DI PAOLO
AVAR: RANGHETTI
Goals: 91′ Lorenzo Venuti (own goal)
🟨Yellow: 57′ L. Pellegrini (J), 71′ G. Bonaventura (F), 72′ N. Milenkovic (F), 79′ M. De Sciglio (J), 90′ Lucas Torreira (F)
Official lineups – formations – tabellino:
🏆🇮🇹👉 Lineup FIORENTINA (4-3-3): Terracciano; Odriozola, Milenkovic, Igor, Biraghi; Bonaventura, Torreira, Castrovilli; Ikone, Piatek, Saponara
Coach: Vincenzo Italiano
🏆🇮🇹👉 Lineup JUVENTUS (3-5-2): Perin; Danilo, De Ligt, De Sciglio; Aké, Locatelli, Arthur, Rabiot, Pellegrini; Vlahovic, Kean
Subs: Szczesny, Pinsoglio, Cuadrado, Bonucci, Stramaccioni, Miretti, Morata, Soulé
Coach: Massimiliano Allegri