A physical match with few chances and red cards for Kean and Parrott. Nicolato: "We're a work in progress"
Thursday, October 10, 2019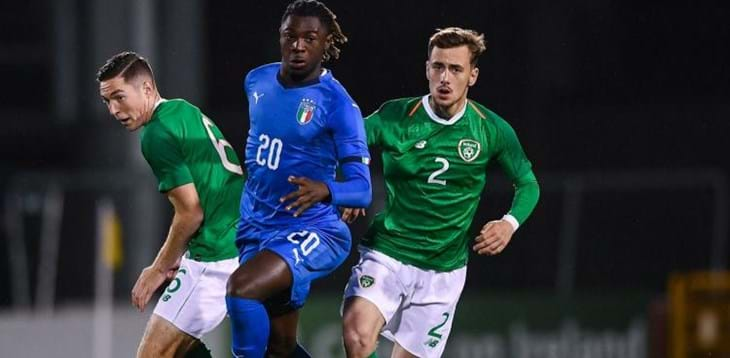 On a chilly night in Dublin, Italy left with a 0-0 draw that perhaps suits Ireland better as they remain top of the group with ten points after four games. It was a tough and hard-fought match as was to be expected. The game was also shaped by the injury of Marchizza who had to go off after 22 minutes and Moise Kean's red card as Paolo Nicolato stated after the whistle. "The Marchizza injury hurt us, then there was the Kean red card. It's our fault if we respond to provocation, you can't fall for it."
The Under-21 National Team lined up in the usual 4-3-3 formation with Tonali and Pellegrini back following their spells with the senior side. In goal, the Coach opted for Carnesecchi ahead of Plizzari and Frattesi was selected to play out wide ahead of Kean. The full starting XI was: Carnesecchi; Del Prato, Bastoni, Marchizza, Pellegrini; Locatelli, Tonali, Carraro; Frattesi, Pinaamonti, Scamacca.
Coming into the game following a big 5-0 win over Luxembourg, the young Italy side were up against a stronger side in both technical and physical terms. Nicolato asked for determination from his side before they come up against a strong opponent. The Azzurrini started on the 16th minute and went very close in the 16th minute through a Pinamonti effort that went just the wrong side of the post. As time went on, the physicality of the home side took its toll as they raised the tempo and put Nicolato's side in trouble with Marchizza having to go off and he was replaced in the 23rd minute. In the 23rd minute, Ronan forced Carnesecchi into a save with a shot from outside the box that he was ready for.
There were few chances of real note. In the 32nd minute, Frattesi got a shot away after the ball rebounded to him but the put it over.
In the second half, there were two changes as Cutrone and Kean came on for Pinamonti and Scamaccca. The Azzurrini looked to get up the pitch and cause problems for the Irish. They went close in the 56th minute as Adjapng hit a right-foot effort from outside the box that was saved at the cost of a corner. In the 57th minute, both sides were reduced to ten minutes after Kean and Parrott were sent off after shoving one another after the whistle had gone.
Nicolato looked to patch things up and brought Sottil on for Carraro to bring solidity to a side that was defending well but struggling to strike at the other end. In the 81st minute, the hosts went close in the 81st minute when Carnesecchi made an instinctive save from a Molumby free kick.
Italy were pegged back and struggling to get up the pitch while Ireland had the momentum but the final whistle went. Nicolato was calm if not satisfied after. "We were up against a good opponent who were better than us physically. Ours is a work in progress, we put in a brave performance though and showed desire. Now, I hope to see a different match in Armenia."
Sandro Tonali will not travel to Yerevan as he joins the senior side.
Source:   figc.it