By Anna Italia
Follow me in Twitter @ItalianSerieA,
Facebook: Anna Italia Page
Instagram: annaitalia2
Italian Soccer Serie A supports the Italian National Team
The time is here….  Italy team is getting closer to the UEFA EURO 2020 Qualification.  However, let's not eat the cake before baking it.  I agree with Italy Head Coach Roberto Mancini with his declarations during the press conference on the eve of the game Italy vs Greece on Saturday 12 October 2019 at the Olimpico di Roma Stadium.
Mancini making a clear statement,  "We haven't qualified yet, it won't be easy against the Greeks.   We need to overcome the obstacle of Greece and it won't be easy.  They've changed their Coach and we don't know how they'll play, but for us nothing should change. We need to win this very important game. We want to go to EURO 2020, do well and go all the way because Italy haven't won the European Championship for a while.  A victory is the maximum we could get. But our main objective is the European Championship, the first important competition we'll have together."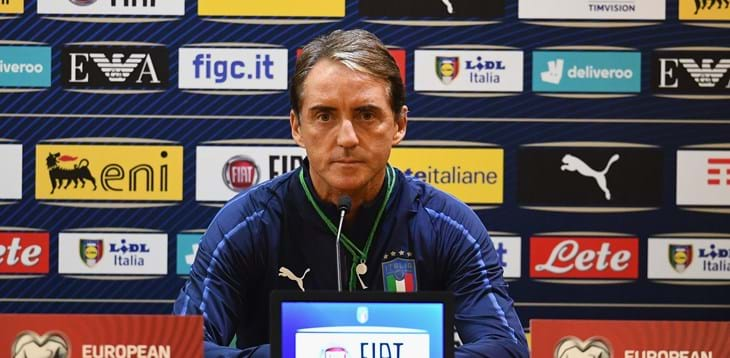 Photo:  figc.it
Here is the situation.  Italy  are top of Group J with six wins reaching 18 points  (a record for Italy at the start of European Championship qualifying) and a win tomorrow will secure their place at next year's tournament.  Mathematically speaking, the victory  will seal the qualification.
European Qualifiers Group J Standing after Matchday 6

Photo: uefa.com
==============================
Ticket option for Italy National team games

==============================
This is an objective that the Head Coach has been working on for many months. "If I'm being honest, when I started out I didn't think about what could happen over the first 15 months. I had other thoughts: it was important to get to know the players better, I was focused on integrating them. We've never had difficulties, not even in the two matches we lost against France and Portugal. As early as the Nations League we played a different kind of football, making progress step by step. The credit goes to the lads, they've managed to find the right feeling and have been excellent."
Regarding the lineup for Greece, Mancini  has one doubt on whether to start with Juventus midfielder Federico Bernardeschi or Inter midfielder Nicolò Barella Barella.
Mancini also  spoke about Kean, who was sent off during the Under-21 National Team's match against Ireland yesterday: "He always seems to be involved in these situations. I think he was a little bit unlucky, but he has to pay more attention."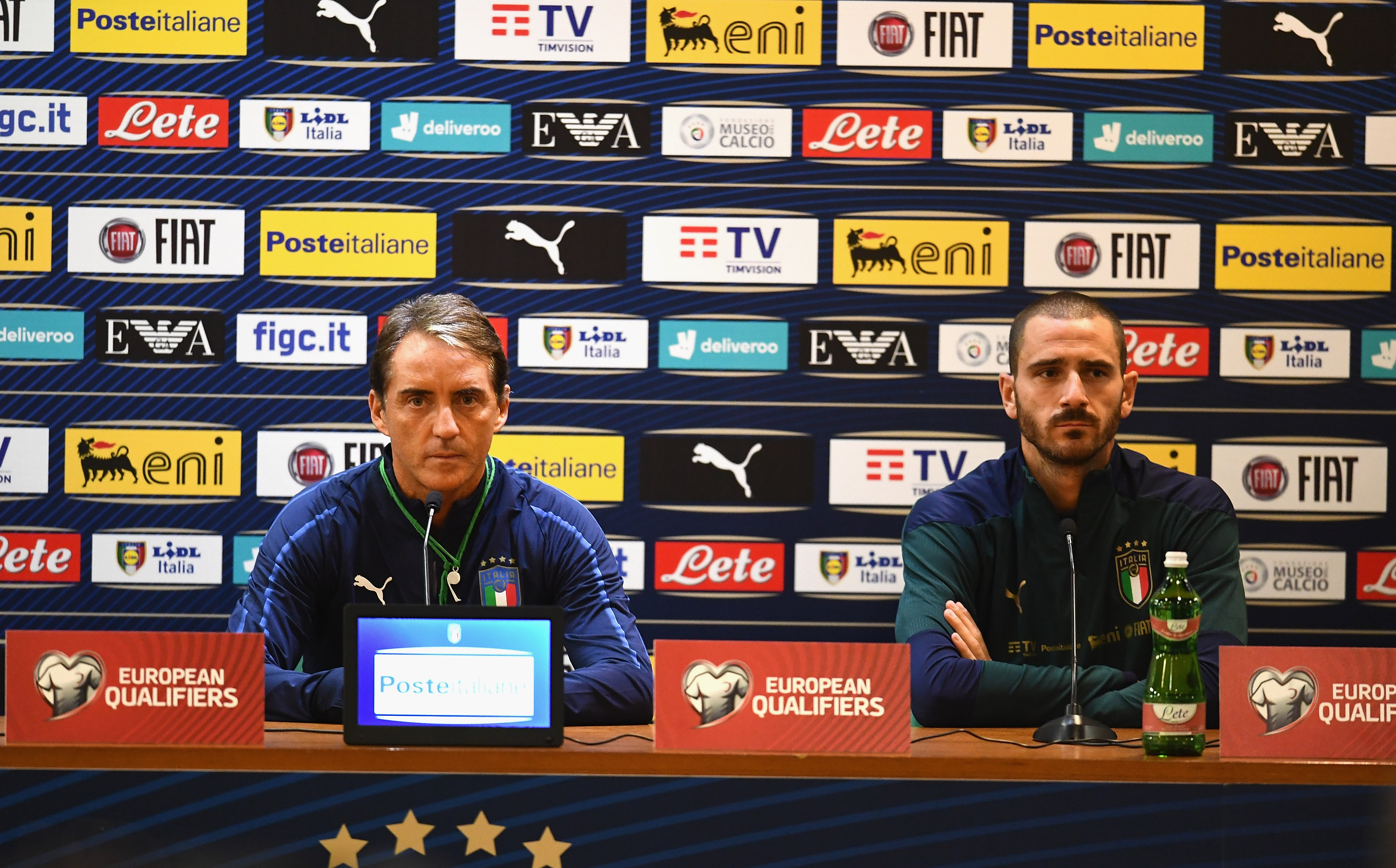 Photo:  figc.it

Leonardo Bonucci, also present in the press conference, promised a historic evening: "The time we spent at the Bambino Gesù hospital made us really emotional. Children are life's smile, they provide strength and hope. Yesterday, I saw children in difficult conditions but I also saw smiles. They set an example for all of us. Tomorrow evening, we need to win for them, we want to provide Italy with a historic evening."
On the topic of Italy qualification with three matchdays in advance, Bonucci added:  "Achieving an objective so far in advance would be emotional. It hasn't ever happened before, which means that we're doing a great job. If we do it, it'll be with a great crowd behind us. We expect them to be at their best. It'll be fantastic at the Olimpico and we have a duty to make it a historic night."
👉

Italy Squad – Called Up Players
Goalkeepers: Gianluigi Donnarumma (Milan), Pierluigi Gollini (Atalanta), Alex Meret (Napoli), Salvatore Sirigu (Torino);
Defenders: Francesco Acerbi (Lazio), Cristiano Biraghi (Inter), Leonardo Bonucci (Juventus), Danilo D'Ambrosio (Inter), Giovanni Di Lorenzo (Napoli), Armando Izzo (Torino), Gianluca Mancini (Roma), Alessio Romagnoli (Milan), Leonardo Spinazzola (Roma);
Midfielders: Nicolò Barella (Inter), Federico Bernardeschi (Juventus), Bryan Cristante (Roma), Frello Filho Jorge Luiz Jorginho (Chelsea), Sandro Tonali (Brescia), Marco Verratti (Paris Saint Germain). Nicolò Zaniolo (Roma);
Forwards: Andrea Belotti (Torino), Federico Chiesa (Fiorentina), Stephan El Shaarawy (Shangai Shenhua), Vincenzo Grifo (Friburgo), Ciro Immobile (Lazio), Lorenzo Insigne (Napoli).
Staff – Head Coach: Roberto Mancini; Team Manager: Gabriele Oriali; Assistant Coach: Alberico Evani, Attilio Lombardo, Giulio Nuciari, Fausto Salsano; Fitness Coach: Claudio Donatelli and Andrea Scanavino; Goalkeeping Coach: Massimo Battara; Match Analyst: Antonio Gagliardi and Simone Contran; Doctors: Andrea Ferretti  and Carmine Costabile; Physiotherapists: Maurizio Fagorzi, Emanuele Randelli, Fabrizio Scalzi, Luca Lascialfari, Fabio Sannino; Osteopata: Walter Martinelli; Nutritionist: Matteo Pincella; Secretary: Emiliano Cozzi; Press office director: Paolo Corbi.
👉 Italy National Team schedule (all times CEST)
Monday 7 October
Friday 11 October
17:00 – Press conference
17:30 – Training at the Stadio Olimpico
Saturday 12 October
20:45 – Italia vs. Grecia at the Stadio Olimpico. Following the match, a meeting with the press and subsequent journey back to the hotel
Sunday 13 October
11:30 – Training (behind closed doors)
Monday 14 October
10:30 – Chartered flight from Rome to St. Gallen (Switzerland)
18:00 – Press conference
18:30 – Training at the Rheinpark Stadion – Vaduz
Tuesday 15 October
20:45 – Liechtenstein vs. Italy at the Rheinpark Stadion – Vaduz. Following the match, a meeting with the press and subsequent journey back to the hotel
Wednesday 16 October
10:00 – Chartered flight from St.Gallen to Milan Malpensa (11:10) and then journey to Rome (13:00)