By Anna Italia
Follow me in Twitter @ItalianSerieA,
Facebook: Anna Italia Page
Instagram: annaitalia2
Italian Soccer Serie A
The 2022 World Cup Qatar Qualifying Draw was held on Monday 7 December 2020 in Zurich.     The groups  were drawn in a five-team group and will play eight qualifying matches instead of ten so they can fit in their Nations League Final Four commitments in October 2021.   Italy will be in Group C with Switzerland, Northern Ireland, Bulgaria, and Lithuania. 
👉   2022 World Cup qualifying groups
Group A: Portugal, Serbia, Ireland, Luxembourg, Azerbaijan
Group B: Spain, Sweden, Greece, Georgia, Kosovo
Group C: ITALY, Switzerland, Northern Ireland, Bulgaria, Lithuania
Group D: France, Ukraine, Finland, Bosnia & Herzegovina, Kazakhstan
Group E: Belgium, Wales, Czech Republic, Belarus, Estonia
Group F: Denmark, Austria, Scotland, Israel, Faroe Islands, Moldova
Group G: Netherlands, Turkey, Norway, Montenegro, Latvia, Gibraltar
Group H: Croatia, Slovakia, Russia, Slovenia, Cyprus, Malta
Group I: England, Poland, Hungary, Albania, Andorra, San Marino
Group J: Germany, Romania, Iceland, North Macedonia, Armenia, Liechtenstein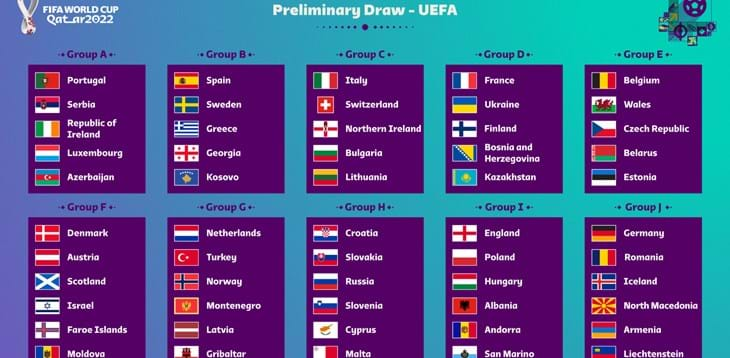 Italy Head Coach Roberto Mancini expressed: "We mustn't underestimate anyone, I believe it'll be a battle between ourselves and Switzerland for top spot." The Italian Football Federation (FIGC) President Gravina said: "A challenging group"
#WCQ 🌍

🗳️ The qualifying draw begins!

Daniele #DeRossi, a #WorldCup winner with #Italy in 2006, will help conduct it! 🙌#Qatar2022 #VivoAzzurro pic.twitter.com/hw9lwyS8wE

— Italy ⭐️⭐️⭐️⭐️ (@azzurri) December 7, 2020

Italy with 22-game unbeaten run (17 wins and five draws), a sequence that has resulted in them rising to tenth place in the FIFA Ranking and which allowed them to be in Pot 1 for today's draw, which was conducted by Rafael van der Vaart and 2006 World Champion Daniele De Rossi. With Italy having been placed in Group C, Switzerland then joined the Azzurri from Pot 2, Northern Ireland from Pot 3, Bulgaria from Pot 4 and Lithuania from Pot 5.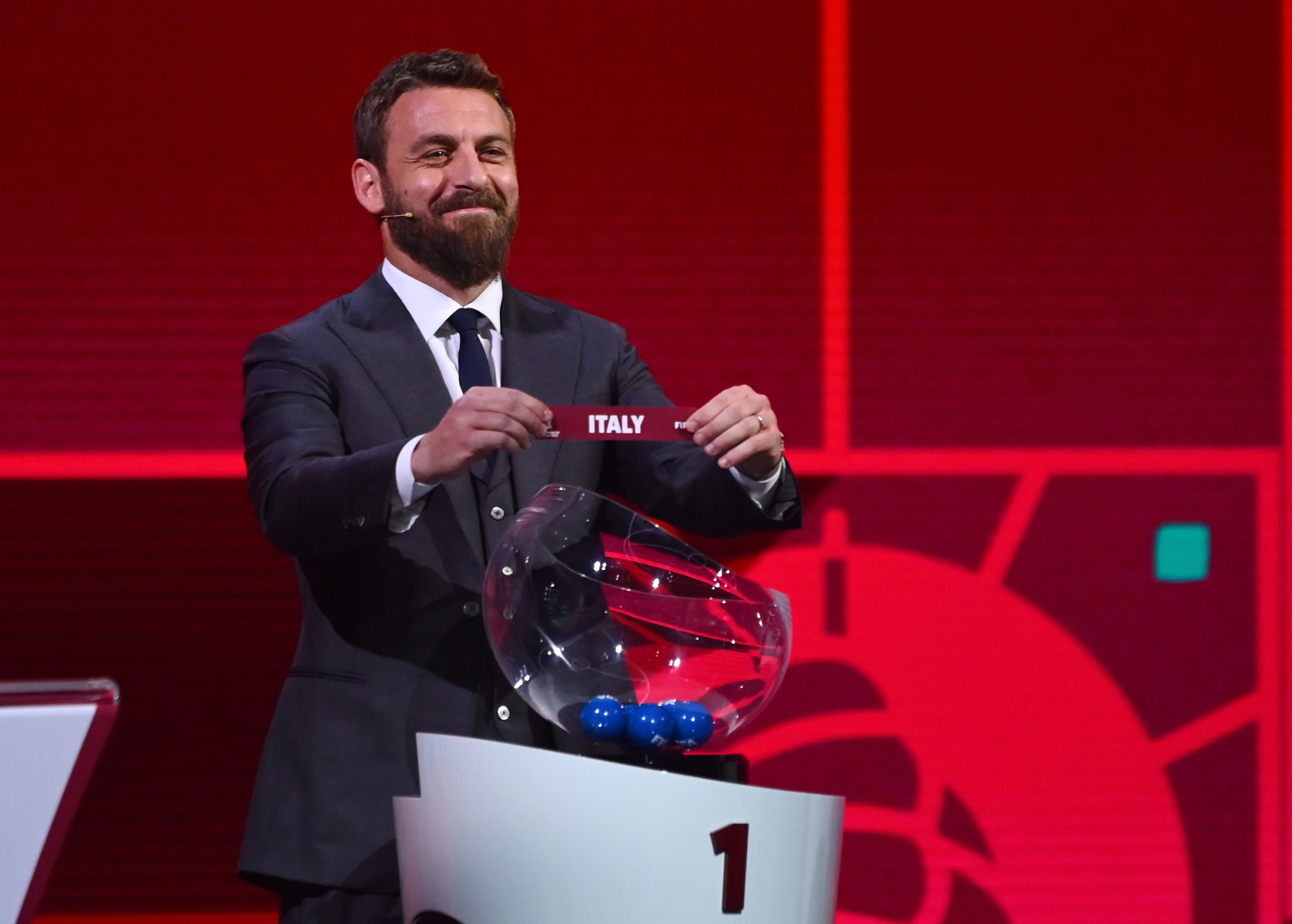 The great ex-AS Roma midfielder and Italian National team player Daniele De Rossi
Italy's World Cup qualification journey will begin in March 2021 and conclude in November 2021, with Italy intent on erasing the shame of failing to qualify for the 2018 World Cup in Russia.
Mancini added, "I believe it'll be a battle between ourselves and Switzerland, who could have easily been among the top seeds. They were one of the best teams in Pot 2, although it's good that they are nearby and it'll be a short trip. Northern Ireland may seem an easier prospect than Switzerland on paper, but all the matches are difficult and must be played in order to win. Games against Bulgaria have also never been easy. We mustn't underestimate anybody, we need to approach all our matches in the same way because a draw could be enough to complicate matters. The first fixtures in March will be vital, then we'll focus on the European Championship."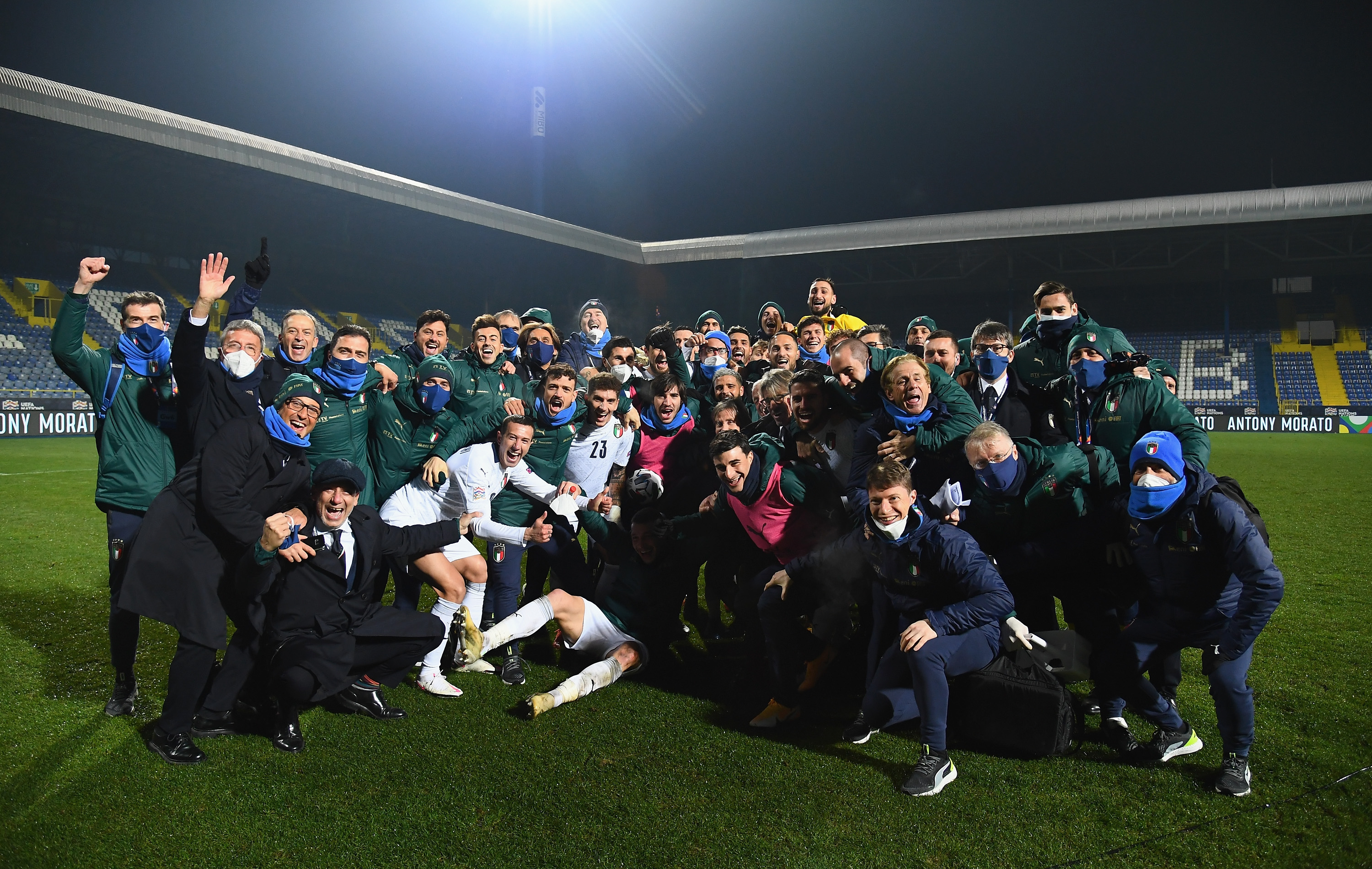 The ten group winners in qualifying will automatically qualify for the World Cup, while the last three European places in Qatar will be decided through a play-off stage. This will involve the ten group runners-up and the two best Nations League group winners who do not finish in the top two of their World Cup qualifying group. Unbeaten against Lithuania (four wins and two draws), the Azzurri also have the edge over Switzerland in their previous clashes (28 wins, 22 draws and eight defeats). Italy have recorded six wins, drawn twice and lost on one occasion against Northern Ireland, while their record against Bulgaria reads as follows: ten wins, seven draws, two defeats.
"It's a challenging group," said FIGC President Gabriele Gravina. "I would have liked to avoid Switzerland, but having such a high-calibre opponent in our group will spur us on. It'll be an important test against a team that we'll also face at the European Championship. I agree with Mancini when he says that we mustn't underestimate anyone, but, after witnessing the strength of our National Team, I was calm during the draw."
#Azzurri 🇮🇹#WorldCup qualification: Italy drawn alongside Switzerland, Northern Ireland, Bulgaria and Lithuania

The article 👉 https://t.co/pkSABwinWh

🗣️ #Mancini: "We mustn't underestimate anyone."
🗣️ #Gravina: "A challenging group." pic.twitter.com/QUpoVwpx8K

— Italy ⭐️⭐️⭐️⭐️ (@azzurri) December 7, 2020