By Anna Italia
Follow me in Twitter @ItalianSerieA,
Facebook: Anna Italia Page
Instagram: annaitalia2
Italian Soccer Serie A
Monza President Silvio Berlusconi, the ex-Italy Prime Minister and ex-AC Milan President, will be released from the San Raffaele Hospital on Monday 14 September 2020 after his treatment for COVID-19, reported by officials in his Forza Italia party.
Berlusconi was admitted to Milan's San Raffaele hospital on September 4, suffering from mild pneumonia symptoms in both lungs after contracting COVID-19 while on holiday in Sardinia.
The condition of Berlusconi, 83 years old, is considered high risk because he was suffering from pneumonia which is a side-effect of the Coronavirus.
Professor Alberto Zangrillo, head of intensive care at San Raffaele in Milan, saying comforting words when speaking to the press that Berlusconi was never in intensive care, intubated or even given oxygen therapy. Berlusconi was breathing on his own.
Con l'aiuto del Cielo e grazie alla professionalità dei medici ho superato quella che considero la prova forse più difficile della mia vita. Rivolgo un grazie a tutti coloro che mi hanno manifestato la loro vicinanza. Il mio pensiero va ai tanti ammalati e alle loro famiglie pic.twitter.com/I2meBHD5cY

— Silvio Berlusconi (@berlusconi) September 14, 2020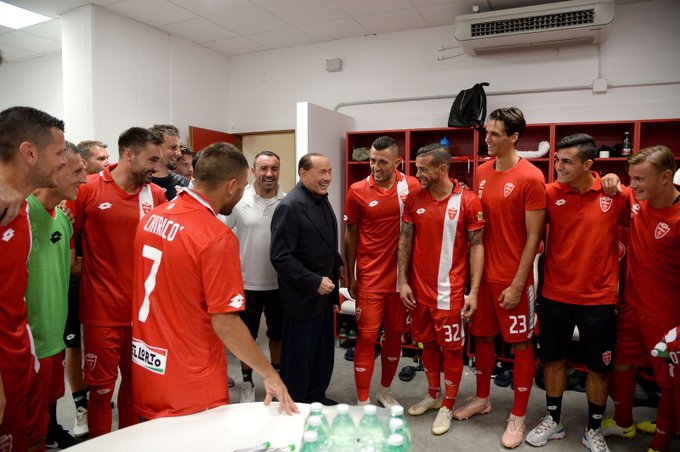 Photo:  twitter.com/ACMonza
Siamo tutti con Silvio! pic.twitter.com/Fho5dgG7B8

— Forza Italia (@forza_italia) September 3, 2020
È una esperienza davvero brutta, ma sono qui a combattere con voi. È necessario che stiate attenti a tutto e mettete le mascherine!

Sono intervenuto alla riunione dei deputati di Forza Italia e ho invitato loro, come tutti, a prestare attenzione. pic.twitter.com/TxSTgZJoxk

— Silvio Berlusconi (@berlusconi) September 9, 2020