By Anna Italia


Follow me in Twitter @ItalianSerieA,
Facebook: Anna Italia Page
Hello my friends! Here are the Serie A Week 13 Results for the games on Saturday 18,  Sunday 19, and Monday 20 November 2017.
The status quo in the leadership remaining the same. Napoli in the first position with 35 points after defeating AC Milan at the San Paolo Stadium wih a 2-1.  Napoli reaffirming their determination to win the Scudetto being the only team not losing a single game this season.
We have a turnover in the second position.  Juventus stepping down from the 2nd to the 3rd position after being defeated by Sampdoria at the Luigi Ferraris Stadium with a 3-2.  The positive step is for Inter climbing from the third to the second position after defeating Atalanta at the Giuseppe Meazza Stadium with a 2-0.   Inter reaching 33 points being now -2 points below Napoli with 35 points.  The race for the Scudetto is still a 3-way road with Napoli, Juventus, and Inter.
The Derby della Capitale won by AS Roma defeating Lazio at the Olimpico Stadium with a 2-1.  It's a motivation for AS Roma continuing with their pressing to reach to the top. Roma with 30 points reaching the 4th position -1 point below Juventus and -5 points below Napoli.   A step back for Lazio because they were ahead of Roma in the Serie A Standing now going down to the 5th position with 28 points.
Benevento is still the only team in the Serie A without a victory and losing all 13 games.   The return to Serie B next season is gaining momentum.
Results from Serie A Week 13



AS Roma 2 – 1 Lazio
Napoli 2 – 1 AC Milan
Crotone 0 – 1 Genoa
Benevento 1 – 2 Sassuolo
Spal 1 – 1 Fiorentina
Sampdoria 3 – 2 Juventus
Torino 1 – 1 Chievo Verona
Udinese 0 – 1 Cagliari
Inter 2 – 0 Atalanta
Hellas Verona 2 – 3 Bologna
The top scorer of the Serie A Up to Week 13: Lazio forward Ciro Immobile with 15 goals.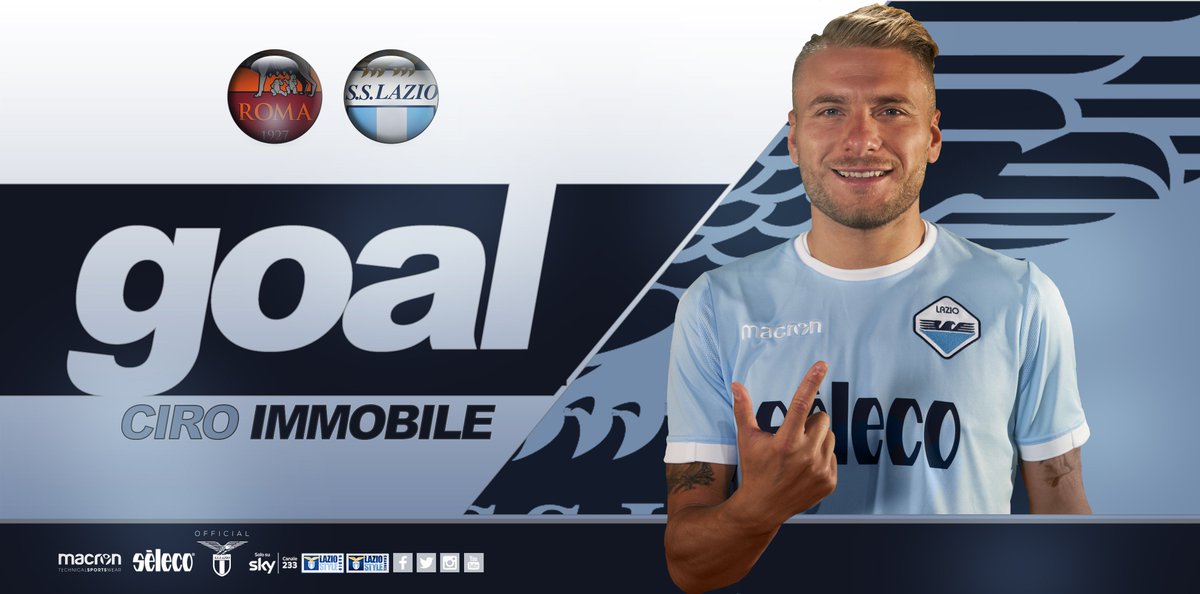 Photo: twitter.com/OfficialSSLazio
Top Serie A teams standing AFTER Serie A Week 13 game. First 4 qualifying for Champions League, 5 and 6 for Europa League.

– NAPOLI 1st position with 35 points and a positive goal difference of +25
– INTER 2nd position with 33 points and a positive goal difference of +16
– JUVENTUS 3rd positions with 31 points and a positive goal difference of +23
– AS ROMA 4th position with 30 points and a positive goal difference of +15
– LAZIO 5th position with 28 points and a positive goal difference of +18
–SAMPDORIA 6th position with 26 points and a positive goal difference of +12
Relegation Zone:
– GENOA, 18th position with 9 points and a negative goal difference of -8
– HELLAS VERONA, 19th position with 6 points and a negative goal difference of -19
– BENEVENTO, 20th position with 0 points and a negative goal difference of -27
2017- 2018 Italy Serie A Standing
– Watch Serie A Matches Live with fubo PRO games including Juventus, AS Roma, AC Milan, Inter, Napoli
Inter, Napoli