By Anna Italia

Follow me in Twitter  @ItalianSerieA
Supports Serie A Players with their National teams
50% Ball Possession FRANCE and  50% Ball Possession GERMANY

France 0 – 1  Germany 

12′ Mats Hummels


Germany qualifying to the World Cup Semifinal after defeating France.  3  Italian Serie A players called up for the game France – Germany.   Lazio forward Miroslav Klose playing for Germany  has the record  of scoring 15 goals in the World Cup like Brazil forward Ronaldo.  Sampdoria defender Shkodran Mustafi is not playing in this game because it was previously injured.
Germany opening the score in the 12th minute with defender Mats Hummels defeating France goalkeeper Hugo Lloris with a headed shot in the top right corner.  The assist by midfielder Toni Kroos.
According to fifa.com Stats up to First half: France 107 Passes Completed and Germany 186.  France 3 Deliveries in Penalty area 1 Germany.
| | | | | |
| --- | --- | --- | --- | --- |
| | 9 | Dangerous attacks | 9 | |
| | 7 | Total attempts | 2 | |
| | 3 | Deliveries in Penalty area | 1 | |
| | 7 | Clearances | 4 | |
| | 107 | Passes Completed | 186 | |
First half ending 45% ball possession France and 55% ball possession Germany.
In the 67th minute Germany replacing forward Miroslav Klose
3 Italian Serie A Players called up in FIFA World Cup Quarterfinal game  France vs Germany  on Friday 4 July  2014 at the Estadio do Maracana in Rio De Janeiro, Brazil  at 13:00 local time.
Germany:  2 Italian Serie A player with Germany National Football team:
Lazio forward Miroslav Klose, played 67th minute and replaced by
Sampdoria defender  Shkodran Mustafi (not playing in this game because it is injured)
France: 1 Italian Serie A players called up with Ghana National Football team:
Juventus midfielder Paul Pogba, starting in the official lineup
Photo fifa.com
Germany and Lazio forward Miroslav Klose dueling with France defender Mamadou Sakho.
Photo skysport.com Facebook page
Mats Hummels securing that the ball went inside turning his head… and there you go,,,, it went through….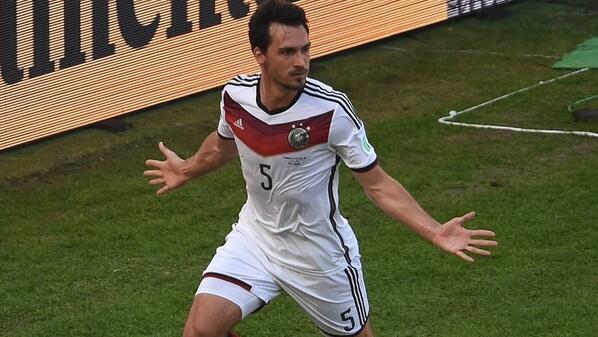 Photo uefa.com
Photo fifa.com Facebook page
France and Juventus midfielder Paul Pogba challenged by Germany midfielder Bastian Schweinsteiger.
Germany defender Mats Hummels celebrating after scoring against France in the 12th minute.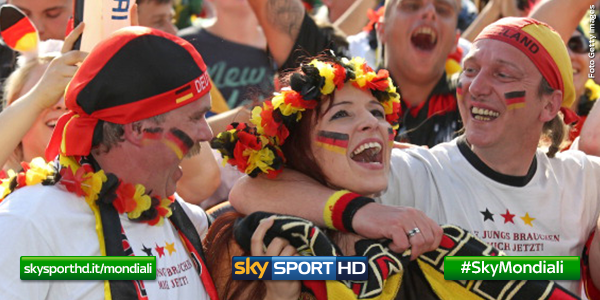 Germany fans celebrating after the goal by defender Mats Hummels
2014 FIFA World Cup
Quarterfinals
France – Germany
Friday 4 July 2014
Estadio do Maracana
Rio De Janeiro, Brazil
13:00 Local Time
Referee: Nestor PITANA  (ARG)
Assistant Referee 1: Hernan MAIDANA (ARG)
Assistant Referee 2: Juan Pablo BELATTI (ARG)
Fourth official: Jonas ERIKSSON (SWE)
Goals: 12′ Mats Hummels (G)
Official formations – lineups:
FRANCE (4-3-3): Lloris (c); Debuchy, Varane, Sakho, Evra; Pogba, Cabaye, Matuidi; Valbuena, Benzema, Griezmann.
Coach.: Didier Deschamps.
GERMANY(4-2-3-1): Neuer; Lahm (c), Boateng, Hummels, Höwedes; Khedira, Schweinsteiger; Müller, Kroos, Özil; Klose.
Coach.: Joachim Löw.
Stats:
| | | | | |
| --- | --- | --- | --- | --- |
| | France | Match Stats | Germany | |
| | 0 | Goals | 1 | |
| | 50% | Ball Possession | 50% | |
| | 2 | Dangerous attacks | 2 | |
| | 1 | Total attempts | 2 | |
| | 0 | Deliveries in Penalty area | 0 | |
| | 0 | Clearances | 0 | |
| | 15 | Passes Completed | 7 | |