By Anna Italia
Follow me on Twitter @ItalianSerieA,
Facebook: Anna Italia Page
Instagram: annaitalia2
Italian Soccer Serie A
🇮🇹  Italy Head Coach Roberto Mancini called up 53 players for three days of work at the Coverciano Technical Centre.  As reported by the Italian Football Federation (FIGC), two groups of players on the National Team radar will be assessed between Tuesday 24 and  Thursday 26 May 2022.
The 53 called up players have been divided into two groups and will each take part in two training sessions. 29 play in Serie A, 18 in Serie B and six abroad. The most represented club are Genoa (six), followed by AC Milan, Empoli and Cremonese (four). The youngest player who will be involved is 16-year-old Udinese attacking midfielder Simone Pafundi, while Empoli goalkeeper Guglielmo Vicario, who was born in 1996, is the most 'experienced'.
This special work represents the first step on a path that the FIGC, in consultation with the leagues and clubs, has decided to go down in order to facilitate the transition from the National Youth Team setup to the senior side and to widen the pool of available players to choose from.
Mancini decided against calling up those involved in the Serie B play-offs (with the exception of Pisa's Lucca, whose call-up depends on whether his club side make it to the final), the Serie C play-offs and the Primavera (U19) play-offs. Given that they could be part of Roma's matchday squad for the Conference League final against Feyenoord on Wednesday 25 May in Tirana, no Giallorossi youngsters feature.
🇮🇹 👉 First Group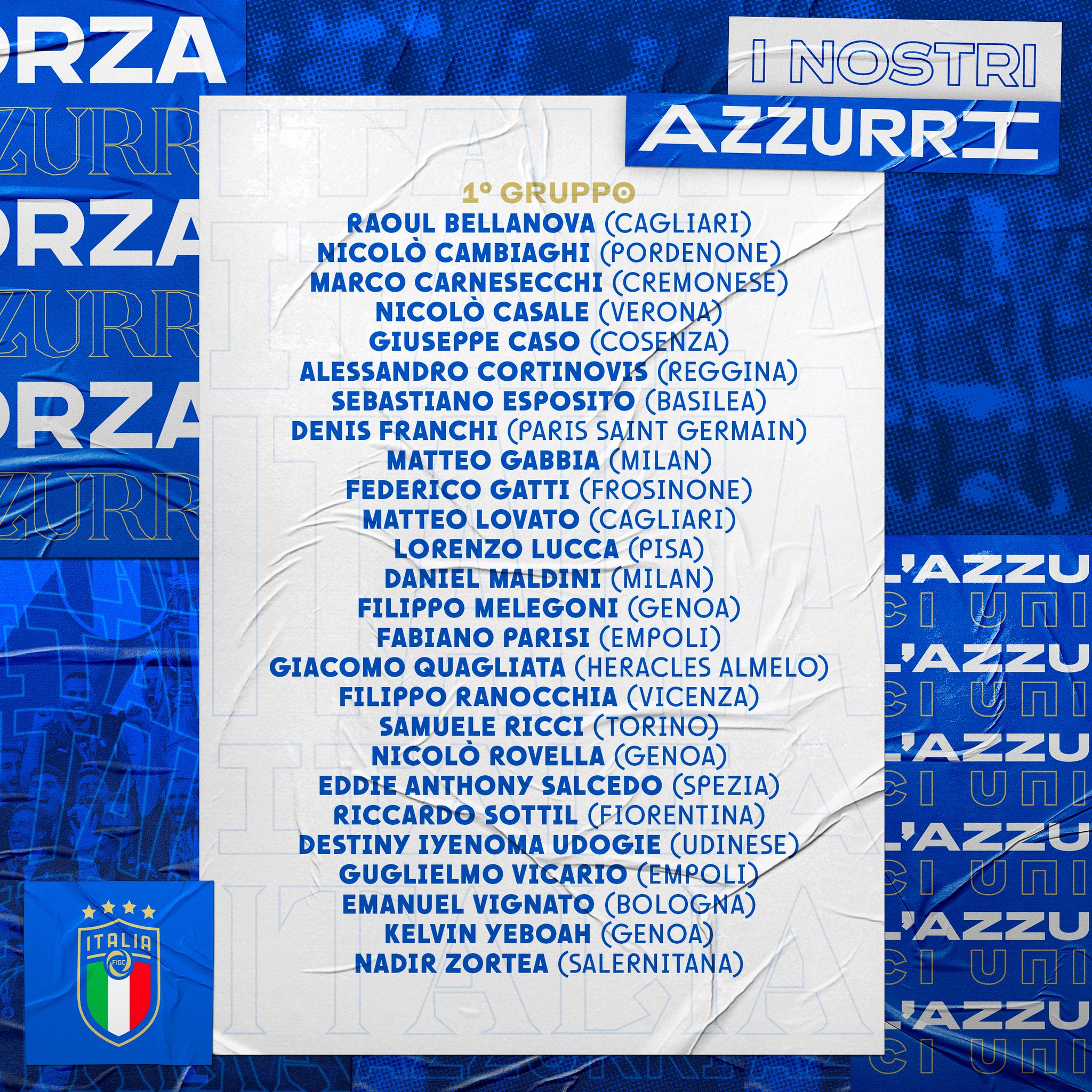 🇮🇹 👉 Second Group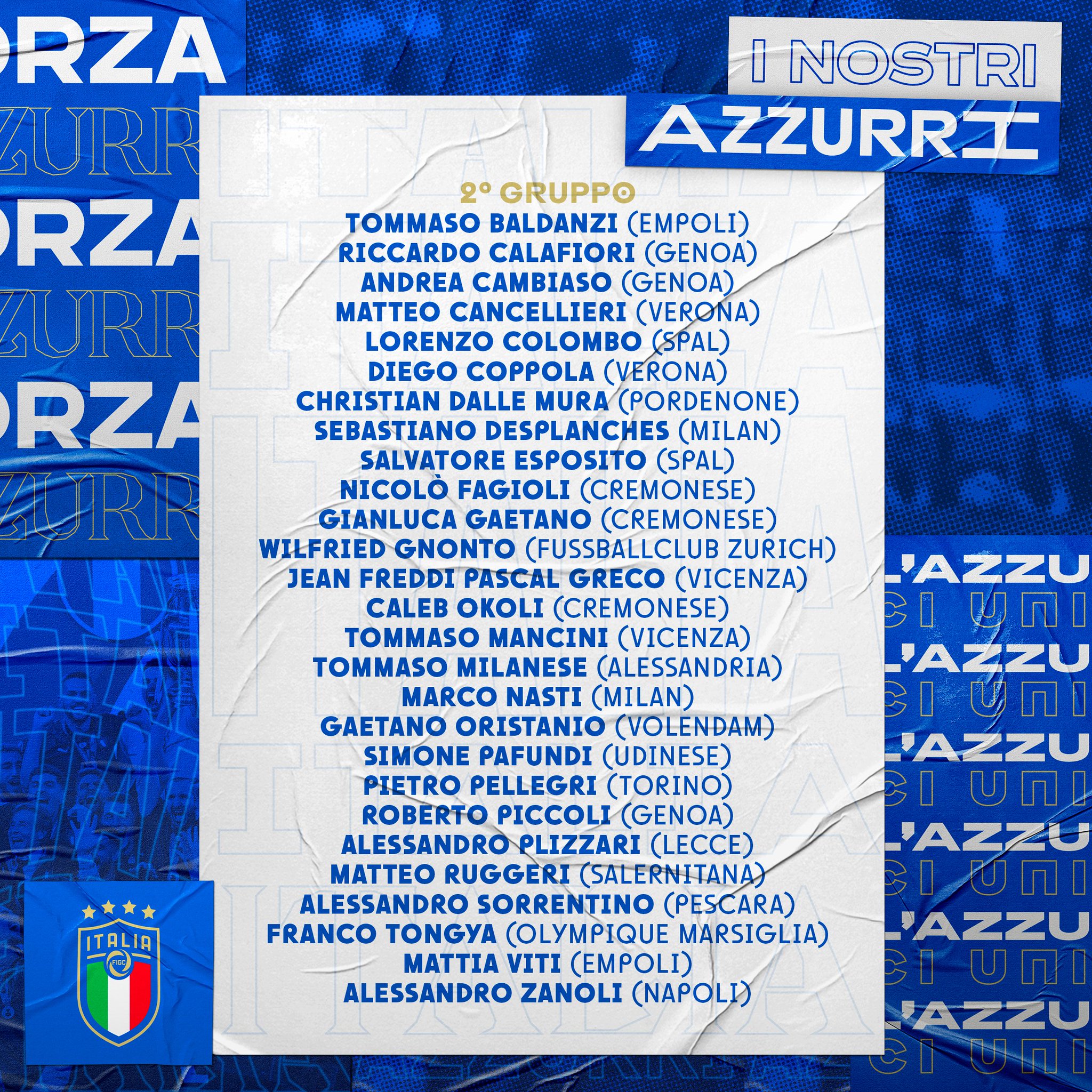 Photo via twitter.com/Azzurri_En/
==============================
Ticket option for Italy National team games

==============================
🇮🇹 👉 Italian Squad List
Group One
Raoul Bellanova (Cagliari)
Nicolò Cambiaghi (Pordenone)
Marco Carnesecchi (Cremonese)
Nicolò Casale (Verona)
Giuseppe Caso (Cosenza)
Alessandro Cortinovis (Reggina)
Sebastiano Esposito (Basel)
Denis Franchi (Paris Saint-Germain)
Matteo Gabbia (Milan)
Federico Gatti (Frosinone)
Matteo Lovato (Cagliari)
*Lorenzo Lucca (Pisa)
Daniel Maldini (Milan)
Filippo Melegoni (Genoa)
Fabiano Parisi (Empoli)
*Giacomo Quagliata (Heracles Almelo)
Filippo Ranocchia (Vicenza)
Samuele Ricci (Torino)
Nicolò Rovella (Genoa)
Eddie Anthony Salcedo (Spezia)
Riccardo Sottil (Fiorentina)
Destiny Iyenoma Udogie (Udinese)
Guglielmo Vicario (Empoli)
Emanuel Vignato (Bologna)
Kelvin Yeboah (Genoa)
Nadir Zortea (Salernitana)
Group 2
Tommaso Baldanzi (Empoli)
Riccardo Calafiori (Genoa)
Andrea Cambiaso (Genoa)
Matteo Cancellieri (Verona)
Lorenzo Colombo (Spal)
Diego Coppola (Verona)
Christian Dalle Mura (Pordenone)
Sebastiano Desplanches (Milan)
Salvatore Esposito (Spal)
Nicolò Fagioli (Cremonese)
Gianluca Gaetano (Cremonese)
Wilfried Gnonto (FC Zürich)
Jean Freddi Pascal Greco (Vicenza)
Caleb Okoli (Cremonese)
Tommaso Mancini (Vicenza)
Tommaso Milanese (Alessandria)
Marco Nasti (Milan)
Gaetano Oristanio (Volendam)
Simone Pafundi (Udinese)
Pietro Pellegri (Torino)
Roberto Piccoli (Genoa)
Alessandro Plizzari (Lecce)
Matteo Ruggeri (Salernitana)
Alessandro Sorrentino (Pescara)
Franco Tongya (Olympique de Marseille)
Mattia Viti (Empoli)
Alessandro Zanoli (Napoli)

*Call-up depends on results of club side
🇮🇹 👉 The Italian National Team Schedule (all times CEST)
Tuesday 24 May 2022
By 12:30 – Meet-up at Coverciano, first group of players
17:00 – Training (behind closed doors)
Wednesday 25 May 2022
10:00 – Training (behind closed doors)
First group of players to return to their respective clubs after training session
By 12:30 – Meet up at Coverciano, second group of players
17:00 – Training (behind closed doors)
Thursday 26 May 2022
10:00 – Training (behind closed doors)
Second group of players to return to their respective clubs after training session