By Anna Italia
Follow me in Twitter @ItalianSerieA,
Facebook: Anna Italia Page
Instagram: annaitalia2
Italian Soccer Serie A
Italian Soccer Serie A supports the Italian National Team
Italy Head Coach Roberto Mancini has called up 38 players in his latest squad.  As reported by the Italian Football Federation (FIGC),  the players will meet up at Coverciano in the evening on Sunday 21 March and then train at the Federal Technical Centre until Wednesday 24 March, when they'll travel to Parma. They'll remain in the same city the day after their match against Northern Ireland and will then fly from Parma to Sofia on Saturday 27 March. Two days after their showdown with Bulgaria, the Azzurri will depart for Vilnius.
Italy advanced to the final phase of the 2021 Nations League and ahead of Euro 2020, which was postponed for a year due to the pandemic, the National Team are set to play their first matches in World Cup qualifying. The Azzurri, who have been inserted in Group C, will play three matches in quick succession in the latest round of international fixtures as they look to get off to a positive start on the road to Qatar 2022.
👉 On Thursday 25 March, they'll face Northern Ireland at the Stadio Tardini in Parma,

👉On Sunday 28 March, the away match to Bulgaria  (Vasil Levski National Stadium in Sofia).

👉Wednesday 31 March, Italy will play against Lithuania at the LFF Stadium.  All three fixtures will kick off at 20:45 CET.
The good news is for Atalanta defender Rafael Toloi and Spezia midfielder Matteo Ricci being called up for the first time.  Whether Ricci and Inter players Bastoni, Barella and Sensi can join up with the squad is subject to the approval of the relevant local health authorities.
Former Italy team and AS Roma midfielder Daniele De Rossi, who became a World Champion in 2006 and was part of the Italy team that finished as runners-up at the 2012 European Championship, has joined Mancini's coaching staff.
STATE OF PLAY – The Azzurri haven't tasted defeat in 22 matches: in the last two years, they've won on 15 occasions and drawn seven times (their last loss came in Lisbon on 18 September 2018). It's Italy's third-longest undefeated streak of all time: previously they went 30 games unbeaten under Pozzo between 1935 and 1939 and 25 matches without losing under Lippi between 2004 and 2006. On a global level, Spain hold the record in this regard: no side got the better of the La Furia Roja in 35 matches between 2007 and 2009. Mancini is yet to lose in 14 games at home as the Italy Head Coach and is closing in on Lippi's record of 17 without defeat.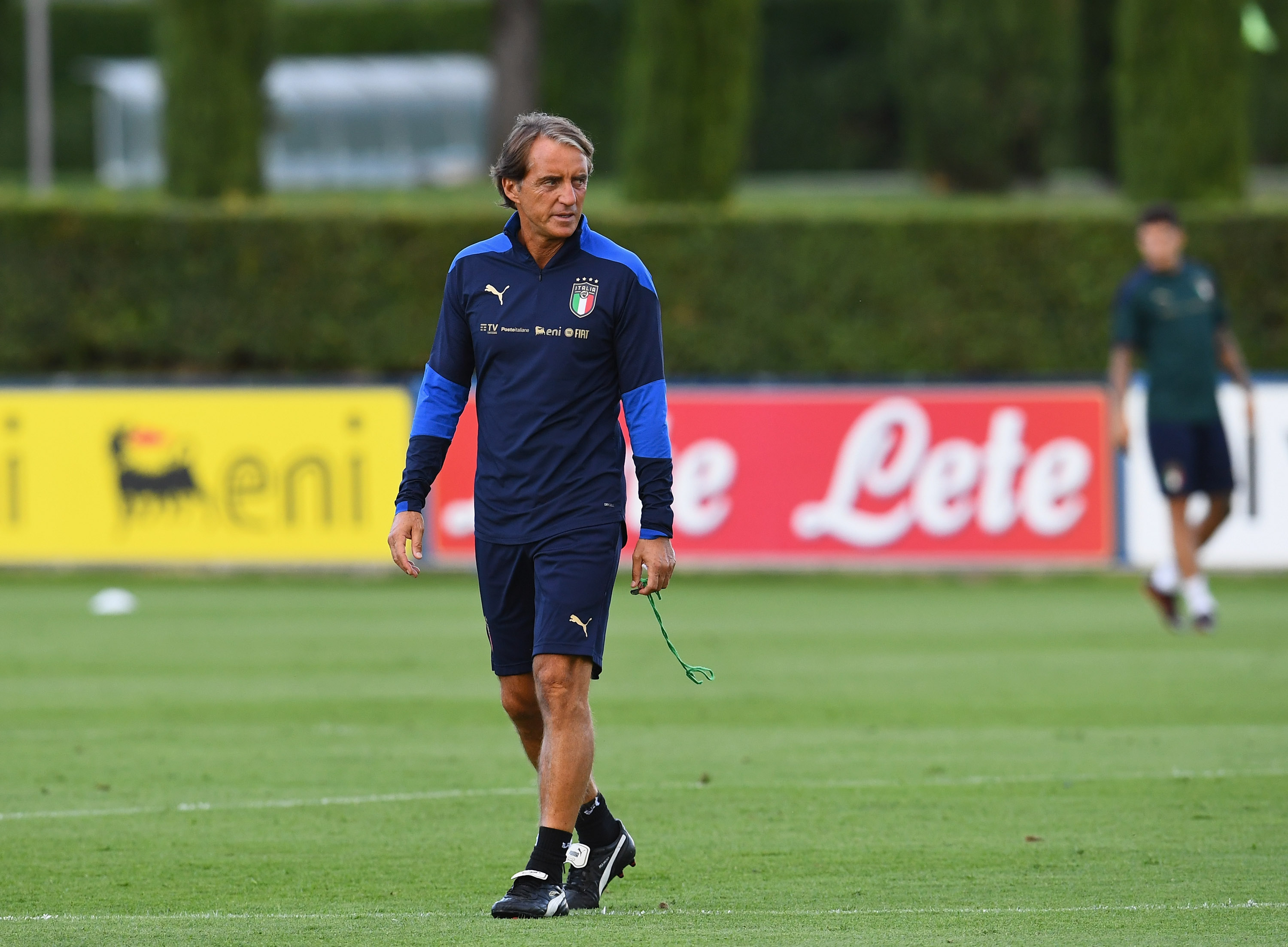 In total, Mancini's record reads as follows: 18 wins, seven draws and two defeats. Since he's been at the helm, Italy have led for 960 minutes in their matches (out of 2430' – 39.51%), been on level terms for 1265 minutes and behind for 205 minutes. The Azzurri have picked up 61 points, a record after 27 matches for a National Team Head Coach.
Over the course of these 27 games, the average age of the team has been 26.5. 76 players have been called up across 34 months and 64 have taken to the pitch, with Jorginho having played the most (22 appearances, 1493'). There have been 32 debutants under Mancini. Italy's positive goal difference has continued to grow and now stands at (+48). The Azzurri have scored 62 goals though 27 players, an average of 2.29 per game (the second-best figure in the National Team's history after Pozzo's side). Belotti has been Italy's most prolific player under Mancini (six goals). Since the latter's reign began, the team have conceded just 14 (the second-best record in the Azzurri's history after Vicini's side) and only three in their last twelve matches. Furthermore, Italy have kept 15 clean sheets. The National Team haven't shipped any goals since Van de Beek's 25th-minute finish in Italy vs. Netherlands, a run of 292 minutes. Between 2018 and 2019, the Azzurri went 600 minutes without allowing the opposition to score.
==============================
Ticket option for Italy National team games

==============================
👉 Italy Squad list
Goalkeepers: Alessio Cragno (Cagliari), Gianluigi Donnarumma (Milan), Alex Meret (Napoli), Salvatore Sirigu (Torino);
Defenders: Francesco Acerbi (Lazio), Alessandro Bastoni (Inter)*, Cristiano Biraghi (Fiorentina), Leonardo Bonucci (Juventus), Giorgio Chiellini (Juventus), Giovanni Di Lorenzo (Napoli), Emerson Palmieri (Chelsea), Gian Marco Ferrari (Sassuolo), Alessandro Florenzi (Paris Saint-Germain), Manuel Lazzari (Lazio), Gianluca Mancini (Roma), Leonardo Spinazzola (Roma), Rafael Toloi (Atalanta);
Midfielders: Nicolò Barella (Inter)*, Gaetano Castrovilli (Fiorentina), Bryan Cristante (Roma), Manuel Locatelli (Sassuolo), Rolando Mandragora (Torino), Lorenzo Pellegrini (Roma), Matteo Pessina (Atalanta), Matteo Ricci (Spezia)*, Stefano Sensi (Inter)*, Roberto Soriano (Bologna), Marco Verratti (Paris Saint-Germain);
Forwards: Andrea Belotti (Torino), Domenico Berardi (Sassuolo), Federico Bernardeschi (Juventus), Francesco Caputo (Sassuolo), Federico Chiesa (Juventus), Stephan El Shaarawy (Roma), Vincenzo Grifo (Freiburg), Ciro Immobile (Lazio), Lorenzo Insigne (Napoli), Moise Bioty Kean (Paris Saint-Germain).
*Will join up with the squad should they gain approval from the relevant local health authority
Photo: figc.it
ITALY vs. NORTHERN IRELAND. Italy will take to the field wearing armbands in memory of four Azzurri who have sadly passed away in recent months: Pietro Anastasi, Mauro Bellugi, Pierino Prati and Paolo Rossi, after whom the Federal Council room at the FIGC headquarters in Rome was re-named in recent days. Before the match, there will be a moment of silence; a video in memory of the Azzurri will be shown at the stadium, which will also be displayed in virtual graphics that will be visible to television viewers. The stadium will be fitted with an Italy flag that will be hung up in the Curva Nord. Furthermore, Goal Line Technology will be in use.
There have been nine head-to-head clashes with Northern Ireland, with the Azzurri's record reading as follows: six wins, two draws and one very significant defeat in Belfast in 1958, a result which meant that the Azzurri failed to qualify for a World Cup for the first time. It'll be Italy's eighth match in Parma, where the Azzurri have won six times and suffered one defeat, which came against France in 2012. From their first showdown there under Head Coach Sacchi 25 years ago in a friendly with Finland ahead of USA '94 through to their 6-0 win over Liechtenstein in March 2019, when Quagliarella bagged a brace and became the oldest goalscorer in the history of the National Team.
Referee: Ali PALABIYIK (Turkey). Assistants: Kerem ERSOY, Serkan OLGUNCAN (Turkey). Fourth Official: Halis OZKHAYA (Turkey).
BULGARIA vs. ITALY. Out of 19 prior meetings, Italy boast a record of ten wins, seven draws, and two defeats. The Azzurri have never managed to win in Bulgaria, however. Out of six games played, all in Sofia, four matches have been drawn and two have ended in defeat. Two important milestones for Azzurri goalkeepers were achieved against Bulgaria: Zoff made his debut in 1968 in Naples and Buffon celebrated his 150th appearance with the National Team in 2015. Italy's last outing in Sofia was in March 2015: it ended in a 2-2 draw.
Referee: Slavko VINCIC (Slovenia). Assistants: Tomas KLANCIC, Andraz KOVACIC (Slovenia). Fourth Official: Matej JUG (Slovenia).
LITHUANIA vs. ITALY. In terms of games with Lithuania, the balance again clearly favours the Azzurri: four wins and two draws. The only previous meeting in Vilnius was in April 1996: Zola's goal and a narrow victory.
👉 Italy National Team Schedule

Sunday 21 March
Players to meet up at the Coverciano Federal Technical Centre by midnight and, along with the staff, undergo molecular tests upon arrival
Monday 22 March
14:00 – Press conference – FIGC-RAI (FTC Coverciano Auditorium)
Press conference – Head Coach (Auditorium-CTF Coverciano)
16:30 – Training (behind closed doors)
Tuesday 23 March
13:45 – Press conference – FIGC/Panini (FTC Coverciano Auditorium)
Press conference – player (FTC Coverciano Auditorium)
16:30 – Training (behind closed doors)
Wednesday 24 March
11:00 – Departure from Florence to Parma
17:30  – Press conference – ITALY (Stadio Tardini, Parma)
18:00 – Training – ITALY (first 15 minutes open to the press) (Stadio Tardini, Parma)
19:30 – Press conference – Northern Ireland (Stadio Tardini, Parma)
Thursday 25 March
20:45 – ITALY vs. Northern Ireland (Stadio Tardini, Parma). Post-match press conference
Friday 26 March
11:00 – Training (behind closed doors) (Stadio Tardini, Parma)
12:30 – Press conference – player (Stadio Tardini, Parma)
Saturday 27 March
10:30 – Departure from Parma to Sofia
11:00 – Press conference – Bulgaria (Boyana National Football Center)
11:30 – Training – Bulgaria (first 15 minutes open to the press) (Boyana National Football Center)
18:00 – Press conference – ITALY (Vasil Levski National Stadium, Sofia)
18:30 – Training – ITALY (first 15 minutes open to the press) (Vasil Levski National Stadium, Sofia)
Sunday 28 March
20:45 Bulgaria vs. ITALY (Vasil Levski National Stadium, Sofia). Post-match press conference
Monday 29 March
11:30 – Training (behind closed doors)
Tuesday 30 March
10:45 – Departure from Sofia to Vilnius
16:30 – Press conference – Lithuania (LFF Stadium, Vilnius)
17:00 – Training – Lithuania (first 15 minutes open to the press) (LFF Stadium, Vilnius)
17:30 – Press conference – ITALY (LFF Stadium, Vilnius)
18:00 – Training – ITALY (first 15 minutes open to the press) (LFF Stadium, Vilnius)
Wednesday 31 March
20:45 – Lithuaniua vs. ITALY (LFF Stadium, Vilnius). Post-match press conference followed by return to respective clubs