The three youngsters spoke to the press at Coverciano today
Source:   figc.it  Tuesday, November 12, 2019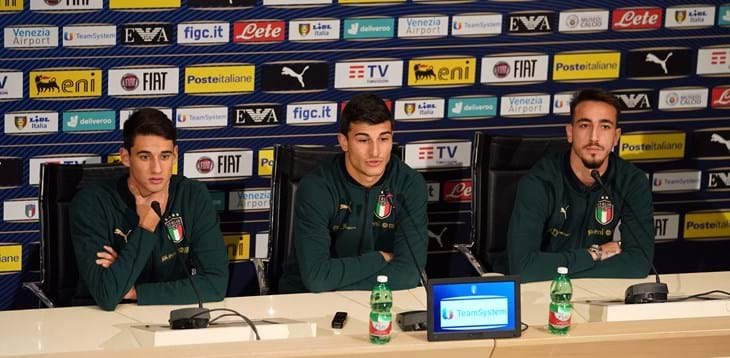 Who will become the 21st debutant of the Mancini era? Andrea Cistana, Gaetano Castrovilli and Riccardo Orsolini could be about to join the club of promising youngsters that the Head Coach has given their Azzurri debuts to. While Orsolini appeared at Coverciano during the team's training camp in April, this is a very new experience for Cistana and Castrovilli, who have been called up to the senior side for the very first time after impressing for their respective clubs at the start of the season.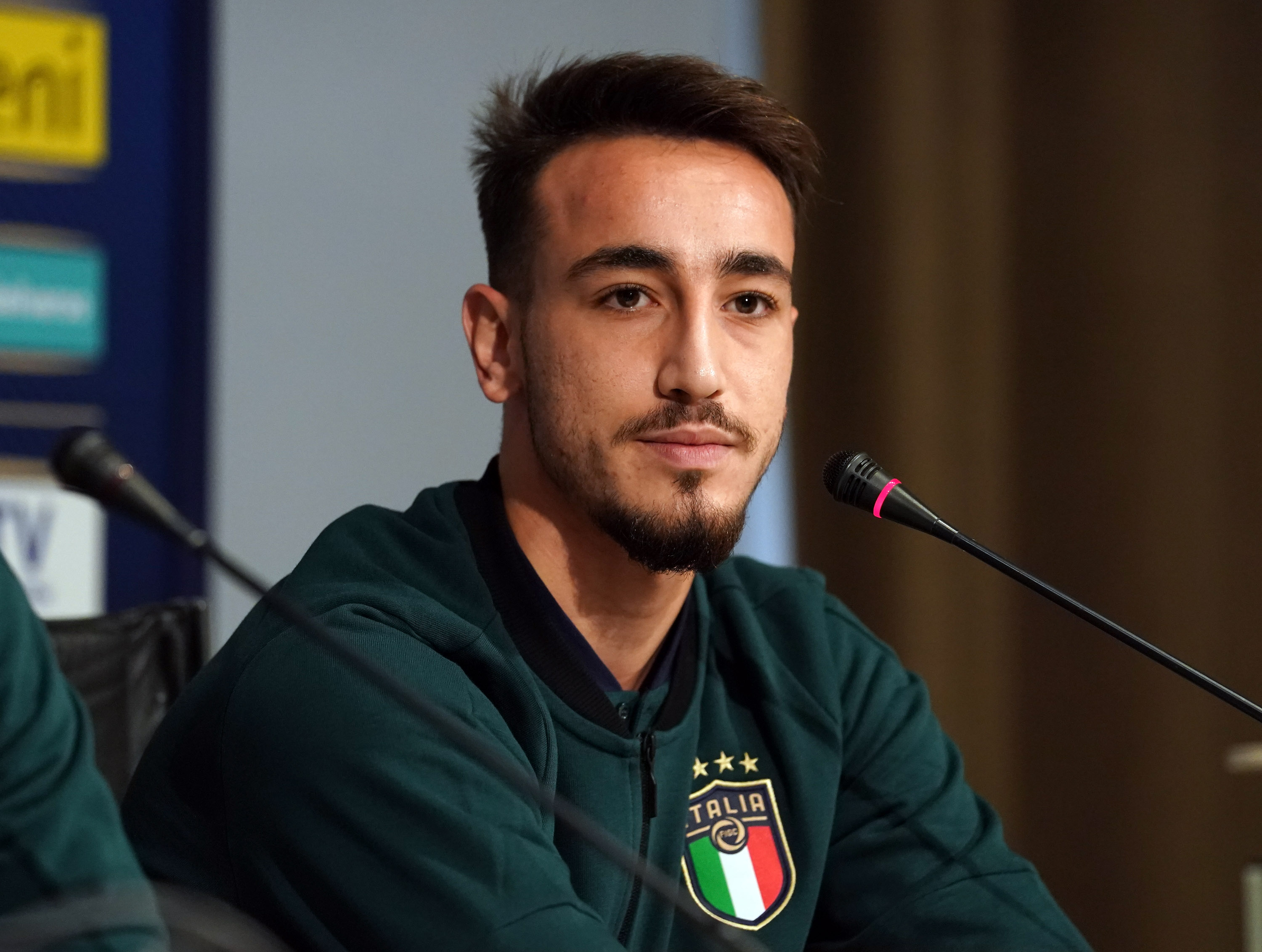 "It's every child's dream," said Castrovilli. "But it isn't the finishing line, it's where I have to go from. And I need to do this with great enthusiasm, believing in my abilities." Cistana echoed this sentiment: "It's an important recognition, it wasn't easy at the beginning. I really had to put the work in when playing in Serie D and C. Last year was very difficult, Serie B isn't an easy league but we managed to win it. We're not picking up results at the moment, but I'm happy to be learning many things." After talking about his strong connection to Sinisa Mihajlovic and his passion for a World Champion in Bruno Conti, Riccardo Orsolini spoke about the singing induction that the new arrivals have to undergo: "They made us sing songs that we had chosen beforehand, we were a bit nervous and it was slightly embarrassing at the start but then we became more relaxed. It was fun in the end. I sang '50 Special' by Cesare Cremonini. This call-up is an incredible opportunity, I'll try to make the most out of it. It's an opportunity to let the Head Coach and our teammates see us play, we hope it's the first of many."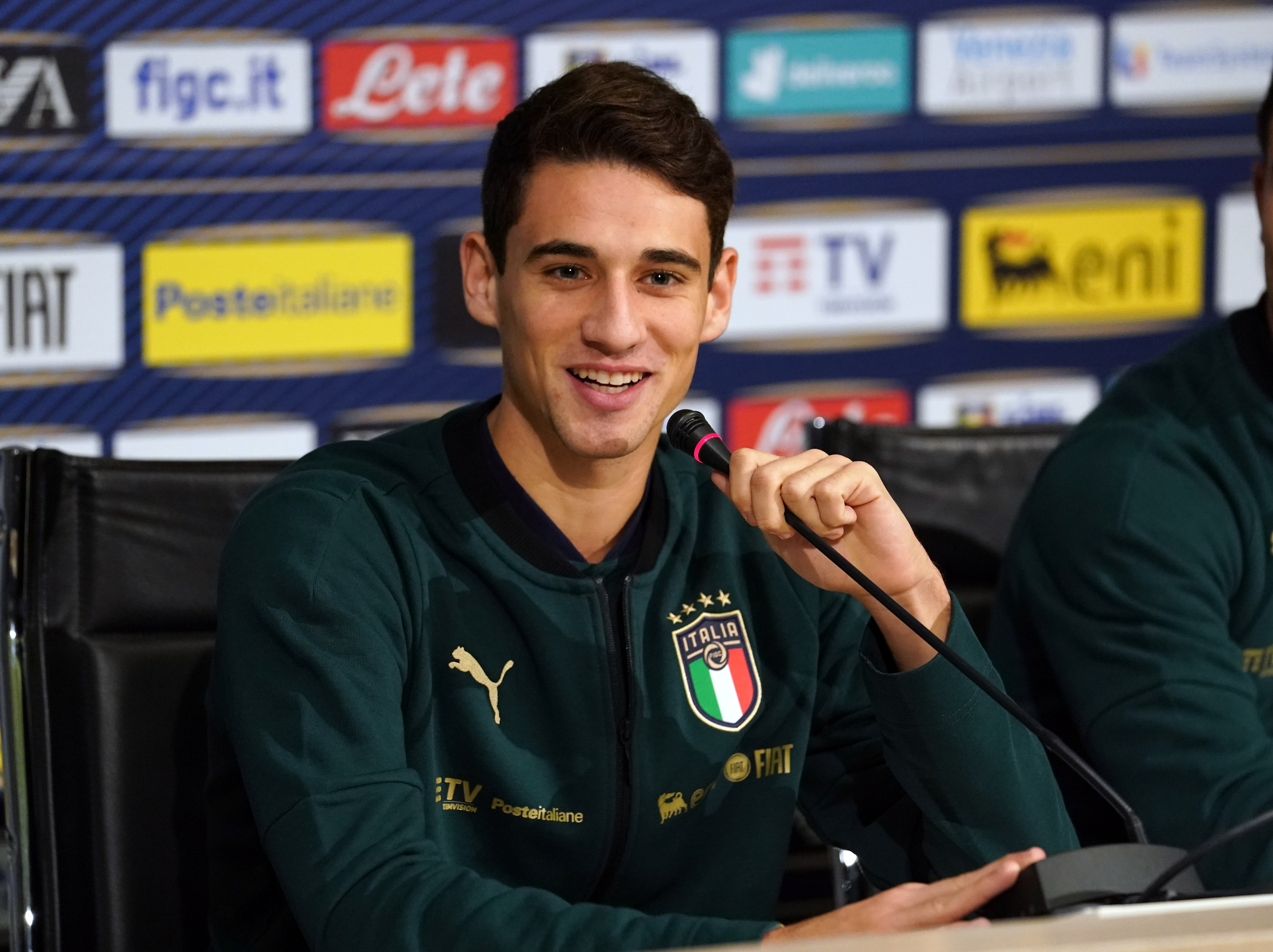 The hope for all three is to continue to be involved in the group, while the dream is to take part in the European Championship next summer: "I'd be lying if I said I didn't believe," admitted Orsolini. "It needn't be an obsession, but it's a reality that can enter your mind." Cistana has received compliments from all of his Brescia teammates, including Mario Balotelli: "As regards the European Championship, I can't say it's not something I'm interested in, what will be will be. Serie B helped me grow and mature a lot. I spent two years with the Primavera and ended up in Serie D after training with the first team. I saw it as a defeat, I really didn't want to be at that level. If I could go back now, I'd play in that league a year earlier: you learn much more in Serie D than you do while playing for the Primavera." Castrovilli's experience at Fiorentina has helped him develop as a player. He's one of a number of players whose careers are really lifting off at the Viola: "Sottil and Ranieri are very good, they're two fixtures for the Under-21s. I hope that they get called up for the senior side too. As regards the European Championship, I want to give the Head Coach a selection headache through my club performances."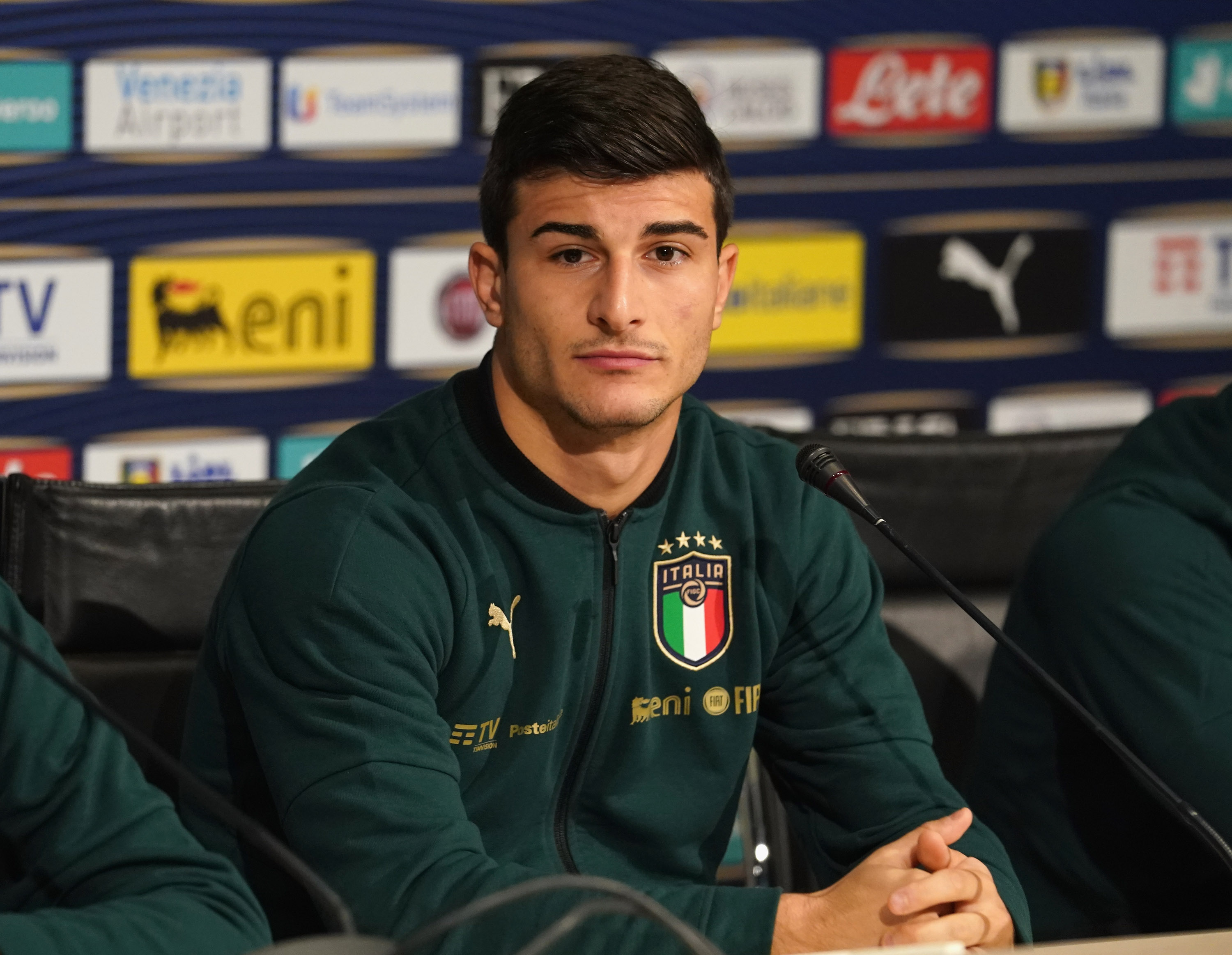 After the disappointment of being eliminated during the group stage at the Under-21 European Championship ("playing at home can give you that extra push, but it can also be a double-edged sword. You need to be good at remaining focused"), Orsolini is now keen to make amends with the senior side: "This is an extraordinary group, I noticed this as soon as I entered Coverciano. They make you feel at ease, there are nerves at the beginning because you don't know everyone. The players have made me feel an integral part of the group." Cistana has also been struck by the welcome he's received: "I've been impressed with how certain champions have approached us, how uncomplicated they've been, despite having played a huge number of games in Serie A and the National Team." Castrovilli also feels the same way: "In this group, there's a spirit of happiness. You've all seen it, the group plays and has fun."
Squad List
Goalkeepers: Gianluigi Donnarumma (Milan), Pierluigi Gollini (Atalanta), Alex Meret (Napoli), Salvatore Sirigu (Torino);
Defenders: Francesco Acerbi (Lazio), Cristiano Biraghi (Inter), Leonardo Bonucci (Juventus), Andrea Cistana (Brescia), Giovanni Di Lorenzo (Napoli), Emerson Palmieri (Chelsea), Alessandro Florenzi (Roma), Armando Izzo (Torino), Gianluca Mancini (Roma), Alessio Romagnoli (Milan);
Midfielders:Nicolò Barella (Inter), Gaetano Castrovilli (Fiorentina), Frello Filho Jorge Luiz Jorginho (Chelsea), Rolando Mandragora (Udinese), Sandro Tonali (Brescia), Nicolò Zaniolo (Roma);
Forwards: Andrea Belotti (Torino), Federico Bernardeschi (Juventus), Federico Chiesa (Fiorentina), Stephan El Shaarawy (Shanghai Shenua), Ciro Immobile (Lazio), Lorenzo Insigne (Napoli), Riccardo Orsolini (Bologna).
Staff – Delegation Head: Gianluca Vialli; Head Coach: Roberto Mancini; Team Manager: Gabriele Oriali; Assistant coaches: Alberico Evani, Attilio Lombardo, Giulio Nuciari, Fausto Salsano; Fitness coaches: Claudio Donatelli and Andrea Scanavino; Goalkeeping coach: Massimo Battara; Match Analyst: Antonio Gagliardi and Simone Contran; Doctors: Andrea Ferretti (Medical director) and Carmine Costabile; Physiotherapists: Maurizio Fagorzi, Emanuele Randelli, Fabrizio Scalzi, Luca Lascialfari, Fabio Sannino; Osteopath: Walter Martinelli; Nutritionist: Matteo Pincella; Secretary: Emiliano Cozzi; Press officer: Paolo Corbi.
Schedule (all times CET)
Tuesday 12 November
13:45 – Press conference (player)
16:00 – Training (First 15 minutes open to the press)
Wednesday 13 November
13:45 – New FIGC partners' press conference
14:00 – Press conference (players)
16:00 – Training (closed)
Thursday 14 November
10:45 – Travel Florence-Sarajevo-Zenica
17:30 – Italy press conference (Coach and one player)
18:00 – Italy training (First 15 minutes open to the press)
19:45 – Bosnia and Herzegovina press conference (Head Coach and one player)
20:30 – Bosnia and Herzegovina training (First 15 minutes open to the presss)
Friday 15 November
20:45 – Bosnia Herzegovina vs. Italy
Bilino Poje Stadium in Zenica
Coaches' press conference, mixed zone (players) and travel Sarajevo-Venice to follow.
Saturday 16 November
11:30 – Training (closed)
17:30 – New FIGC partners' press conference
Sunday 17 November
11:00 – Travel Venice-Palermo
17:00 – Italy press conference (Head Coach and one player)
17:30 – Italy training (first 15 minutes open to the press)
18:30 – Armenia press conference (Head Coach and one player)
19:00 – Armenia training (First 15 minutes open to the press)
Monday 18 November
20:45 – Italy vs. Armenia
Stadio Renzo Barbera, Palermo
Coaches' press conference, mixed zone (players) and return to club sides after the match.