Salernitana's Fabio Maistro receives first call-up.
Friday, October 4, 2019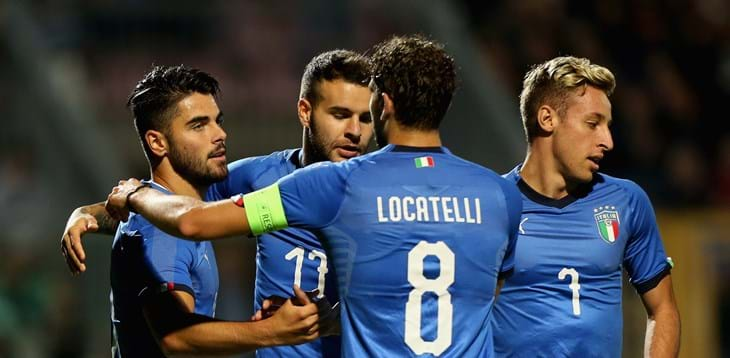 The Under-21 National Team are returning to European Qualification action with matches on the road against the Republic of Ireland (10 October) and Armenia (14 October).
Paolo Nicolato has named 23 players in his squad that will gather on Sunday in Milan before travelling to Dublin the following day. Salernitana's Fabio Maistro has received his first call-up while Cagliari's Luca Pellegrini and Brescia's Sandro Tonali return to the Under-21 set-up after time with the senior side.
Squad
Goalkeepers: Marco Carnesecchi (Trapani), Mattia Del Favero (Piacenza), Alessandro Plizzari (Livorno);
Defenders: Claud Adjapong (Verona), Alessandro Bastoni (Inter), Enrico Delprato (Livorno), Matteo Gabbia (Milan), Riccardo Marchizza (Spezia), Luca Pellegrini (Cagliari), Luca Ranieri (Fiorentina), Marco Sala (Virtus Entella);
Midfielders: Marco Carraro (Perugia), Davide Frattesi (Empoli), Manuel Locatelli (Sassuolo), Giulio Maggiore (Spezia), Fabio Maistro (Salernitana), Sandro Tonali (Brescia), Niccolò Zanellato (Crotone);
Forwards: Patrick Cutrone (Wolverhampton Wanderers), Moise Kean (Everton), Andrea Pinamonti (Genoa), Gianluca Scamacca (Ascoli), Riccardo Sottil (Fiorentina).
Staff – b: Paolo Nicolato; Delegation Head: Massimo Paganin; Accompanying Director: Vincenzo Marinelli; Youth Co-ordinator: Maurizio Viscidi; Assistant Coach: Mirco Gasparetto; Secretary: Manfredi Martino; Fitness Coach: Vincenzo Pincolini; Goalkeeping Coach: Gian Matteo Mareggini; Match analyst: Francesco Bordin; Doctors: Angelo De Carli and Vincenzo Santoriello; Physiologist: Cristian Osgnach; Physiotherapists: Emiliano Bozzetti and Nicola Sanna; Osteopath: Cristiano Pompili.
Schedule
Sunday 6 October 2019
By 23:00 – Meeting at the Grand Hotel in Milan Malpensa
Monday 7 October 2019
11:00 – Flight EI 435 Milan Malpensa – Dublin
all time zones below: -1h compared to CEST
13:00 – Arrival in Dublin and transfer to KINSWOOD HOTEL CITY WEST 4* – Dublin
16:00 – Head Coach Nicolato's press conference at KINSWOOD HOTEL CITY WEST 4*
18:00 training
Tuesday 8 October 2019
13:15 – Press conference with one player at the KINSWOOD HOTEL CITY WEST 4*
18:00 – Training (open to the press for the first 15 minutes)
Wednesday 9 October 2019
13:30 – Coach Nicolato's press conference at KINSWOOD HOTEL CITY WEST 4*
20:00 – Official training at the Tallaght Stadium (open to the press for the first 15 minutes)
Thursday 10 October 2019
09:30 –Exclusive RAI TV interview with Coach Nicolato
11:00 – Training (closed)
20:05 – Tallaght Stadium in Dublin: REPUBLIC OF IRELAND VS. ITALY
followed by a post-match press conference
Friday 11 October 2019
10:00 – Chartered flight Dublin – Yerevan
time zone: +2 h. compared to CEST
18:25 – Arrival in Yerevan and transfer to RADISSON BLUE YEREVAN – Yerevan
Saturday 12 October 2019
13:15 – Press conference with one player at the RADISSON BLUE YEREVAN
18:00 – Training (open to the press for the first 15 minutes)
Sunday 13 October 2019
13:30 – Press conference with Coach Nicolato at the RADISSON BLUE YEREVAN
20:30 – Official training at FFA Academy Stadium (open to the press for the first 15 minutes)
Monday 14 October 2019
09:00 – Exclusive RAI TV interview with Coach Nicolato
11:00 – Training (closed)
20:30 – FFA Academy Stadium in Yerevan: ARMENIA VS. ITALY
followed by a post-match press conference, dinner and return to Italy on a chartered flight and end of the national meet
Source:  figc.it