By Anna Italia
Follow me in Twitter @ItalianSerieA,
Facebook: Anna Italia Page
Instagram: annaitalia2
Italian Soccer Serie A
Italy Head Coach Roberto Mancini preparing the team for the game against Northern Ireland. On the eve of the match, the Italian team trained on Wednesday 24 March 2021 at the Ennio Tardini Stadium in Parma.   The training open to the press during the first 15 minutes.
#Azzurri 🇮🇹

📹 Today the Azzurri trained at Stadio Ennio Tardini in #Parma, ahead of #ItalyNorthernIreland tomorrow ⚽#VivoAzzurro #ITANIR #WCQ pic.twitter.com/R2yiZ1vbm0

— Italy ⭐️⭐️⭐️⭐️ (@azzurri) March 24, 2021

✅   Wednesday 24 March
11:00 – Departure from Florence to Parma
17:30 – Press conference – ITALY (Stadio Tardini, Parma)
18:00 – Training – ITALY (first 15 minutes open to the press) (Stadio Tardini, Parma)
19:30 – Press conference – Northern Ireland (Stadio Tardini, Parma)
As reported by the Italian Football Federation (FIGC), Italy will seek to carry on their unbeaten streak of 22 games (17 victories and five draws) in the first of three legs which will see the side away from home facing off against Bulgaria and Lithuania, in that order.
Roberto Mancini declared during the press conference that "The first game is the most difficult, because it is coming five months after the last one and because Northern Ireland are the most dangerous side of the three. They're not an easy side to play against, they're physically strong and their team is made up of lots of Premier League players. We know that you can't ever make mistakes in the path to the World Cup, we will have to do all that is within our power in these three matches. We will have to be very attentive and focussed. It's always best to hit the ground running, we represent a great national side that has four World Cups to its name."
As for the squad against Northern Ireland, Mancini commented, "There's maybe just one, we're evaluating a few things. Today we got a few Inter lads, we'll have a look at the bench. We have three matches scheduled and it's important to let the boys recover, they are in the midst of a very tiring season, you can't make the same footballer play three games in a row. They are all quality players and they will be rotated.  We'll see how Sensi is, he only arrived today. Locatelli is of course more solid in theory, Barella can play from the kick-off. Kean on the other hand was really tired, I think it's because he's recovering from Covid. Just like PSG, we are of the mind to let him rest properly."
Mancini, with 61 points to his name so far, is at the top of the coach rankings after 27 games played, mentioned Northern Ireland again: "They are a typically British side, they are good on the counter-attack. They have Anglo-Saxon physicality, but their style of play is a bit different, they defend very well and hold their ground, they are great on the counter-attack. We can't take risks, there won't be much space to manoeuvre, especially at the beginning.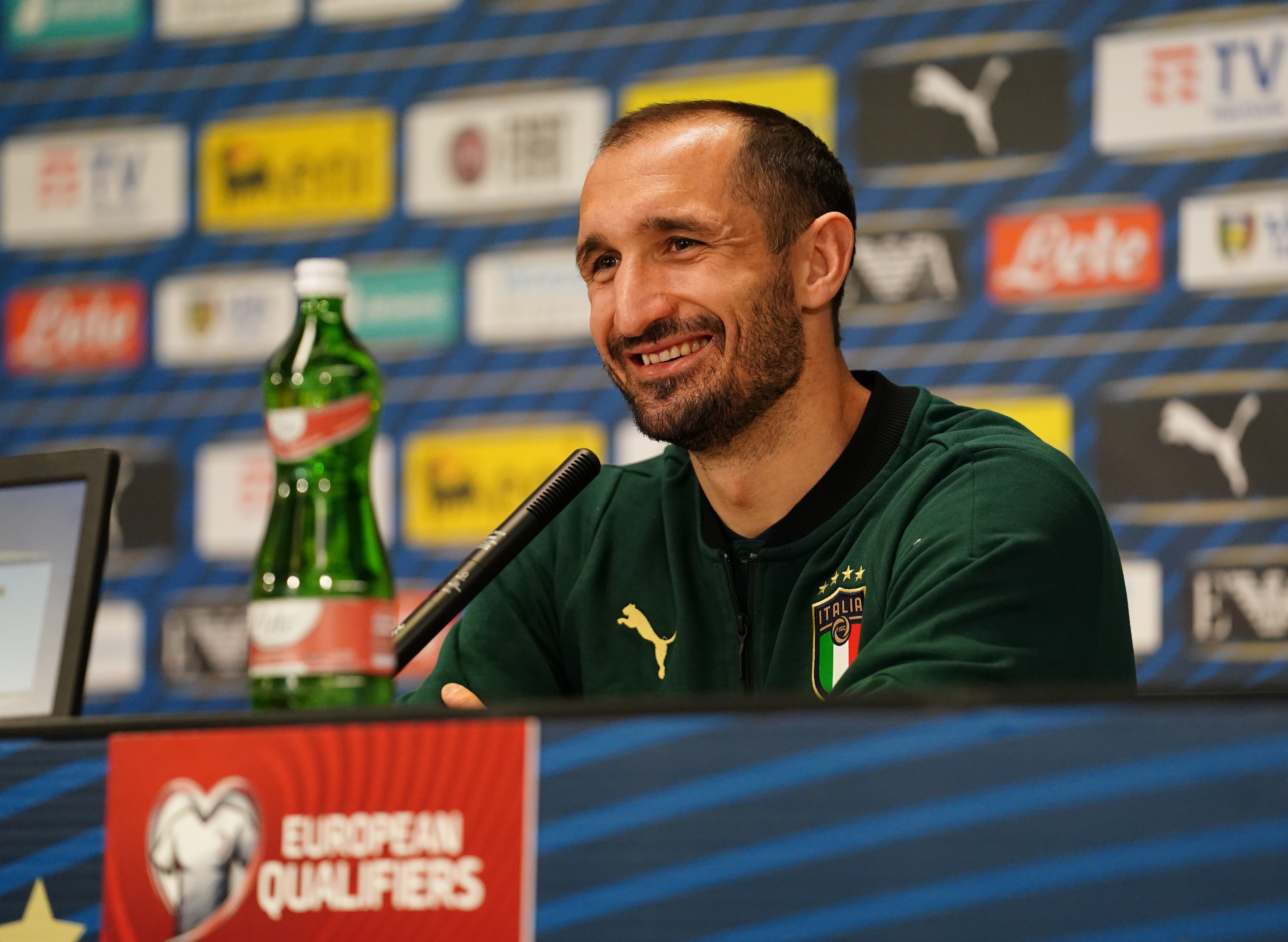 Giorgio Chiellini had no doubts. "We are not risking complacency in this game," he declared, "we got burnt a few years ago and we understand the importance of the match. We can't slip up, it'll be difficult for various reasons but it's a match that we need to win. It is a team that is diametrically opposed to us with regards to our characteristics, if they manage to curb us they will become dangerous. But our energy is magical, being here revitalises you. It's great to see this team grow, the best thing that I've noticed in these two great past years is that we are all interchangeable. The team has always done well, it means that when you work there is a common, base-level understanding that everyone has."
Tomorrow evening in Parma Italy will go out onto the pitch with bands on their arms and there will be a minute's silence in memory of the five Azzurri players who passed away in recent months: Pietro Anastasi, Mauro Bellugi, Mario Corso, Pierino Prati and Paolo Rossi. There will be a video on the main screen in memory of these Azzurri, who will also be commemorated via the virtual graphic that will be visible to those watching on television.
#Azzurri 🇮🇹

📹 Manager Roberto #Mancini and captain Giorgio #Chiellini's interviews ahead of #ItalyVsNorthernIreland #WCQ @robymancio @chiellini#Azzurri #VivoAzzurro pic.twitter.com/zO66IJCbyB

— Italy ⭐️⭐️⭐️⭐️ (@azzurri) March 24, 2021
==============================
Ticket option for Italy National team games

==============================
👉 Italy Squad list
Goalkeepers: Alessio Cragno (Cagliari), Gianluigi Donnarumma (Milan), Alex Meret (Napoli), Salvatore Sirigu (Torino);
Defenders: Francesco Acerbi (Lazio), Alessandro Bastoni (Inter), Cristiano Biraghi (Fiorentina), Leonardo Bonucci (Juventus), Giorgio Chiellini (Juventus), Giovanni Di Lorenzo (Napoli), Emerson Palmieri (Chelsea), Gian Marco Ferrari (Sassuolo), Alessandro Florenzi (Paris Saint Germain), Manuel Lazzari (Lazio), Gianluca Mancini (Roma), Leonardo Spinazzola (Roma), Rafael Toloi (Atalanta);
Midfielders: Nicolò Barella (Inter), Gaetano Castrovilli (Fiorentina), Manuel Locatelli (Sassuolo), Rolando Mandragora (Torino), Lorenzo Pellegrini (Roma), Matteo Pessina (Atalanta), Matteo Ricci (Spezia), Stefano Sensi (Inter), Roberto Soriano (Bologna), Marco Verratti (Paris Saint Germain);
Attackers: Andrea Belotti (Torino), Domenico Berardi (Sassuolo), Federico Bernardeschi (Juventus), Francesco Caputo (Sassuolo), Federico Chiesa (Juventus), Stephan El Shaarawy (Roma), Vincenzo Grifo (Friburgo), Ciro Immobile (Lazio), Lorenzo Insigne (Napoli).
Photo: figc.it
👉 Italy National Team Schedule
Thursday 25 March
20:45 – ITALY vs. Northern Ireland (Stadio Tardini, Parma). Post-match press conference
Friday 26 March
11:00 – Training (behind closed doors) (Stadio Tardini, Parma)
12:30 – Press conference – player (Stadio Tardini, Parma)
Saturday 27 March
10:30 – Departure from Parma to Sofia
11:00 – Press conference – Bulgaria (Boyana National Football Center)
11:30 – Training – Bulgaria (first 15 minutes open to the press) (Boyana National Football Center)
18:00 – Press conference – ITALY (Vasil Levski National Stadium, Sofia)
18:30 – Training – ITALY (first 15 minutes open to the press) (Vasil Levski National Stadium, Sofia)
Sunday 28 March
20:45 Bulgaria vs. ITALY (Vasil Levski National Stadium, Sofia). Post-match press conference
Monday 29 March
11:30 – Training (behind closed doors)
Tuesday 30 March
10:45 – Departure from Sofia to Vilnius
16:30 – Press conference – Lithuania (LFF Stadium, Vilnius)
17:00 – Training – Lithuania (first 15 minutes open to the press) (LFF Stadium, Vilnius)
17:30 – Press conference – ITALY (LFF Stadium, Vilnius)
18:00 – Training – ITALY (first 15 minutes open to the press) (LFF Stadium, Vilnius)
Wednesday 31 March
20:45 – Lithuaniua vs. ITALY (LFF Stadium, Vilnius). Post-match press conference followed by return to respective clubs