The Azzurri recorded their seventh win in a row in qualifying in front of 56,000 fans at the Olimpico: Italy win through a Jorginho penalty and a Bernadeschi longshot
Saturday, October 12, 2019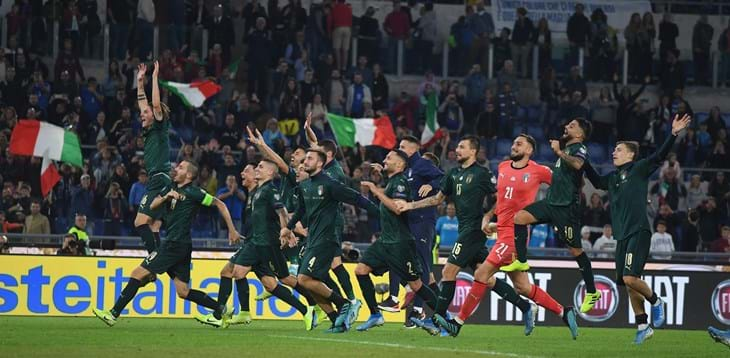 "See you soon Rome." The Azzurri came out triumphant tonight with a 2-0 win over Greece in front of 56,000 fans, in what was their seventh consecutive victory in qualifying, and the one which secures them qualification for EURO 2020. The European competition begins on 12 June in Rome, with the capital set to welcome the Azzurri back for more magical nights like the one of Italia '90. There were full-time celebrations at the Olimpico, which erupted at Jorginho's converted penalty and Italy's second from Federico Bernardeschi after what was a disappointing first half. On the day when Kenyan athlete Kipchoge broke the record for a marathon under two hours, Roberto Mancini's Azzurri set their own record, securing qualification with three games to spare for the first time. There's certainly lots to look forward to in June.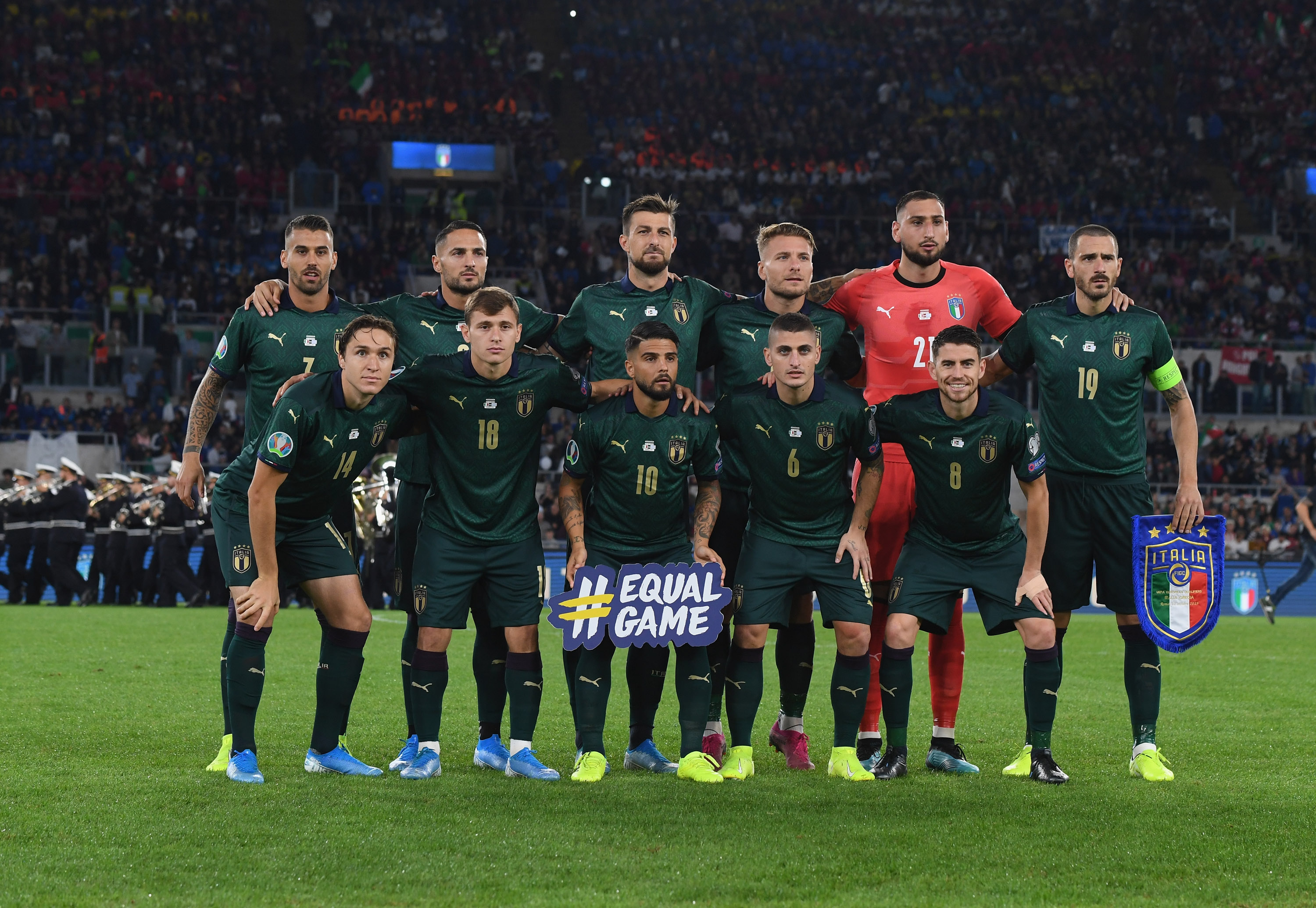 MATCH REPORT. Mancini's Italy lined up with their usual 4-3-3 for the fixture: Donnarumma in goal, Bonucci and Acerbi at centre-back with D'Ambrosio and Spinazzola in the full-back positions; the Roma man pushing on in possession to form a 3-3-4 formation. The midfield revolved around the Verratti-Jorginho duo, with Inter man Barella further forward but just in behind the attacking trident of Insigne, Chiesa and Ciro Immobile, the latter making his first appearance at the Olimpico in an Azzurri shirt. Greece were led by Dutch coach John van't Ship, who played for Genoa between 1992 and '96 and links back to the national team that came out as surprise champions of Europe 15 years ago. Greece's was a side deprived of any star names tonight, second bottom of the group with no chance of qualification. They lined up in a 4-3-1-2 formation with Bakasetas as the attacking midfielder and a front two from PAOK andTolosa in Limnios and Koulouris, neither having ever scored for their national team.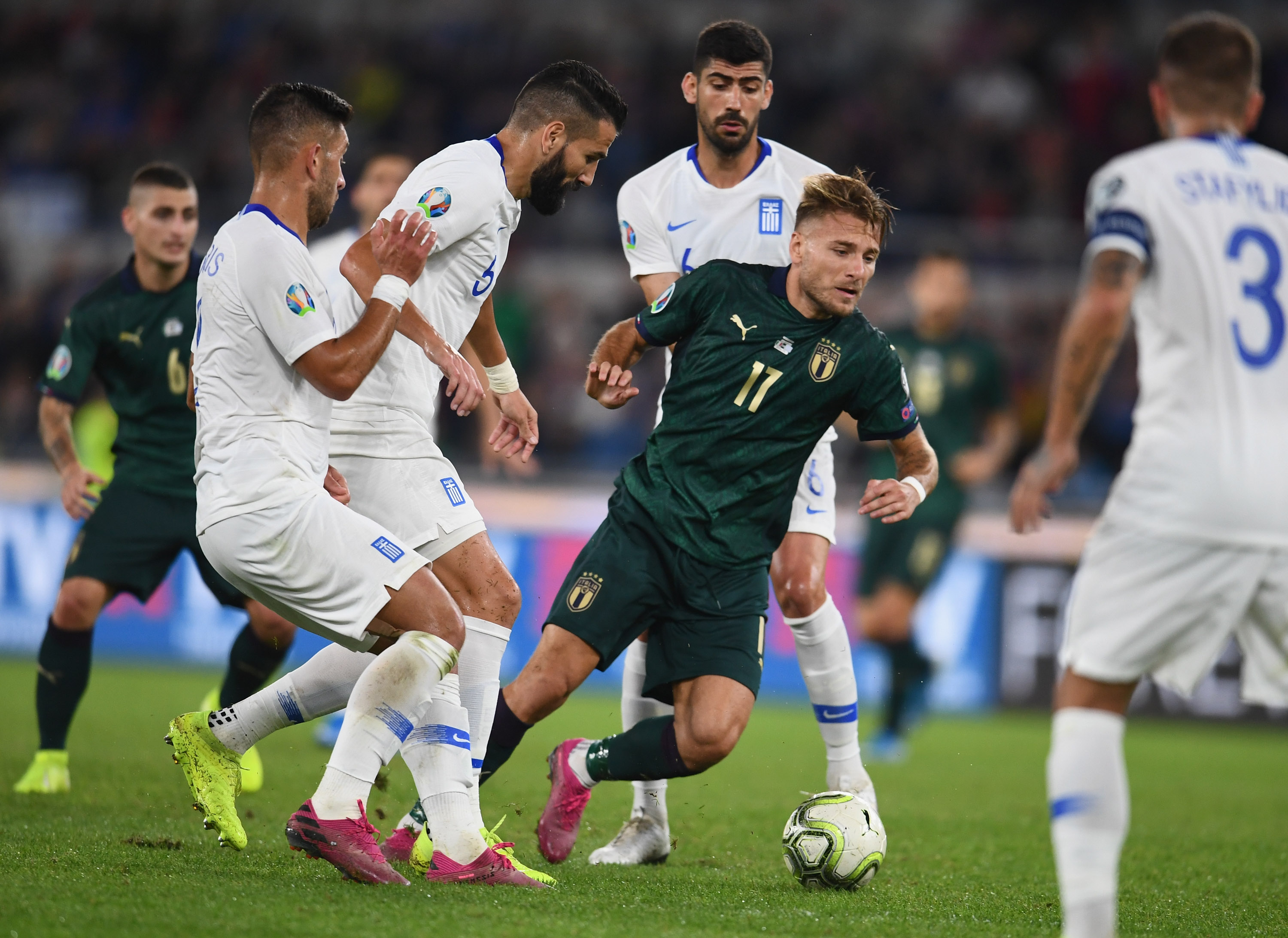 The Olimpico was a sight to behold with thousands of Italian flags waving in the stands of a stadium packed with fans to cheer the Azzurri home, who played tonight in their green kit. Italy mainly threatened down the right with Chiesa looking lively in the opening exchanges, but the first chance fell to Greece as Donnarumma was forced into a save by Limnios in the 12th minute. Van't Schip's side defended as a compact unit and Italy tried to find space down the wings, but the only real moments of promise came from Insigne's shot over the crossbar and Barella's effort from outside the area which was deflected out for a corner. The 56,000 fans made their presence well-known, with chants of "ola" and "po-popopo-popo-po" from the 2006 World Cup. Italy made a change in the 39th minute as Chiesa was forced off due to a muscle injury and Bernadeschi came on to take his place.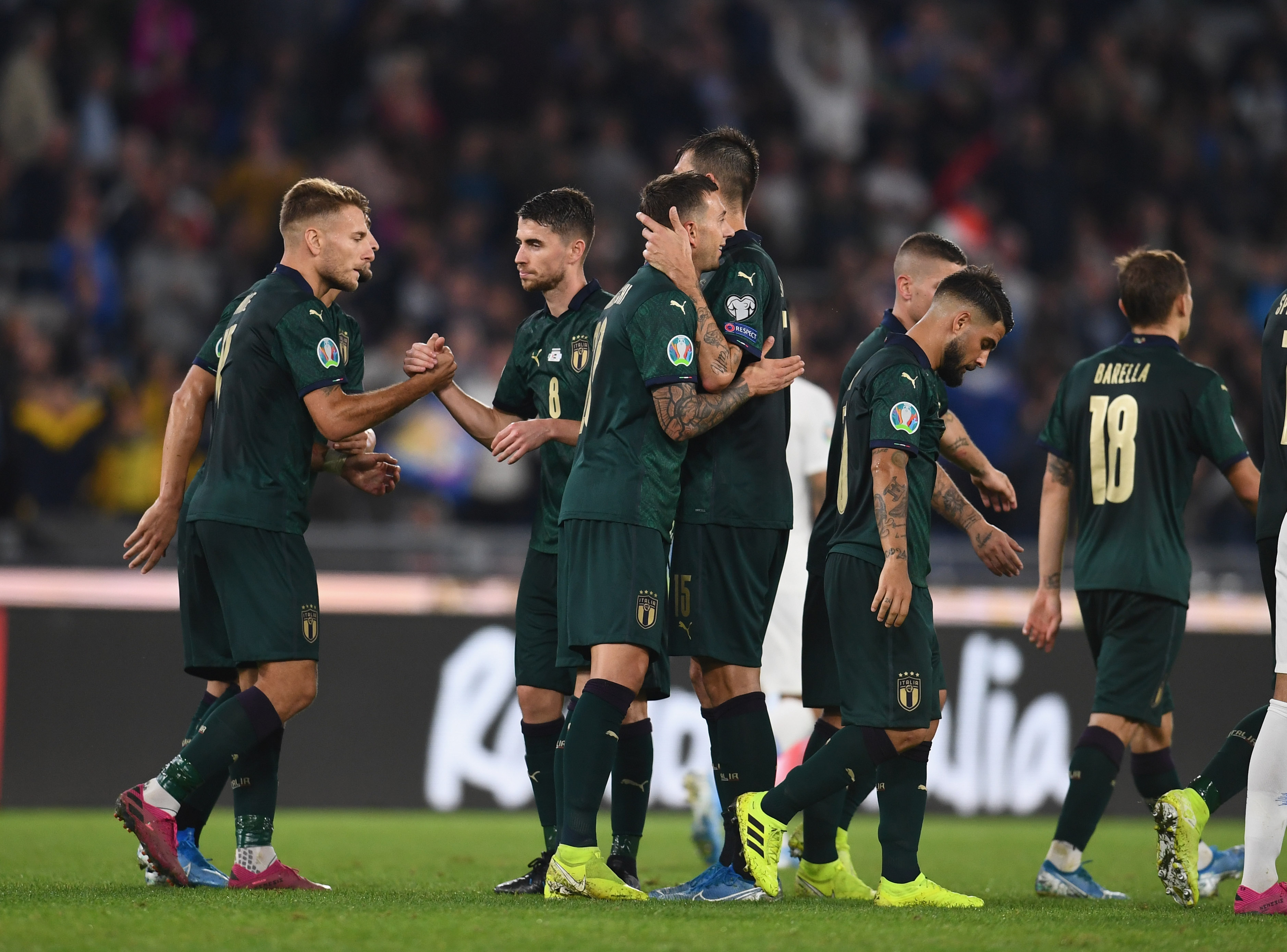 Italy came out for the second half in hot pursuit of the goal which might secure them qualification, pushing further up the pitch and often finding themselves with ten men all in the opposition half. Insigne came close again, but he fired his shot over from a tight angle, and soon after it was Immobile whose header called Paschalakis into action. Italy then got away with one in the 60th minute: Verratti was robbed of the ball on the halfway line, Greece broke through Limnios and his cross into the middle was then smashed into the side-netting by Koulouris – a real let off for the Azzurri. However, Verratti then made up for this just two minutes later, playing in Insigne in the box whose shot ricocheted off the hand of Bouchalakis. The Russian referee Karasev pointed to the spot and it was Jorginho who stepped up, sending the keeper the wrong way and netting his third goal for the Azzurri, all scored from the spot. This was the goal that opened the door to qualification. Insigne then had yet another great chance as his shot whistled past the post, but then Greece threatened again, with Bakasetas missing his chance to make it 1-1. Federico Bernardeschi then killed off any hope of a Greek comeback, scoring Italy's second in the 77th minute with a left-footed strike from outside of the box for what was also his third goal for the Azzurri. Once again Insigne popped up with a chance to make it three, but Paschalakis did well to push his first-time effort round the post for a corner. Belotti came onto the pitch for the closing stages along with youngster Nicolò Zaniolo. However, there was no more action to come, and the referee blew with the final score at 2-0, sending the Italian players running hand in hand over to the fans to celebrate this achievement all together.
ITALY 2-0 GREECE (0-0 HT)
Goals: 63' pen. Jorginho (I), 78' Bernardeschi (I)
ITALY: Donnarumma; D'Ambrosio, Acerbi, Bonucci, Spinazzola; Verratti, Jorginho, Barella (87' Zaniolo); Chiesa (39' Bernardeschi), Insigne, Immobile (79' Belotti). Substitutes: Sirigu, Meret, Biraghi, Cristante, Izzo, Grifo, Romagnoli, El Shaarawy. Coach: Roberto Mancini.
GREECE: Paschalakis; Bakakis, Chatzidiakos, Siovas, Stafylidis; Bouchalakis (76' Giannoulis), Kourbelis, Zeca; Bakasetas (80' Mantalos); Limnios, Koulouris (67' Donis). Substitutes: Vlachodimos, Dioudis, Lampropoulos, Siopis, Fetfazidis, Galanopoulos, Pavlidis, Vrousai, Koutris. Coach: John van't Schip.
Referee: Sergei Karasev (RUS). Assistants: Igor Demeshko (RUS) and Maksim Gavrilin (RUS). Fourth official: Vitaliy Meshkov (RUS).
Notes: attendance 56,274. Bookings for Chatzidiakos (G), Koulouris (G) and Bouchalakis (G).
National Team schedule (all times in CEST)
Sunday 13 October
11:30 – Training (behind closed doors)
Monday 14 October
10:30 – Chartered flight from Rome to St. Gallen (Switzerland)
18:00 – Press conference
18:30 – Training at the Rheinpark Stadion – Vaduz
Tuesday 15 October
20:45 – Liechtenstein vs. Italy at the Rheinpark Stadion – Vaduz. Following the match, a meeting with the press and subsequent journey back to the hotel
Wednesday 16 October
10:00 – Chartered flight from St.Gallen to Milan Malpensa (11:10) and then journey to Rome (13:00)
Source:   figc.it