By Anna
Italia
Here is the Greeting card signed by our AC Milan players to all of you my readers from  Italian Soccer Serie A.  I have to tell you that each player dedicated time to sign and happily smile for the support we give them during the entire season.   As I stated every time Italian Soccer Serie A. supports all the 20 Serie A clubs and Italian football giving as much coverage as I can through weekly previews, roundups, and latest Serie A news.  Though, personally, my team is AC Milan, la mia squadra del cuore.
Click here to read my report on  AC MILAN first day training in UCLA on Saturday, July 18, 2009  preparing for the LA Galaxy game and the 2009 World Football Challenge.
The first one to sign the greeting card was RONALDINHO GAUCHO. Gosh, Dinho so cool and sharing few words, he was just happy seeing all the support from his friends. I asked him how he felt about the team, and he said he is ready to work hard and  take responsibility to help leading the squad. You bet I was happy to hear that!!!
Special thanks to coach Leonardo so nice and I am so enthusiastic after sharing with him his ideas on the new AC Milan. I could interview him and asked him about the situation of the forwards, especially about Marco Borriello and whether or not he still fit in AC Milan plans.  I was glad to know that Leonardo considers Borriello a fundamental player and look forward to see him play this season as well as he did when he played for Genoa.  Personally, I think Borriello can be a key player after his recovery from injury and his teammates are also positive about it.   I wish Leonardo all the best.  Very down to earth, thumbs up Leo.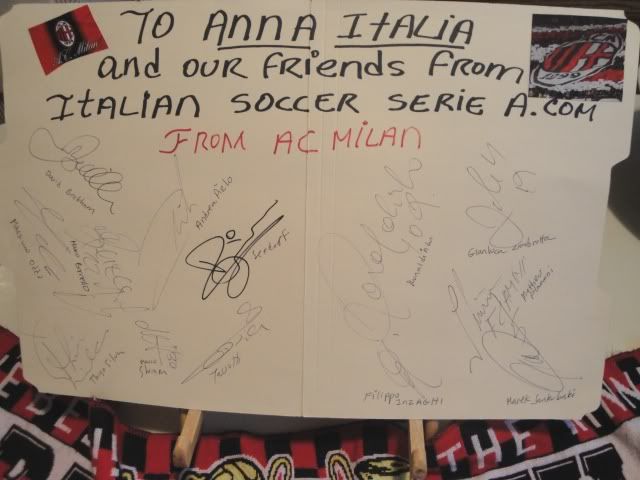 David Beckham was the second to sign and taking time to pose for us here. David is a delight and all of the rossoneri players were so happy to see him in the training in UCLA.  Hello, are you kidding me. It was like a family reunion.
Wow, guys, I don't have to tell you all the joy I had when talking to "
OUR ROARING LION GENNARO GATTUSO
!!!!!  Just awesome! I told him that we support him every week and that he is the running motor of our AC Milan.  I thought about Pietro, Nina, Milan 99, Vivek, all the Milanisti and pro Milan like our Palermo buddies Smokey 66, Vincenzo, and  Roma fan Jason.
The happiest moment was when talking to our "Sleepy Prince Andrea Pirlo" Wow, guys, Pirlo is just fabulous.  I was around our family guys, THE ROSSONERI, OUR AC MILAN.  Hello, hello, not to forget the most accessible CLARENCE SEEDORF who loved the 2004-2005  collection of posters "dei nostri campioni."  Seedorf is such a delight and we talk in different languages. He is just super. Amazing! Such a gem!  Grazie Seedorf, Gracias Seedorf, Thank you Seedorf, Merci Seedorf!!!
Guess what, remember I wanted to meet my beloved "MARCO STORARI"? Hello, hello, I DID!  Was I happy?  YOU BET I WAS!  Marco was so nice and I told him, I have been cheering for him since he was with Cagliari and I just wanted to do well with our AC Milan now.  Gee, I hope he gets playing time.  Just awesome!  Storari said that he is ready to give his best in Milan too.
Gianluca Zambrotta, one of the favorites from NINA, was also a delight!   Guys, all our rossoneri are super.  Hello, hello… SUPER FILIPPO INZAGHI!!!!!  Inzaghi just awesome guys.  So friendly and this is  why I love all my Rossoneri, they are family, our family guys.  I could not interview Inzaghi because I was interviewing Leonardo and by the time I wanted to find Inzaghi he already left.
DIDA, fabulous!!!  Dida is training hard and looking forward to get back in shape.   Marek Jankulouvski, our defender, I was so happy to meet  him.  Plus, our beloved ALESSANDRO NESTA!!!!!  Nesta Tempesta!  My heart rejoices seeing Nesta training after being out for injury for a long time. hey, you bet I am rooting for a super return from NESTA!!!
Mathieu Flamini, awesome. All our AC Milan players deserve a standing ovation.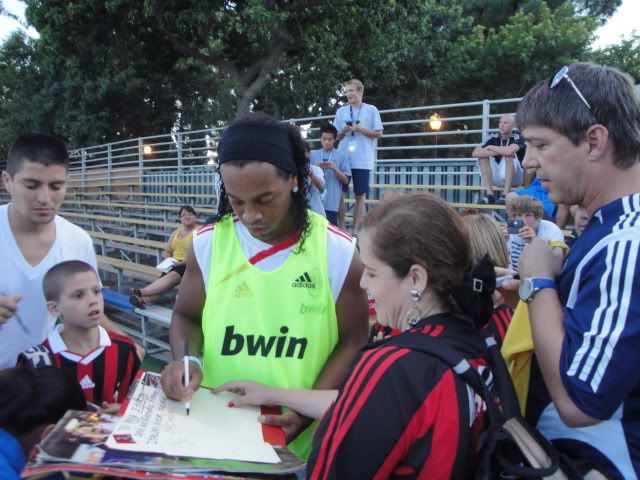 Photo: Italian Soccer Serie A
Here is the Smiley Ronaldinho pouring joy every where he goes.  Dinho said that he is ready to take responsibility as leader and give the best to help our AC Milan this season.  The most important thing was to work for the team, and I agree with him.  Go for it Dinho!!!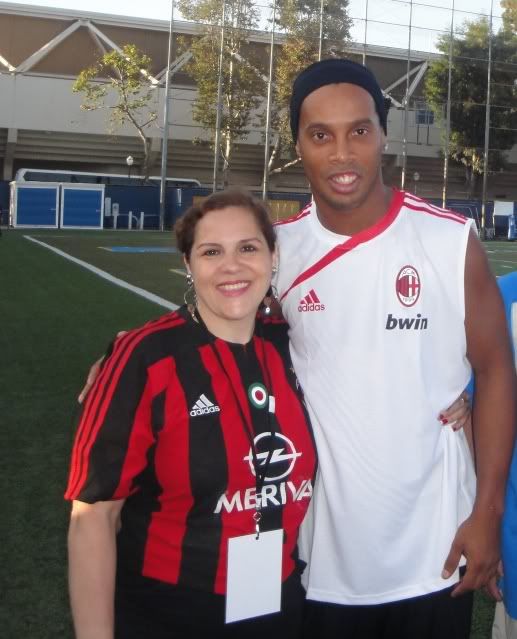 Photo: Italian Soccer Serie A
Thumbs up David Beckham and hope to see you again wearing the MILAN JERSEY and that you make your dream come true to play for England National team in the 2010 World Cup.  Our blog Italian Soccer Serie A will continue to support him.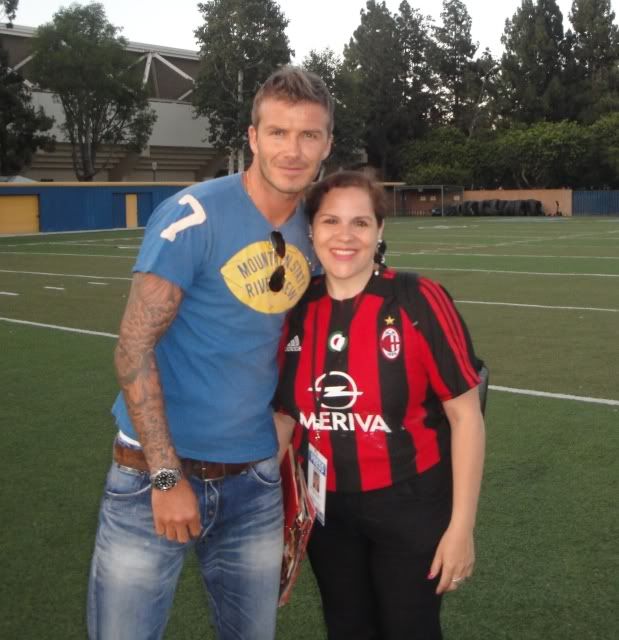 Photo: Italian Soccer Serie A
Wow, wow, wow… here it is… my super goalkeeper MARCO STORARI!!!!!  Guys, you know how much I have been rooting for STORARI since he waswith Cagliari and wanting him to see playing more to be ready for acalled up in the Italian National Team.  Hey, I was so happy!!!!   GOSTORARI, STORARI, STORARI!!!!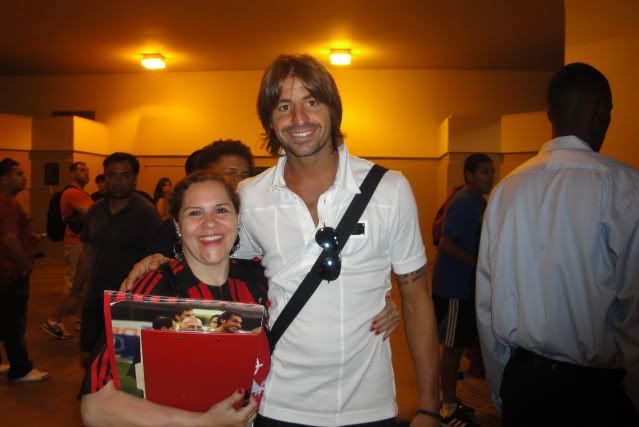 Photo: Italian Soccer Serie A
Oh my goodness sake, our ROARING LION GENNARO GATTUSO!!!!! What amoment guys.  I told Gattuso to keep roaring for the Rossoneri that all our blog Italian Soccer Serie A was rooting for him too!   Gattuso is so nice, guys, always ready for a cheerful gesture to motivate his teammates, just like you see him during the games. Bravo Gattuso!

Photo: Italian Soccer Serie A
Hey, if you ever want to meet such a lovable player and ready to switch from one language to another is CLARENCE SEEDORF.  Guys, Seedorf is one of the strongest pillar of our AC Milan and sharing with him few words was U N B E L I E V A B L E.  I was happy to know that Seedorf believes AC Milan can be competitive this year even after the transfer from Kaka. Yet, as he mentions the team must work hard.

Photo: Italian Soccer Serie A
Here is our beloved Sleepy Prince ANDREA PIRLO!  Hey, this is mainly for his ardent fan NINA and also Hannah.

Photo: Italian Soccer Serie A
Here is our beloved Italy and AC Milan defender Gianluca Zambrotta signing the greeting card for all AC Milan supporters and readers from Italian Soccer Serie A.

Photo: Italian Soccer Serie A
Mathieu Flamini signing the greeting card for all of you guys!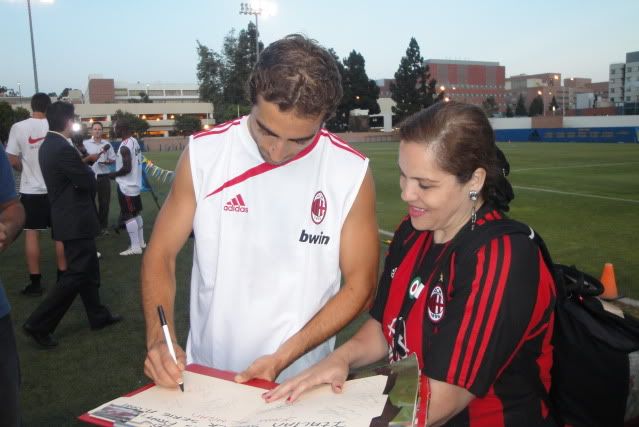 Photo: Italian Soccer Serie A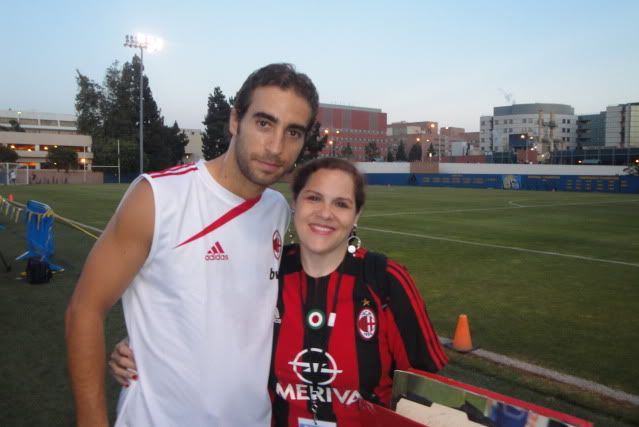 AC Milan defender Massimo Oddo, full of energy and will to give his best for Milan this season after his return from loan from Bayern Munich.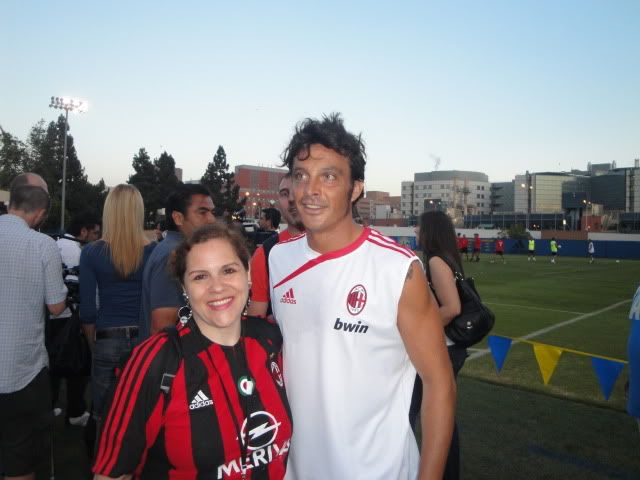 Photo: Italian Soccer Serie A
Thiago Silva also ready to start the 2009 -2010 Season while sending greetings to his friends in Italian Soccer Serie A.

Photo: Italian Soccer Serie A
AC Milan forward Marco Borriello signing the greeting card. Awesome Borriello.  Guys, expect to see Borriello in action because when I asked Coach Leonardo about him, he said that Borriello certainly fit in his plans.  Too bad Borriello could not play much last season. Though, the previous season he was rocking with Genoa, so thumbs up for Borriello this season.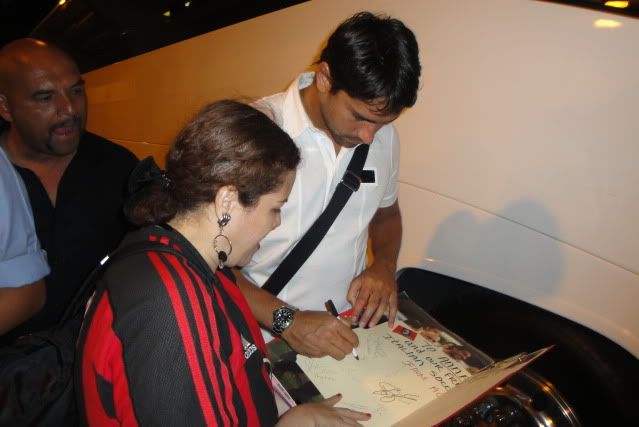 Photo: Italian Soccer Serie A
Mauro Tassotti.. a legend guys…. thumbs up!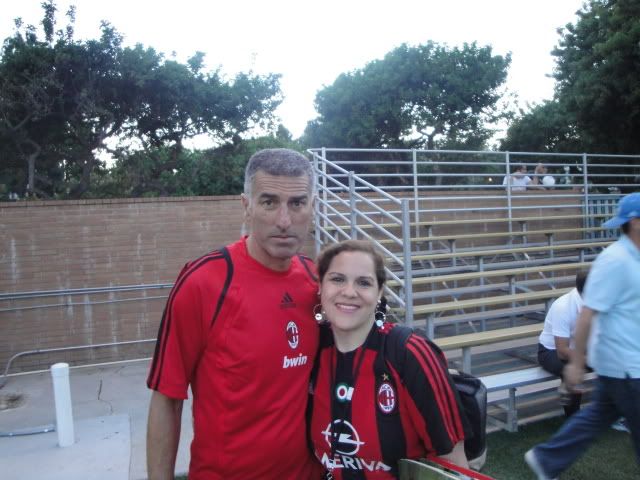 Photo: Italian Soccer Serie A
Super Pippo Inzaghi…. the eternal giovanottooooo  Inzaghi…