By Anna Italia
Follow me on Twitter @ItalianSerieA,
Facebook: Anna Italia Page
Instagram: annaitalia2
Italian Soccer Serie A
27% Ball Posession CREMONESE and 73% Ball Possession AC MILAN
   Cremonese 0 – 0 AC Milan
Buy Serie A tickets for every Italian League football match


Serie A Standing BEFORE the game:
Cremonese, 18th position with 6 points and a negative goal difference of -13
AC Milan, 2nd position with 29 points and a positive goal difference of +13
Cremonese failed to win the Serie A Week 14 game against AC Milan ending with a goalless draw on Tuesday 8 November 2022 at the Giovanni Zini Stadium in Cremona, Italy. In the next round of the championship for Cremonese, AC Milan will play at home against Fiorentina. Several goal opportunities for the Rossoneri: Origi, Diaz, Messias, Thiaw and Leao try. Hero for Cremonese is goalkeeper Carnesecchi author of four decisive saves. Milan with 30 points frustrated with this draw as they failed to claim all 3 points while the gap with Napoli (38) increased to -8 points.
The draw helped Cremonese at least to gain a point and dream with salvation. Initial possession of Milan and the first conclusion of Brahim Diaz in the 9th minute were controlled on the ground by Carnesecchi. At 20 'Valeri sets Felix in motion who tries to mock Tatarusanu with an oversized lob. At 23 'acceleration and Messias and a cross for Brahim Diaz who in a crash sends out a little. At 25 'Tonali crosses for Rebic's head who directs badly towards the red-gray door. At 26 'perfect exit of Carnesecchi who closes the mirror on the diagonal of Origi. At 33 'Tonali looks for Origi on the far post, Vasquez effectively frees. At 28 'Carnesecchi in flight uproots Thiaw's header from seven. A. 40 'the red-gray goalkeeper blocks the way even for Messias. Bottom line, the match ended with a goalless draw.
#CremoneseMilan: the Coach and @simonkjaer1989 reflect on tonight's draw 🎙️

Le interviste del dopo gara 🎙️#SempreMilan pic.twitter.com/HJVXt7BFdY

— AC Milan (@acmilan) November 8, 2022
====================
Buy Cremonese Tickets


Buy AC Milan Tickets
====================
📺 Click the video to watch Cremonese 0 – 0 AC Milan highlights on Tuesday 8 November 2022
🇮🇹  Referee Antonio Rapuano from the section of Rimini will be assisted by Filippo Valeriani from the section of Ravenna and Alessandro Cipressa from the section of Lecce.   The Fourth Official will be Luca Massimi from the section of Termoli.   The VAR will be Aleandro Di Paolo from the section of Avezzano.   The AVAR will be Antonio Di Martino from the section of Teramo.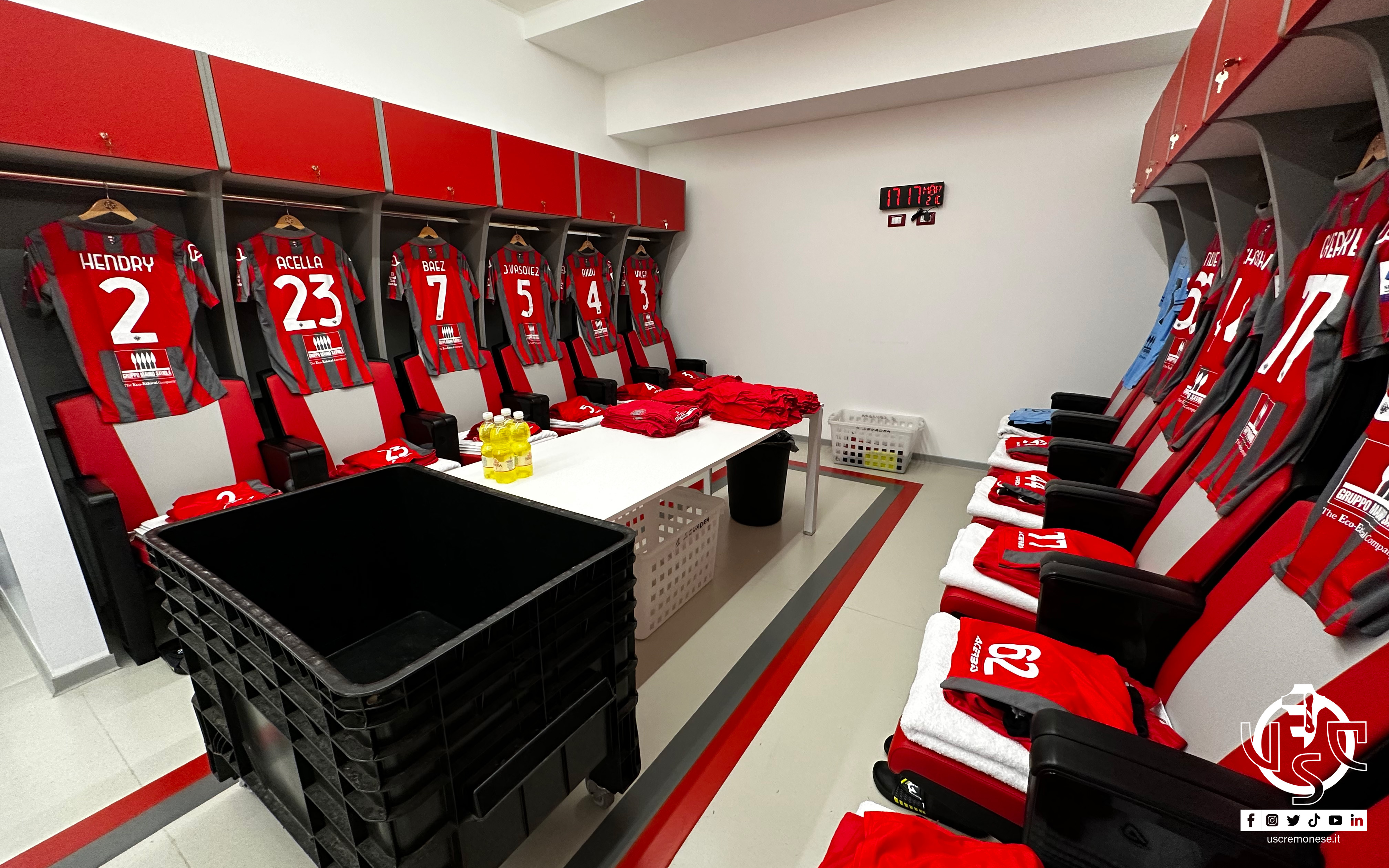 Photo via twitter.com/uscremonese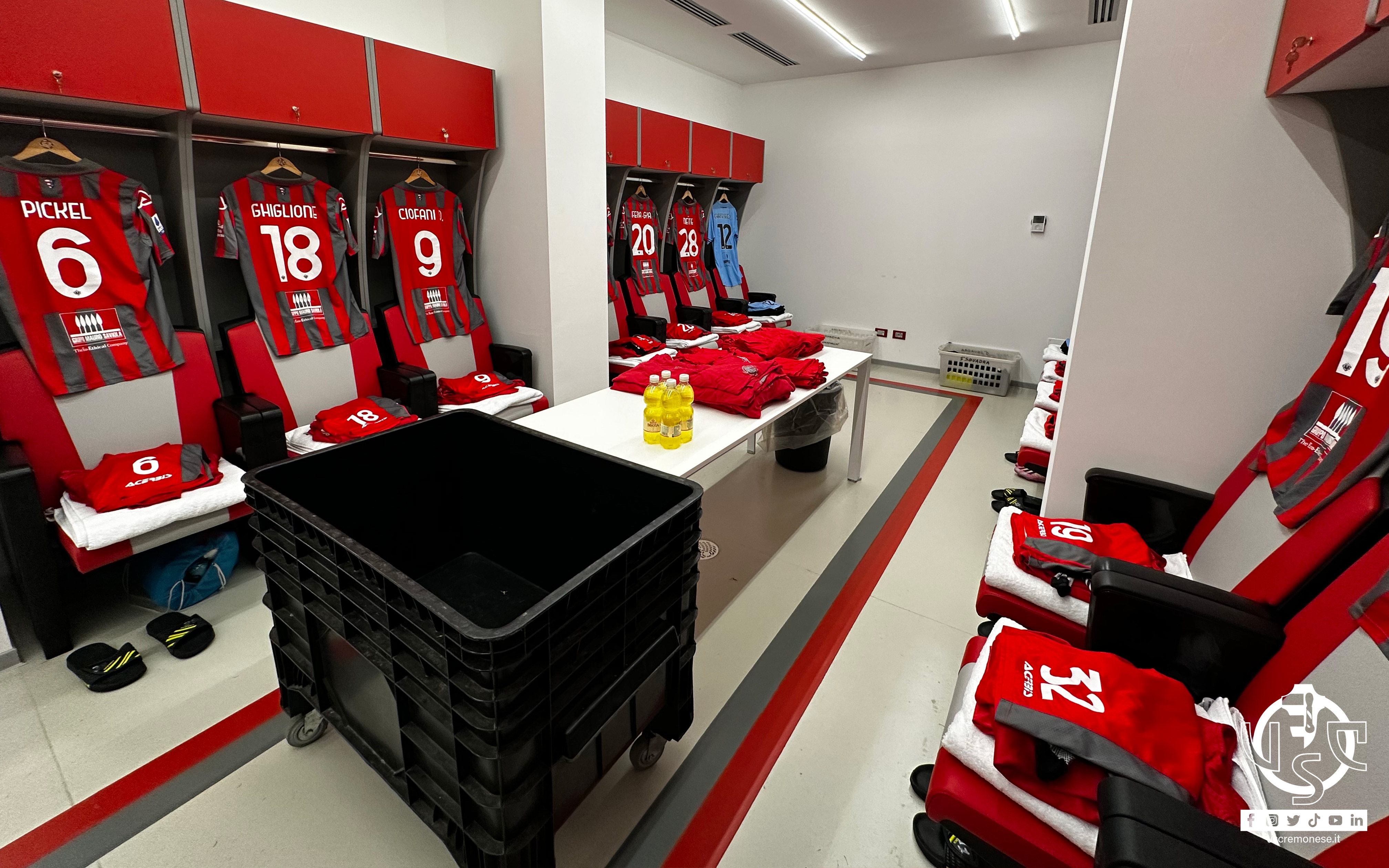 Photo via twitter.com/uscremonese
Photo via twitter.com/uscremonese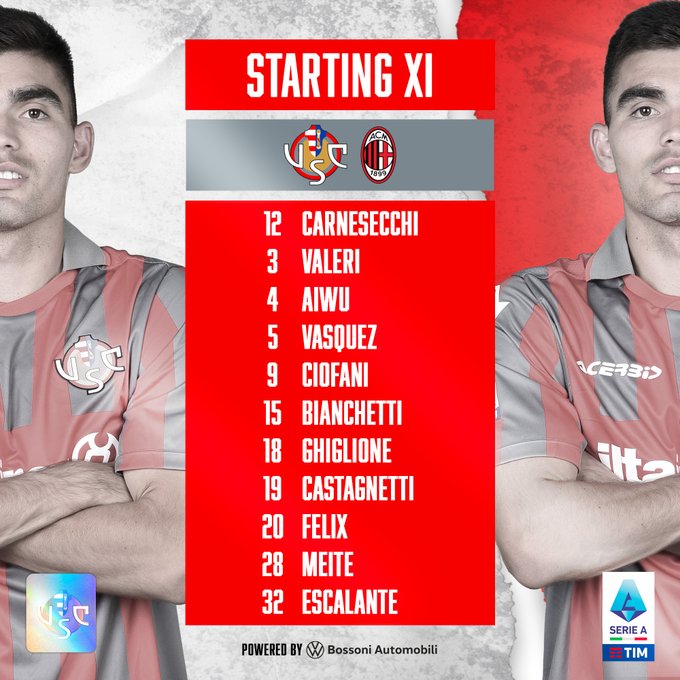 Photo via twitter.com/uscremonese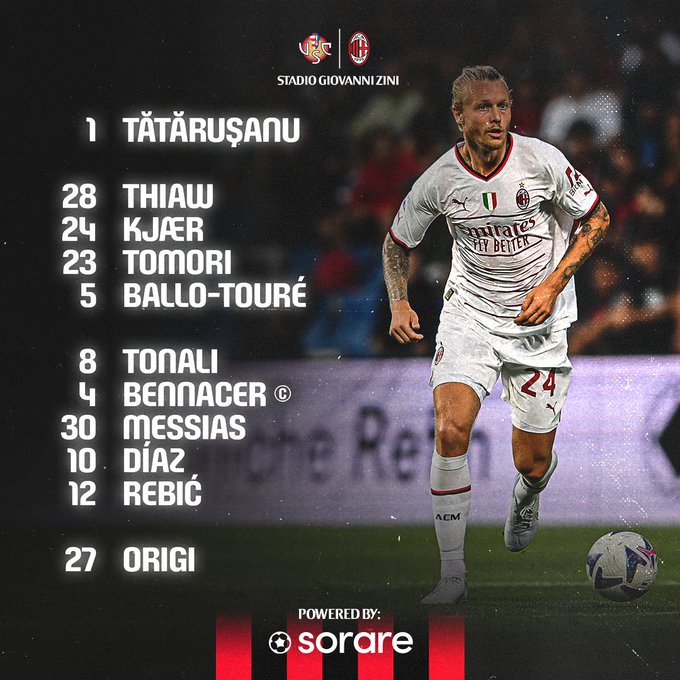 Photo via twitter.com/acmilan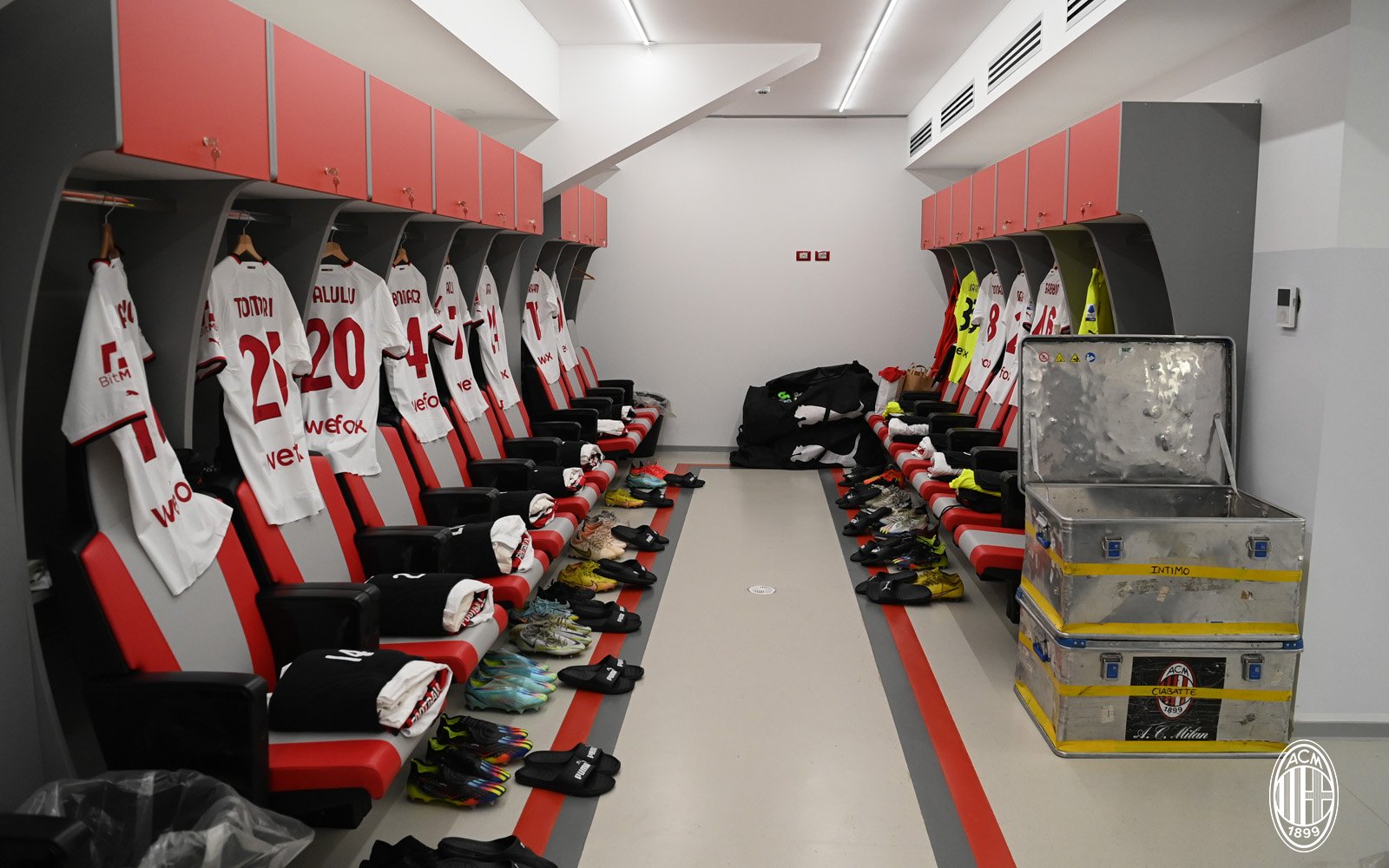 Photo via twitter.com/acmilan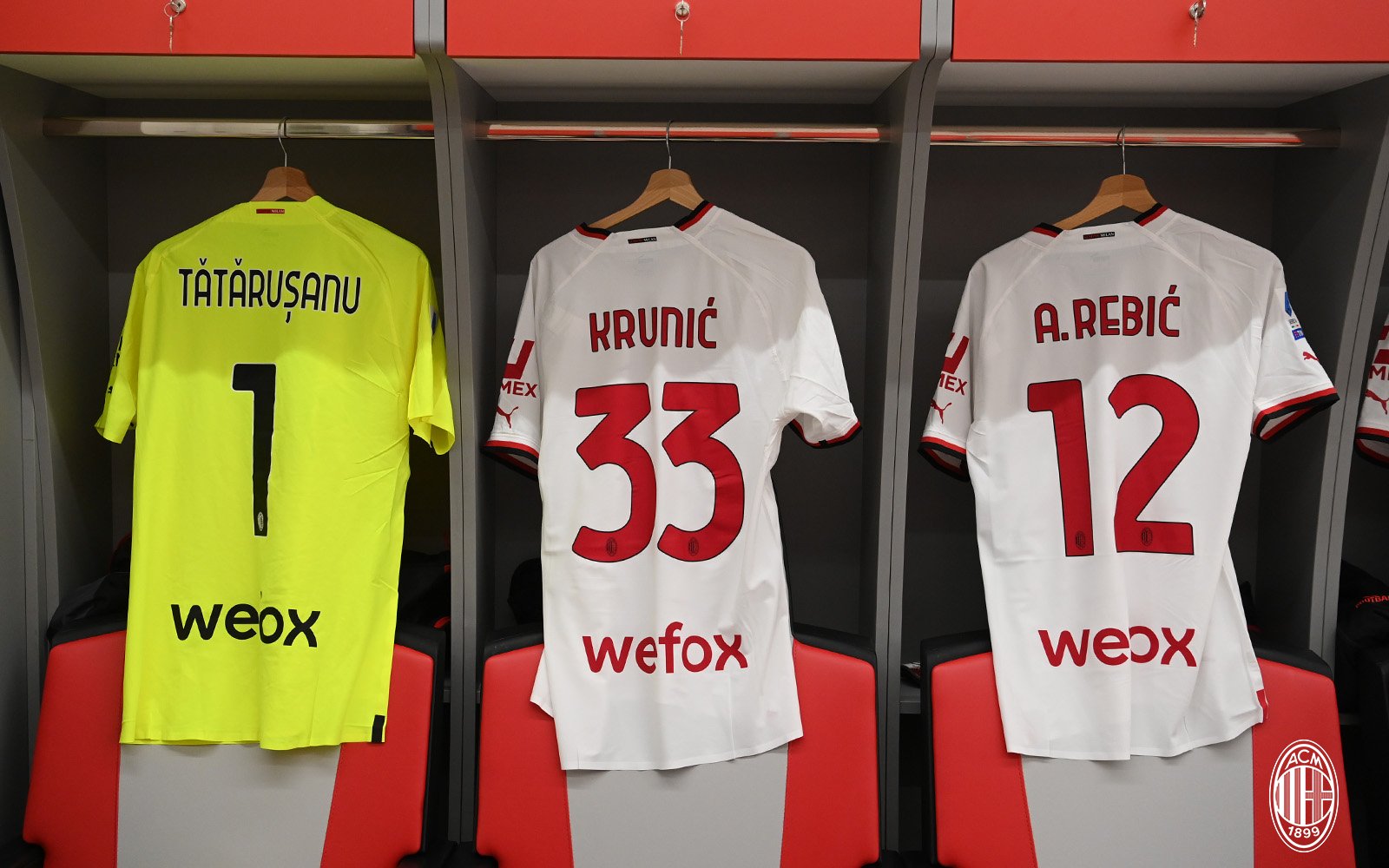 Photo via twitter.com/acmilan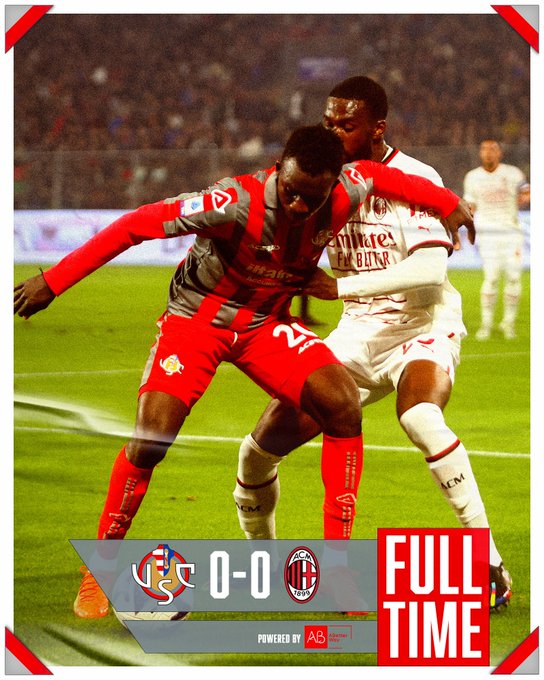 Photo via twitter.com/uscremonese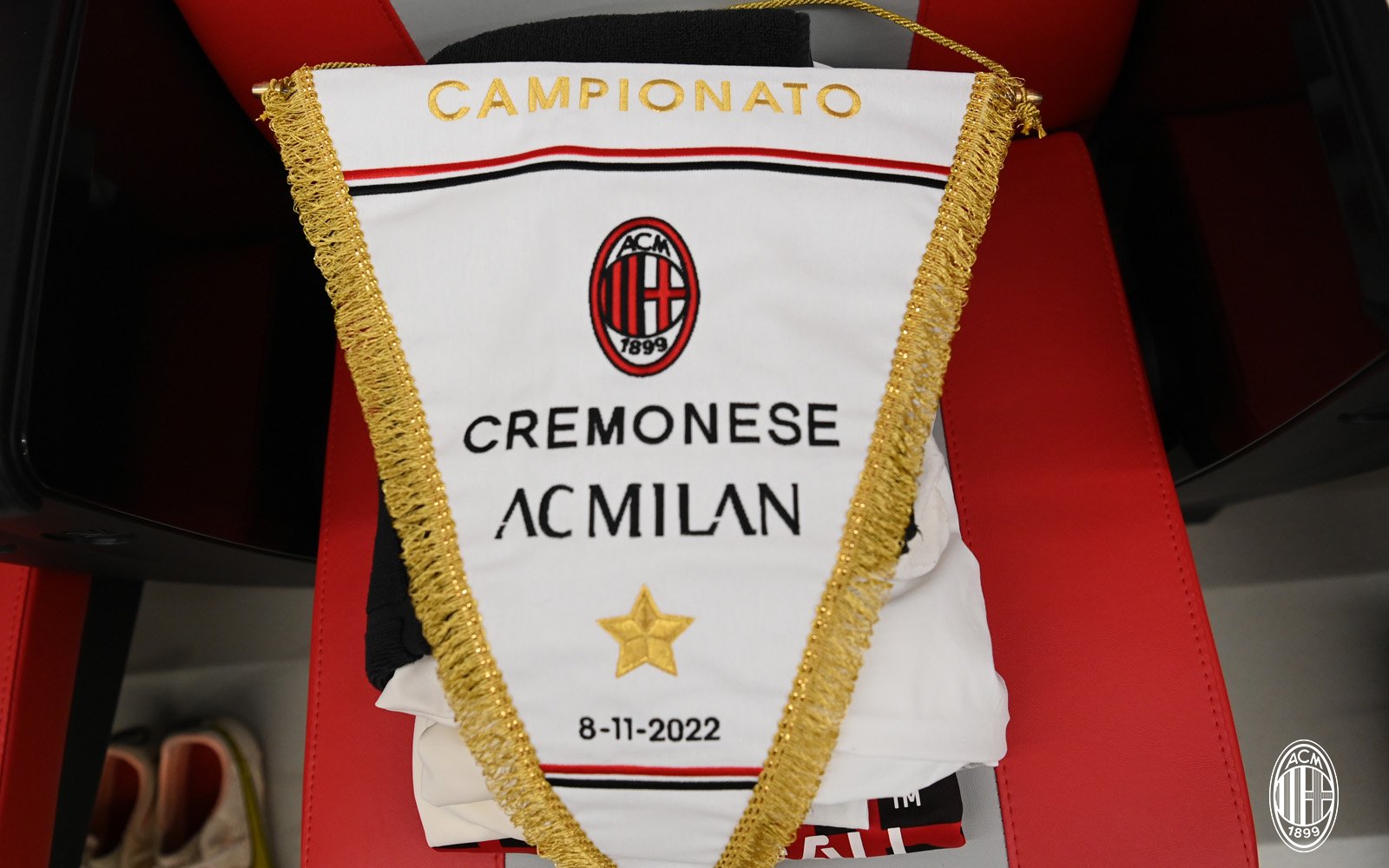 Photo via twitter.com/acmilan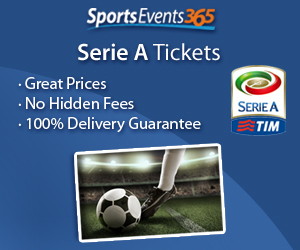 2022 – 2023 Italian Serie A Week 14
Cremonese 0 – 0 AC Milan
Tuesday 8 November 2022
Giovanni ZIni Stadium
Cremona, Italy
20:45
Referee: RAPUANO
Assistants: VALERIANI – CIPRESSA
Fourth Official: MASSIMI
VAR: DI PAOLO
AVAR: DI MARTINO
Goals: None
Official lineups – formations – tabellino:
Lineup CREMONESE (3-4-2-1): Carnesecchi; Aiwu, Bianchetti, Vásquez; Ghiglione (62′ Sernicola), Meïté, Escalante, Castagnetti (70′ Pickel), Valeri (88′ Quagliata); Afena-Gyan (62′ Buonaiuto), Ciofani (62′ Okereke).
Subs: Saro, Sarr; Hendry, Lochoshvili, Ndiaye; Acella, Báez, Milanese; Tsadjout, Zanimacchia.
Coach: Alvini.
Lineup AC MILAN (3-4-1-2): Tătărușanu; Thiaw (60′ Kalulu), Kjær, Tomori; Messias, Bennacer, Tonali (82′ Krunić), Ballo-Touré; Díaz (74′ De Ketelaere); Origi (60′ Leão), Rebić (82′ Lazetić).
Subs: Jungdal, Mirante; Gabbia; Adli, Bakayoko, Pobega, Vranckx.
Coach: Stefano Pioli.