By Anna Italia

Follow me in Twitter @ItalianSerieA,
Facebook: Anna Italia Page
It's Official.  Juventus coach Antonio Conte resigned on Tuesday 15 July 2014. It's a sad news for Juventus team and fans.  It's a fact that Conte was a key part, the decisive factor, for the revival of Juventus  to win for three consecutive years the "Scudetto."     Conte led Siena to promotion in Serie A for the 2010-2011 season leaving Siena to join Juventus on 22 May 2011. It's intriguing because Conte had signed a contract extension in May until 2015, and now, something must have not clicked and just resigned.  Definitely, it's a big loss for Juventus who will now have to find a top level coach.    Without a doubt, Conte was the living motor of Juventus.
Conte announced his decision in a video interview on Juventus  official website,  "I have decided to end my contract with Juventus, mutual consent.  To the fans, an enormous and infinite thank you for what you have given to me as a player and as a coach. I have always been close to you.  You have always made me felt your love and support.  We must feel proud for what we did winning the 3 Scudetto.  I want to say that the journey taken in recent years has been historic.  I also want to thank all my players that I had in these 3 years who have allowed me to win and have helped me to grow. I thank the club that has always been close to me, I thank Andrea Agnelli who had chosen me 3 years ago,  supported me and I thank the staff and all employees who have worked with me to make this a winning Juventus."
When asked about the possibility of coaching the Italian National team, Conte did not give a concrete answer. "In this moment, I am thinking about the present."
Italian Soccer Serie blog by Anna Italia joins Juventus players and fans to wish Antonio Conte all the best on his future projects.   Juventus ended the 2013 – 2014 season breaking the record of passing 100 points!  Juventus reached 102 points having the best attack scoring 80 goals and the best defense by conceding only 23 goals.  12 consecutive victories, 33 wins overall, 57 points at Juventus Stadium and 19 wins from 19 games winning all their home games.  Previous record in Italy with highest points was held by Inter reaching 97 points in the 2006-2007 Season.  Juventus crashed that record now with 102 points.  Thumbs up!
Juventus coach Antonio Conte "Mr. Scudetto" winning 3 consecutive scudetto with Juventus  decides to resign. "
Conte was part of Italy National team in the 1994 FIFA World Cup and the 2000 UEFA European Championship.
Juventus players immediately sending  Facebook / Twitter messages to thank Conte.
Juventus forward Fernando Llorete: 
È stato una fortuna e un piacere lavorare con te. Mai dimenticherò questo anno, grazie per tutto Mister! #grazieconte pic.twitter.com/mLdBUn79Bn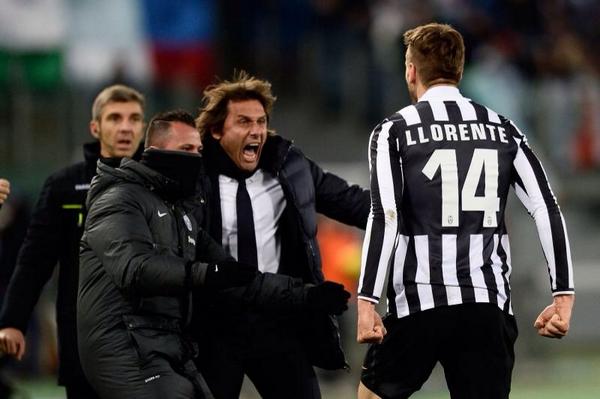 Juventus midfielder Claudio Marchisio, Facebook:
GRAZIE!
Solo questo posso dire.
Al di là della decisione presa dal mister, io posso solo ringraziarlo… ci ha portato non solo a vincere, tanto, con record su record, ma soprattutto ci ha trasformato in una grandissima squadra, dopo anni non felici che tutti gli juventini ricordano.
Sono stati tre anni incredibili… pieni di sacrifici e soddisfazioni.
Ancora una volta… GRAZIE!
Related Article:
– Juventus President Agnelli thanks Antonio Conte: "We rewrote this club's history: three Scudetti in a row, two Italian Super Cups"
Click the video to watch Juventus Coach Antonio Conte announcing his resignation on Tuesday 15 July 2014