By Anna Italia

Follow me in Twitter @ItalianSerieA,
Facebook: Anna Italia Page
Italy Head Coach Antonio Conte has called up 26  players for the Italian National team  EURO 2016 Qualification games   Italy vs Azerbaijan on Friday 10 October and  Malta vs Italy on Monday 13 October 2014.    Good news for Empoli defender Daniele Rugani and Southampton forward Graziano Pellè called up for the first time with the Italian National team.  Returning to the national team is   Giacomo Bonaventura who had made his debut with Italy on May 31, 2013 in the friendly game against San Marino.
Players will meet on Sunday 5 October afternoon at the Technical Center of Coverciano.  The first training is scheduled on Monday 6 October.   I am including  the Italian National Football team schedule from Sunday 5 to Monday 13 October 2014.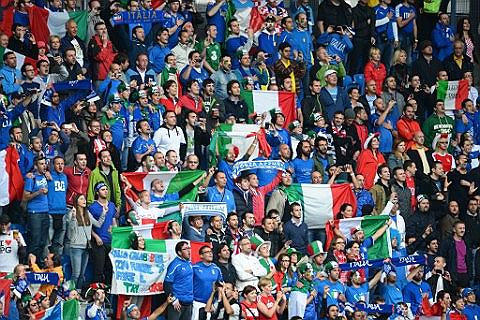 Another ticket option for Italy National team games
Italian Called Up Players / L'Elenco dei convocati
Goalkeepers / Portieri: Gigi Buffon (Juventus), Perin (Genoa), Salvatore Sirigu (Paris Saint Germain);
Defenders / Difensori: Bonucci (Juventus), Giorgio Chiellini (Juventus), Ogbonna (Juventus), Andrea Ranocchia (Inter), Daniele Rugani (Empoli);
Midfielders / Centrocampisti:  Alberto Aquilani (Fiorentina), Giacomo Bonaventura (Milan), Antonio Candreva (Lazio), Darmian (Torino), De Sciglio (Milan), Alessandro Florenzi (Roma),  Claudio Marchisio (Juventus), Marco Parolo (Lazio), Pasqual (Fiorentina), Andrea Poli (Milan), Thiago Motta (Paris Saint Germain), Verratti (Paris Saint Germain);
Forwards / Attaccanti:  Mattia Destro (Roma), Sebastian Giovinco (Juventus),  Ciro Immobile (Borussia Dortmund), Pablo Osvaldo (Inter), Pellè (Southampton), Simone Zaza (Sassuolo).
Photo figc.it
Italy National Football Team Schedule from Sunday 5 to Monday 13 October 2014

Sunday 5 October 2014 / Domenica 5 ottobre
h. 24.00  Raduno presso il Centro Tecnico Federale di Coverciano
I calciatori del Paris Saint Germain, impegnati domenica sera nel campionato francese, raggiungeranno Coverciano nella mattinata di lunedì
Monday 6 October 2014 / Lunedì 6 ottobre
h. 10.30 Allenamento (aperto alla stampa – ingresso dalle ore 11.30)
al termine Conferenza stampa del CT
h. 17.00 Allenamento (chiuso alla stampa)
Tuesday 7 October 2014 / Martedì 7 ottobre
h. 10.30 Allenamento (chiuso alla stampa)
h. 15.30 Conferenza stampa (Calciatori)
h. 17.00 Allenamento (aperto alla stampa per i primi 20')
Wednesday 8 October 2014  / Mercoledì 8 ottobre
h. 10.30  Allenamento (chiuso alla stampa)
h. 15.30 Conferenza stampa (Calciatori)
h. 17.00 Allenamento (aperto alla stampa per i primi 20')
Thursday 9 October 2014  / Giovedì 9 ottobre
h. 10.30 Allenamento (chiuso alla stampa)
h. 16.00 Partenza volo charter da Firenze per Palermo
h. 17.20  Arrivo previsto a Palermo, trasferimento allo stadio "R. Barbera"
h. 18.15 Allenamento c/o stadio "R. Barbera" (aperto al pubblico)
al termine Conferenza stampa (CT e 1 calciatore)
Friday 10 October 2014  / Venerdì 10 ottobre
h. 11.00 Allenamento c/o Stadio "R.Barbera" (chiuso alla stampa)
h. 20.45 UEFA EQ match: ITALIA – AZERBAIGIAN
al termine attività stampa
Saturday 11 October 2014 / Sabato 11 ottobre
h. 11.00 Allenamento c/o Stadio "R.Barbera" (chiuso alla stampa)
h. 15.00 Aggiornamento stampa: punto medico (Prof. Castellacci) c/o Stadio "R.Barbera"
Sunday 12 October 2014  / Domenica 12 ottobre
Morning training at the Renzo Barbera Stadium (closed to the press). Departure in the afternoon from Palermo to Malta and at the arrival transferring to the National Stadium / Mattina Allenamento c/o Stadio "R.Barbera" (chiuso alla stampa)
pomeriggio Partenza da Palermo per Malta; all'arrivo trasferimento al "National Stadium" di Ta'qali
h. 19.00  Training at the "National Stadium" (first 15 minutes open to the press ) / Allenamento c/o "National stadium" (aperto alla stampa primi 15')
h. 20.20 Press Conference with Head Coach and 1 player / Conferenza stampa (CT e 1 calciatore)
Monday 13 October 2014 / Lunedì 13 ottobre  
h. Malta vs Italy 20.45 Press Conference after the game / UEFA EQ match: MALTA-ITALIA
al termine attività stampa
h. 00.45 Return to Italy / Rientro in Italia