Italy

By Anna Italia
Follow me in Twitter @ItalianSerieA,
Facebook: Anna Italia Page
Italian Soccer Serie A supports the Italian National Team
Italy Head Coach Roberto Mancini has called up 33 players for the 2020 European Championship Qualifiers leading to the UEFA EURO 2020 against Greece on June 8 in Athens and Bosnia and Herzegovina on June 11 in Turin, Italy.
It is refreshing to see the return of Torino forward Andrea Belotti to the Italian team.  AS Roma goalkeeper Antonio Mirante is also back last time called up by former Head Coach Antonio Conte.   Sampdoria forward Fabio Quagliarella, (36 years old) who was the top Serie A Scorer with 26 goals is also among the called ups.  Way to go for Fabio.
The Italian Football Federation (FIGC) has reported that the squad will gather at Coverciano by 12:00 CEST on Saturday 1st June. In the afternoon, there will be a press conference with the coach at 13:30 CEST before the first of eight sessions at 17:00. The Italian team will leave for Athens on 7 June before training at 18:00 local time with the Azzurri set to train at the Spyros Louis Stadium. The Italian team will return to Italy on Sunday 9th June, travelling to Turin. The following day, the Azzurri will work at 18:00 at the Juventus Stadium before the Bosnia and Herzegovina match on Tuesday 11th June at 20:45.
On Monday 3rd June, the FIGC/Ospedale Pediatrico 'Bambino Gesù' partnership will be presented as will the FIGC/Acqua Lete partnership. On Tuesday 4th June, the Auditorium at Coverciano will be the venue for the "L'inno svelato-raccontato agli Azzurri della Nazionale di calcio" event with a concert promoted by the ANCRI and organised in colalboration with the Polizia di Stato about the meaning of the national anthem.
Italy Group J Standing after two games:   Italy is top of Group J on full points after beating Finland 2-0 and Liechtenstein 6-0. Greece and Bosnia Herzegovina both have four points, Finland while Armenia and Liechtenstein have no points.
THE UEFA EURO QUALIFIERS – Here is the situation as reported by UEFA. Qualifying for UEFA EURO 2020 will have 24 finalists. The 55 teams were split into ten groups of five or six. Four of the five groups of five contain one team that has qualified for the UEFA Nations League finals (to be played June 2019). The top two from each group will qualify for the final tournament, determining the first 20 places.
==============================
Ticket option for Italy National team games

==============================
Italy Squad List for the UEFA European Qualifiers games

Goalkeepers: Alessio Cragno (Cagliari), Pierluigi Gollini (Atalanta); Salvatore Sirigu (Torino), Antonio Mirante (Roma);
Defenders: Francesco Acerbi (Lazio), Cristiano Biraghi (Fiorentina), Leonardo Bonucci (Juventus), Giorgio Chiellini (Juventus), Mattia De Sciglio (Juventus), Emerson Palmieri (Chelsea), Alessandro Florenzi (Roma), Armando Izzo (Torino), Gianluca Mancini (Atalanta), Alessio Romagnoli (Milan), Leonardo Spinazzola (Juventus);
Midfielders: Nicolò Barella (Cagliari), Federico Bernardeschi (Juventus), Bryan Cristante (Roma), Frello Filho Jorge Luiz Jorginho (Chelsea), Lorenzo Pellegrini (Roma), Stefano Sensi (Sassuolo), Marco Verratti (Paris Saint Germain), Nicolò Zaniolo (Roma);
Forwards: Andrea Belotti (Torino), Federico Chiesa (Fiorentina), Stephan El Shaarawy (Roma), Vincenzo Grifo (Friburgo), Ciro Immobile (Lazio), Lorenzo Insigne (Napoli), Moise Kean (Juventus), Leonardo Pavoletti (Cagliari), Matteo Politano (Inter), Fabio Quagliarella (Sampdoria).
Staff – Head Coach: Roberto Mancini; National Team Coordintaor: Gabriele Oriali; Assistant Coaches: Alberico Evani, Attilio Lombardo, Giulio Nuciari, Fausto Salsano; Fitness coaches: Claudio Donatelli and Andrea Scanavino; Goalkeeping coach: Massimo Battara; Match Analyst: Antonio Gagliardi; Doctors: Andrea Ferretti and Carmine Costabile; Physiotherapist: Maurizio Fagorzi, Emanuele Randelli, Fabrizio Scalzi, Luca Lascialfari, Fabio Sannino; Hosteopath: Walter Marinelli; Nutritionist: Matteo Pincella.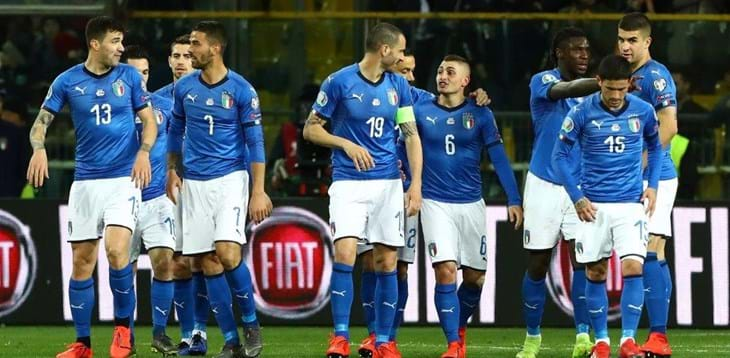 Photo:  figc.it
Italy Squad schedule and media commitments
Saturday 1 June 2019
12:00 CEST Squad to meet at Coverciano
13:30 Head Coach press conference
17:00 Training (first 15 minutes open to accredited press)
Sunday 2 June 2019
13:30 Press conference (players)
17:00 Training (first 15 minutes open to accredited press)
Monday 3 June 2019
13:30 Press conference
17:00 Training (first 15 minutes open to accredited press)
Tuesday 4 June 2019
11:30 Concert – "Inno svelato raccontato agli Azzurri" (open to accredited press).
13:30 Press conference (players)
17:00 Training (first 15 minutes open to accredited press)
Wednesday 5 June 2019
10:00 Training (closed door)
13:30 Press conference (players)
18:30 Training (first 15 minutes open to accredited press)
Thursday 6 June 2019
10:00 Training (closed door)
13:30 Press conference (players)
18:30 Training (closed door)
Friday 7 June 2019
09:00 Transfer to Florence airport
10:00 Flight from Florence to Athens
13:00 l.t.* Arrival and transfer to hotel
17:30 l.t. Press conference MD-1 c/o 'OACA Spyros Louis Stadium'
18:00 l.t. Training MD-1 c/o 'OACA Spyros Louis Stadium' (first 15 minutes open to accredited press)
Saturday 8 June 2019
21:45 l.t. MD3 Greece–Italy – 'Spyros Louis Stadium'
Sunday 9 June 2019
11:00 l.t. Training (closed door)
15:45 l.t. Airport transfer
17:00 l.t. Flight from Athens to Turin
19:00 Arrival and transfer to the hotel
Monday 10 June 2019
17:30 Press conference MD-1 c/o "Juventus Stadium"
18:00 Training MD-1 c/o "Juventus Stadium" (first 15 minutes open to accredited press)
Tuesday 11 June 2019
20:45 MD4 Italy–Bosnia Herzegovina – "Juventus Stadium"