By Anna Italia

Follow me in Twitter @ItalianSerieA,
Facebook: Anna Italia Page
Supports Serie A Teams in International Competition
.                                                                            45′ Nemanja Vidic
.                                                                            69′ Yuto Nagatomo

Inter Milan defeat AS Roma in the United States!  Inter and Roma delighting Italian football fans in the International Champions Cup with the happiest being Inter fans seeing their team defeating the Roman gladiators on Saturday 2 August 2014 at the Lincoln Financial Field in Philadelphia, Pennsylvania.    This field is home of the  NFL team Philadelphia Eagles.   Inter winning thanks to the goals of their 2 defenders Nemanja Vidic and Yuto Nagatomo.  It's quite an interesting game as neither strikers from both teams could score.
Undoubtedly, it is a mega victory for Inter Milan sending a direct message to the Italian Serie A teams that they are ready to battle for the Scudetto this year too.  Inter and Roma will face each other in Serie A on Sunday 30 November 2014 at the Olimpico di Roma Stadium.
Inter opening the score in the 45th minute with defender Nemanja Vidic defeating AS Roma goalkeeper Lukasz Skorupski with a headed shot in the top right corner.  The assist by midfielder Dodo'.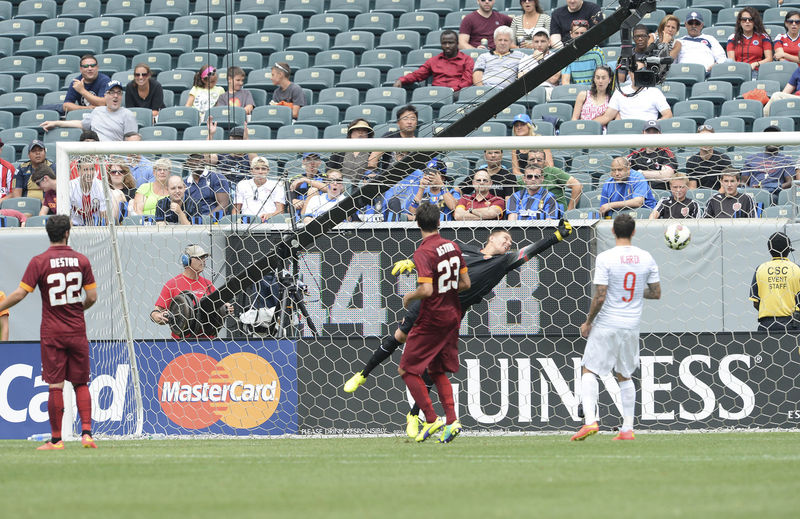 Click the video to watch the goal by Nemanja Vidic against AS Roma
Roma unable to react despite battling, but not finding the way out.
Inter increasing the score in the 69th minute with defender Yuto Nagatomo defeating goalkeeper Skorupski with a right footed shot in the top right corner.  Nagatomo was totally unmarked and without a doubt smacked that final shot to celebrate with teammates. The special dance celebration was between Nagatomo and Guarin.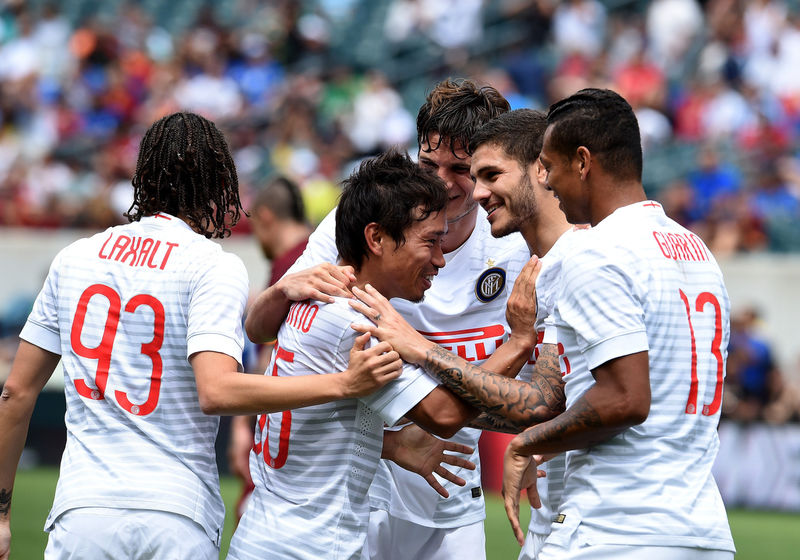 Inter players congratulating Yuto Nagatomo after his goal against AS Roma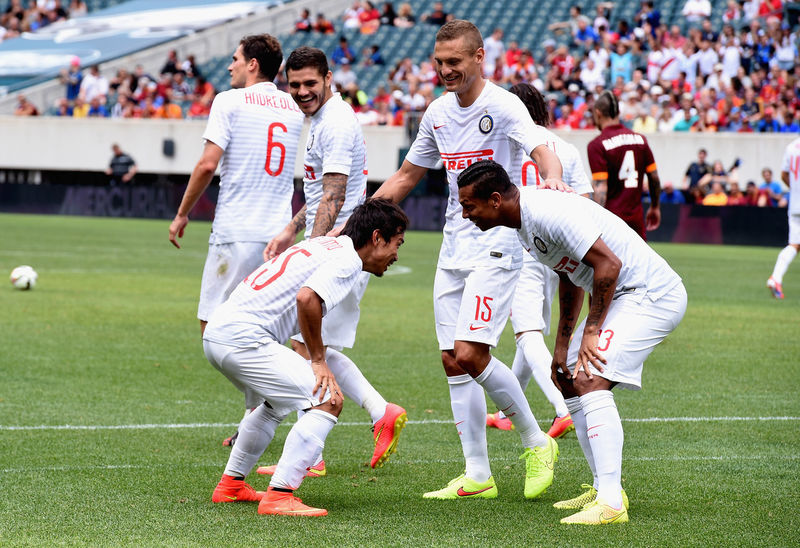 Team substitutions in the 65th minute.
AS Roma replacing  defender Urby Emanuelson, midfielder Daniele De Rossi, Miralem Pjanic and forward Mattia Destro for Ashley Cole, Keita, Uçan and forward Francesco Totti.
 Inter replacing Botta, Kuzmanovic, M'Vila, Dodo, Handanovic and Jonathan for goalkeeper Juan Pablo Carrizo, Matteo Kovacic, Laxalt, D'Ambrosio, Fredy Guarin and Krhin.
Inter and AS Roma making more substitutions in the 72nd minute.
AS Roma replacing  Mehdi Benatia, forward Adem Ljajic and Juan Iturbe for Romagnoli, Sanabria and Borriello
Inter replacing  defender Andrea Ranocchia, defender Yuto  Nagatomo and defender Nemanja Vidic for Andreolli, Mbaye and Silvestre
In the 81st minute, Inter replacing forward Mauro Icardi with forward Federico Bonazzoli
Roma captain Francesco Toti encouraging teammates to move forward.  In the 85th minute, Totti providing the assist to forward  Antonio Sanabaria delivering a right footed shot only to be saved by Inter goalkeeper Juan Pablo Carrizo in the top right corner.   Nothing is working for Roma and time running by.
In the 89th minute, midfielder Rene Krhin making the assist for midfielder Fredy Guarin seeing his left footed shot  saved by AS Roma goalkeeper Skorupski  in the center.
AS Roma having a final attempt for the honor goal in the 90th minute with forward Marco Borriello headed shot saved by goalkeeper Juan Pablo Carrizo in the bottom right corner.  Nothing to do for Roma, but conceding this victory to Inter and wait for their revenge when facing in the Serie A.
Here is AS ROMA official starting lineup by coach Rudi Garcia:
AS ROMA (4-3-3):  Lukasz Skorupski, Florenzi, Astori, Castan, Urby Emanuelson, Miralem Pjanic, Daniele De Rossi, Radja Nainggolan, Juan Iturbe, Mattia Destro and Adem Ljajic.
Here is INTER official starting lineup by coach Walter Mazzarri: 
INTER ( 3-5-2):  Samir Handanovic, Andreolli, Vidic, Juan Jesus, Yuto Nagatomo, Jonathan, M'Vila, Zdravko Kuzmanovic, Dodo, Botta and Mauro Icardi.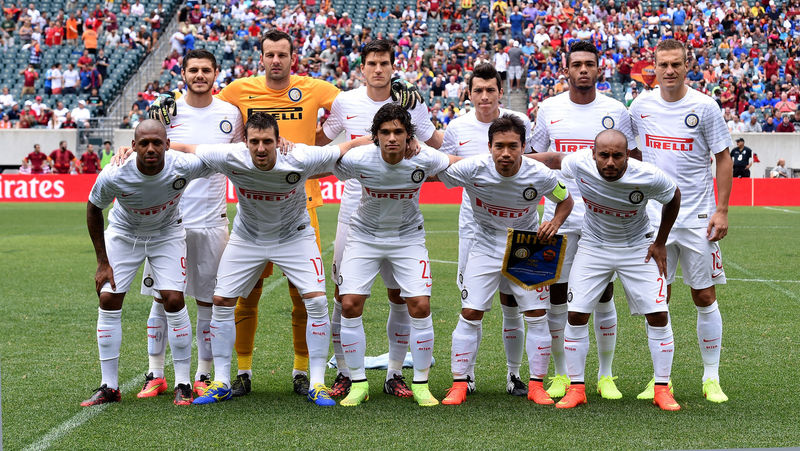 Photo inter.it
Inter Milan official starting lineup against AS Roma in the International Champions Cup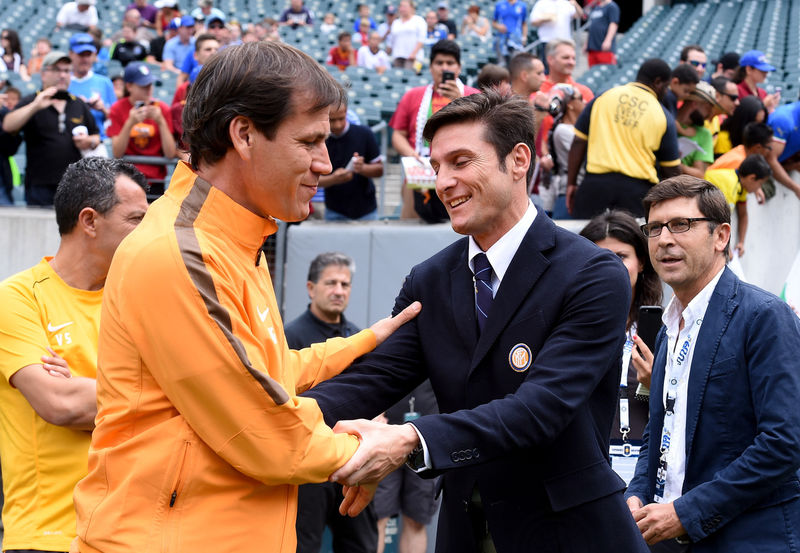 Photo inter.it
AS Roma coach Rudi Garcia and Inter Vice President Javier Zanetti saluting before the game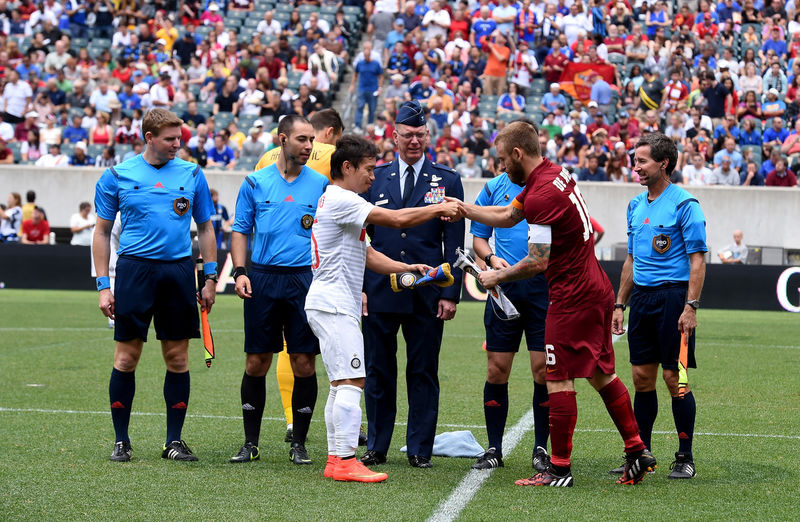 Photo inter.it
Before the game Inter Milan Captain Yuto Nagatomo and AS Roma captain Daniele De Rossi exchanging banners and shaking hands.
Photo inter.it
AS Roma midfielder Radja Nainggolan in a duel with Inter forward Ruben Botta.
AS Roma coach Rudi Garcia and Inter Milan Vice President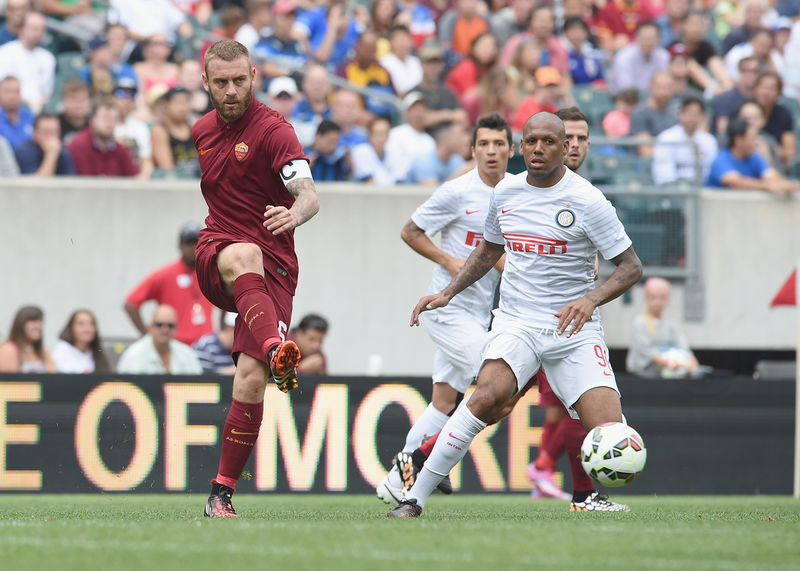 Photo inter.it
AS Roma "capitan futuro" Daniele De Rossi attempts a right footed shot while
AS Roma – Inter photos courtesy of asroma.it
Click the video to watch the highlights of the game, AS Roma – Inter Milan, Saturday 2 August 2014
2014 International Champions Cup

AS Roma 0- 2 Inter Milan
Saturday 2 August 2014
Lincoln Financial Field
Philadelphia, Pennsylvania, United States
Referee: Geoff Gamble.
Official formations – lineups:
INTER: 1 Handanovic; 6 Andreolli, 15 Vidic, 5 Juan Jesus; 55 Nagatomo, 2 Jonathan, 90 M'Vila, 17 Kuzmanovic, 22 Dodò; 19 Botta, 9 Icardi.
Subs: 7 Schelotto, 10 Kovacic, 13 Guarin, 20 Obi, 21 Taider, 23 Ranocchia, 25 Mbaye, 26 Silvestre, 28 Puscas, 30 Carrizo, 33 D'Ambrosio, 46 Berni, 93 Laxalt, 97 Bonazzoli.
Coach: Walter Mazzarri.
AS ROMA: Skorupski; Florenzi, Astori, Castan, Emanuelson; Pjanic, De Rossi, Nainggolan; Iturbe, Destro, Ljajic.
Subs: 1 Lobont, 2 Golubovic, 3 Cole, 9 Borriello, 10 Totti, 11 Romagnoli, 17 Benatia, 20 Keita, 26 De Sanctis, 32 Paredes, 48 Ucan, 50 Somma, 55 Svedkauskas, 72 Balasa, 91 Calabresi, 92 Pettinari, 96 Sanabria.
Coach: Rudi Garcia.