By Anna Italia
Follow me on Twitter @ItalianSerieA,
Facebook: Anna Italia Page
Instagram: annaitalia2
Italian Soccer Serie A
✅ Here are the match officials and fixtures for the Serie A Week 16 / Sixteenth Round on Saturday 4, Sunday 5, and Monday 6 December 2021 as designated by the Italian Referee Association (AIA).
Buy Serie A tickets for every Italian League football match

🇮🇹 The Italian Referee Association (AIA) has designated the match officials for the Serie A Week 16 game AC Milan vs Salernitana on Saturday 4 December 2021 at San Siro Stadium in Milan, Italy at 15:00.
Referee Antonio Giua from the section of Olbia will be assisted by Mokhtar Gamal from the section of Lecco and Davide Miele from the section of Torino.  The Fourth Official will be Federico Dionisi from the section of L'Aquila.  The VAR will be Daniele Orsato from the section of Schio and the AVAR will be Alessio Tolfo from the section of Pordenone.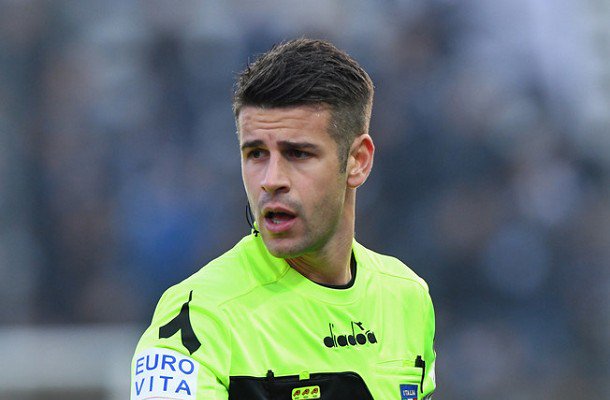 ===============
Italian Serie A Tickets for next 10 games

===============
Saturday 4 December 2021
AC MILAN – SALERNITANA
San Siro Stadium
Referee: GIUA
Assistants: MOKHTAR – MIELE D.
Fourth Official: DIONISI
VAR: ORSATO
AVAR: TOLFO
15:00
AS ROMA – INTER
Olimpico di Roma Stadium
Referee: DI BELLO
Assistants: PALERMO – PERROTTI
Fourth Official: CAMPLONE
VAR: MASSA
AVAR: ALASSIO
18:00
NAPOLI – ATALANTA
Diego Armando Maradona Stadium
Referee: MARIANI
Assistants: LONGO – VONO
Fourth Official: FOURNEAU
VAR: BANTI
AVAR: PASSERI
20:45
Sunday 5 December 2021
BOLOGNA – FIORENTINA
Renato Dall'Ara Stadium
Referee: IRRATI
Assistants: GALETTO – MORO
Fourth Official: MARCHETTI
VAR: DI PAOLO
AVAR: LIBERTI
12:30
SPEZIA – SASSUOLO
Alberto Picco Stadium
Referee: MARESCA
Assistants: ZINGARELLI – DI MONTE
Fourth Official: MARCENARO
VAR: BANTI
AVAR: ROCCA
15:00
VENEZIA – HELLAS VERONA
Penzo Stadium
Referee: PRONTERA
Assistants: ROSSI L. – FONTEMURATO
Fourth Official: COLOMBO
VAR: ORSATO
AVAR: BACCINI
15:00
SAMPDORIA – LAZIO
Luigi Ferraris Stadium
Referee: FABBRI
Assistants: CARBONE – DI VUOLO
Fourth Official: MERAVIGLIA
VAR: GUIDA
AVAR: TEGONI
18:00
JUVENTUS – GENOA
Allianz Stadium
Referee: CHIFFI
Assistants: RANGHETTI – COLAROSSI
Fourth Official: SANTORO
VAR: VALERI
AVAR: PRETI
20:45
Monday 6 December 2021
EMPOLI – UDINESE
Carlo Castellani Stadium
Referee: PATERNA
Assistants: MASTRODONATO – ROSSI M.
Fourth Official: MARINELLI
VAR: DI PAOLO
AVAR: LO CICERO
18:30
CAGLIARI – TORINO
Unipol Domus
Referee: MASSIMI
Assistants: CECCONI – CIPRESSA
Fourth Official: MIELE G.
VAR: MAZZOLENI
AVAR: DI IORIO
20:45