By Anna Italia

Follow me in Twitter @ItalianSerieA,
Facebook: Anna Italia Page
Good morning, my friends! Well, it's not really a good morning for Italian football fans. I am so sad checking up the Italian newspapers reminding us that Juventus lost the Champions League Final against Real Madrid. It's so painful to see the headlines, the photos…. Nevertheless, a bit of joy because the Ex-Juventus player Zinedine Zidane now coaching Real Madrid is enjoying his victory with his team. I do like the mutual respect shown between Buffon and Zidane.
Here are the front pages from the Italian newspapers La Gazzetta dello Sport, Corriere dello Sport, and Tutto Sport, Sunday 4 June 2017.
Simply put, like it or not, Real Madrid won convincingly under the leadership of the great Cristiano Ronaldo not missing the big appointment while our Higuain and Dybala not appearing…..
La Gazzetta dello Sport, Front Page, Sunday 4 June 2017
Curse!
Champions League in Cardiff: for the Bianconeri seventh Final lost
First half Juve, then Real go wild: 4-1
Brace from Ronaldo, Buffon leaves in tears: No Treble
CR7 opens the score, Mandzukic replies with a magical goal
Then Casemiro scores, Cristiano again and Asensio
For the Blancos it's the 12th Cup with the big ears, and Zidane is the first to retain the Champions League
Allegri pride: "I stay here, we will try again"
Captain Gigi: "My biggest disappointment"
The Editorial
Thanks the same, beautiful lady
Firework explodes, panic and 400 injured in the Piazza in Turin
The new Nerazzurri era begins
Spalletti-Inter, now it's done
Meeting in Florence, two-year contract: tomorrow the signature
Corriere dello Sport, Front Page, Sunday 4 June 2017
What a collapse!
Champions, Juve ends their career in the worst way.
Triumph of CR7 and Real. The equalizer by Mandzukic illusions, then the Galacticos unleashed (4-1).
Ronaldo worth of the Golden Ball. Buffon: "Big disappointment"
Modric take off and Juve disappears
Inter, Spalletti signs tomorrow a two-year contract
He will earn 4 millions per season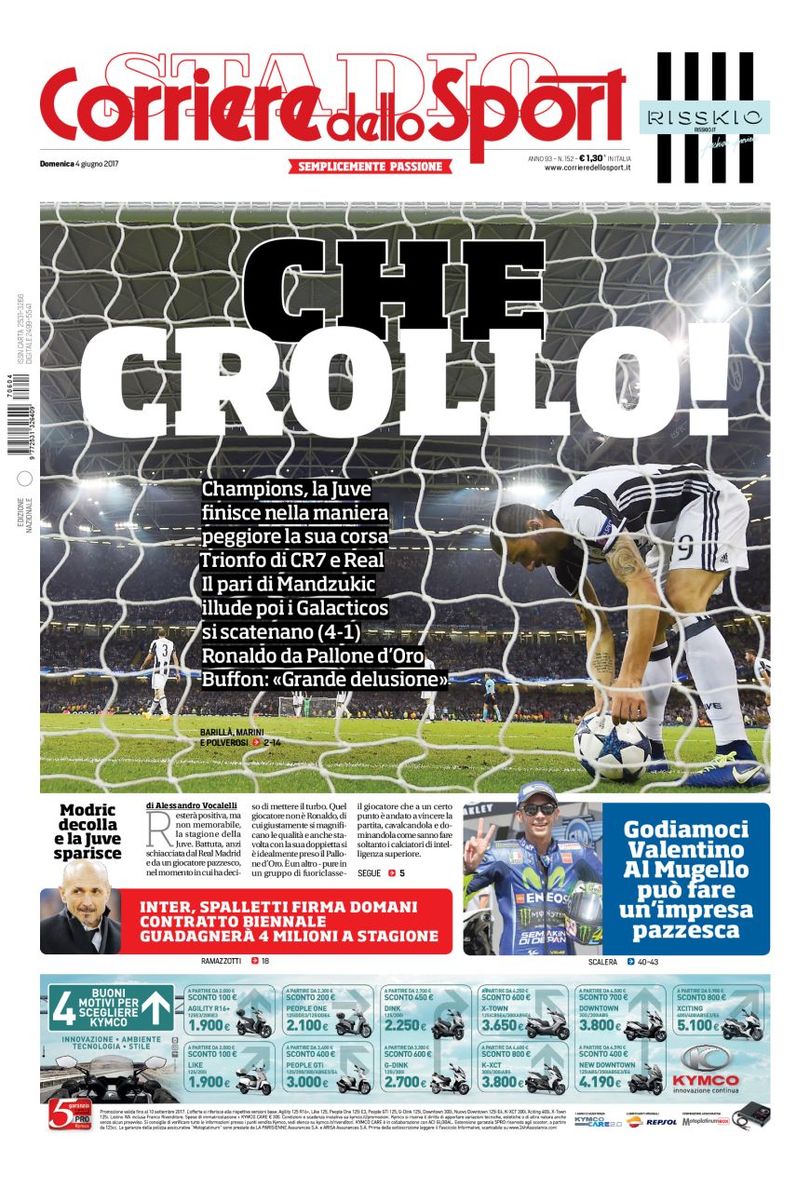 Tutto Sport, Front Page, Sunday 4 June 2017
This is Juventus
3 consecutive Coppa Italia
6 consecutive Scudetto
The Editorial
Too much security has softened everyone